On 14 February 2019, at 3.15 pm, when the whole world was busy in celebrating the Valentine's Day, it happened out of imagination. Two convoys of the Central Reserve Police Force (CRPF) were moving along the Srinagar to Jammu Highway when the heart warming incident took place near the Latoomode in Awantipora in South Kashmir, that comes under the Pulwama district. About 2,547 CRPF personnel, most of them were returning to join the duty in their camps in 78 vehicles and buses, did not know about what was going to happen in next few seconds.
They might be dreaming of their family members, might be thinking about rejoining the camp, might be listening to music, might be sleeping, without even imagining that death was approaching from the front. It was sudden for them. A car rushed from the opposite side (moving along the wrong route); loaded with 300 kg explosives, hit the bus and it was nothing but a sudden blast. No one could do nothing. Everything was finished. The bus had no existence. The blast was so drastic that it ended up in killing around 39 to 44 CRPF personnel, who were ever ready to serve their motherland.
No one survived from the bus that was hit by the explosive car. The sound of the blast was hearable long long way. The body parts of the CRPF jawans were strewn away along the road. Many of the personnel were critically injured. It was no less than a scene of great tragic grief caused by a loathsome Pakistan based Islamist militant group Jaish-e-Mohemmed.
Well, the sorrowful incident which took the life of 43 military officials, include 2 Army Officers from Odisha. Manoj Kumar Behera, the constable of CRPF who belongs to Niali block of Cuttack District and Prasanna Kumar Sahoo, the Havaldar of CRPF from Naogaun village of Jagatsinghpur district are the two odia jawan.
Let us know in detail, about thre two brave hearts who sacrificed their lives but hold the dignity of the country high above the Sky.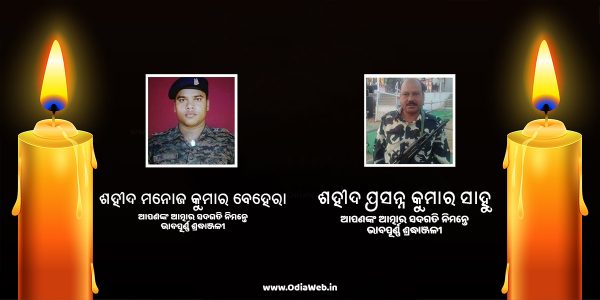 Martyr Manoj Kumar Behera : CRPF Constable
It all happened on 14th February. He came to his home town Niali and spent a long vacation here. He enjoyed the vacation to the fullest and said good bye to his family just two weeks ago while he returned to join the Army in Jammu and Kashmir.
Manoj's daughter's birthday was celebrated on 16th of January and it was a grand celebration which he attained for last time. His daughter his too young. His wife Itilata is crying and said that she last talked to her husband by phone on Thursday before Manoj left for Srinagar.
Itilata is yet to come to the terms with the tragedy that her husband is no more. She had married Behera in January 2017. Behera is a native of Niali area in Cuttack district and was inducted in the services in 2006. Manoj's mother Sabitri is also deeply saddened and can't believe her son is no more. His son seemed very happy while he was on vacation and the incident changed everything in his life.
Manoj was a great man with strong patriotic commitment. He would always say, "I can do anything for the country." And of course he did. Not only Niali block, not only Cuttack, but the whole Odisha and the whole Nation is saluting the brave heart.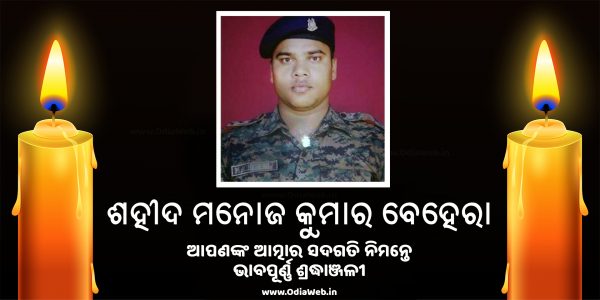 Manoj Behera's Funeral
The detestable incident took place in Jammu and Kashmir on 14 February, 2019 on Thursday. People in thousands of numbers were present during the funeral of the martyred CRPF constable Manoj Kumar Behera in his native village Ratanpur under Niali block of Cuttack district.
It was night when his body was cremated , at a holy cremation ground near by the village. There was a huge procession while carrying Manoj's body up to the cremation ground. His cousin Rajan Behera lit the funeral pyre.
Manoj's father Jatadhari was deeply saddened by the incident but said that he was proud for his son, but want his son's death should be avenged. The villagers also said that they feel so proud of the brave heart and told that Manoj was a kind hearted person with good nature. All the villagers loved him so much.
People were raising slogans like 'Bharat mata ki jai', 'Manoj Kumar amar rahe' as his body, wrapped in Tricolour, reached Ratanpur at 8.40 pm. A wave of people paid their last tribute to the martyr along the Phulanakhara Niali state Highway. 'Pakistan murdabad,' 'Pakistan down down' , slogans were also raised against the betrayal nature of Pakistan. People were seen fiercely angry upon the terror prone country.
Many politicians, Police officers and different class officers were present at the funeral. Debasish Samantaray, the MLA of Cuttack, was also present. He was seen assaulting Manoj's uncle (beating him) due to some reason. The video was viral in social media and on news channels which is now fetching some troubles for the BJD MLA.
The villagers protested and demanded to take strong actions against Pakistan and to retaliate against the terrorist attack. If not so, they threatened the Government to boycott the elections upcoming.
Martyr  Prasanna Kumar Sahoo :  CRPF Havaldar
Prasanna Kumar Sahoo, a native of Naugaon from the Jagatsinghpur district of Odisha, was killed in the terror attack. He was a kind-hearted person, a mixing, friendly man who loved all his villagers. PK Sahoo matriculated from  Karualpatana High School near Konark and studied his intermediate from Kakatpur  College in Puri district. After that, he joined as Havildar in Central Reserve Police Forces in 1992.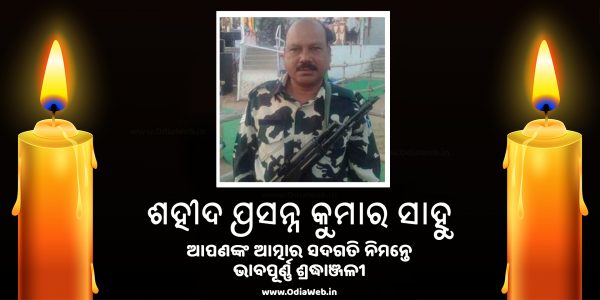 Prasanna Kumar Sahoo's Funeral
Prasanna Kumar Sahoo (PK Sahoo) was martyred in the heart warming terror attack by Jaish-E-Mohammed. PK Sahoo was a native of the Naugaon tehsil of Jagatsinghpur district.  His post was of a Havaldar in the army.
Khirod Biswal, a nursing assistant for the Indian Army, called on Thursday night from Jammu and Kashmir and informed about the death of the martyr.  His death was confirmed by Naugaon Police and ever since the family has been numbed by the tragedy.
PK Sahoo was married and has a girl named Roni along with a boy named Jagan Sahoo. His wife's name is Minarani Sahoo. She was inconsolable and went to senseless state again and again while talking to the media. She spoke to her husband last time on Monday night and the couple were discussing on making arrangements for the marriage of their daughter.
Manoj's daughter Roni, who is currently studying in +3, said she was never aware of such an incident was going to happen in her life. Neither she thought of nor she dreamt of such a heart melting incident. She cried a lot. Last time she talked to her father by phone and asked for some money which she needed in her studies. Her father sent a sum of Rs 2000 into her Uncle's bank account. It was really a shocking and distressing news for her. She narrated her father as a hero for the nation and expressed her griefs. She also demanded justice by taking a revenge and destroying the roots of terrorism. The Sahoo family had no cultivatable land and hence was very poor. Prasanna was the only earner for the family. Sudhir Biswal, a colleague of Prasanna.
Even if PK was poor, he always wore a smile on his face and always helped others. He once donated some amount towards the fencing of a temple. Prakash was a simple and straight person. He loved all his colleagues most and treated everyone with smile on his face. PK Sahoo used to play the role of hero in stage shows and dramas acted by the villagers. He showed his brave heroism being martyred for the country.
Odisha Government Support to Pulwama Martyrs
The martyr's families members were spoke by Chief Minister Naveen Patanaik over the phone. He expressed his high grief about the incident. He also asked Finance Minister Sashi Bhusan Behera to visit the affected personally.
The families are also assured of financial help and support by the CM.
The Odisha government has also announced ex gratia compensation of Rs 10 lakh each for the kin of the martyrs.
Public Support to Pulwama Martyrs
The public of Odisha greatly supported and joined hands together to remember the great deeds of the two martyrs. In the memory of the martyrs, the whole state of Odisha observed Odisha Bandh on last Monday (18.02.2019). Every shops were closed. Only a few public institutions and transportation were open and everyone showed respect to the martyrs by burning candles. The martyrs were offered with flowers and candles on their images. The whole state and the nation is mourning on the death of the Army officers and is demanding for a quick revenge from Pakistan and the terrorist group of Jaish-e-Mohammad.
Finally, the two brave soldiers of Odisha, PK Sahoo and Manoj Behera who fought for their country till they all had their last breath, may their souls rest in peace. Amen. !
Comments
comments