When the term tradition comes, we all are well- aware that there are different customs and traditions from around the world. Different Countries have different traditions, and each state has its own iconic sarees. One such popular variety is Traditional Sarees in Indian Culture. We have all seen it since our childhood, whether it is our grandmother's generation to our mother's generation or even the modern age generation girls, all prefer to wear traditional sarees to enhance their own beauty in this formal attire. There are varieties of traditional sarees famous in the state of its origination like Kanjeevaram Silk Saree from Tamil Nadu, Kancheepuram, Banarasi Silk Saree from Varanasi, Paithani Silk Saree from Maharashtra, Kasavu Saree from Kerala, Sambalpuri Ikat Saree from Odisha and many more.
Sambalpuri Sarees also known as Ikat of Odisha is a very famous Handloom Saree that is originated mostly in the western parts of Odisha. These sarees are in high demand because of its unique and exclusive designs which gives an elegant look. These are interlaced in both cotton and silk fabrics. The silk sarees popular for its fine and glowing appearance is mostly preferred for special occasions like festivals, party, and wedding whereas the cotton sarees are mainly designed for daily wear because of its comfort.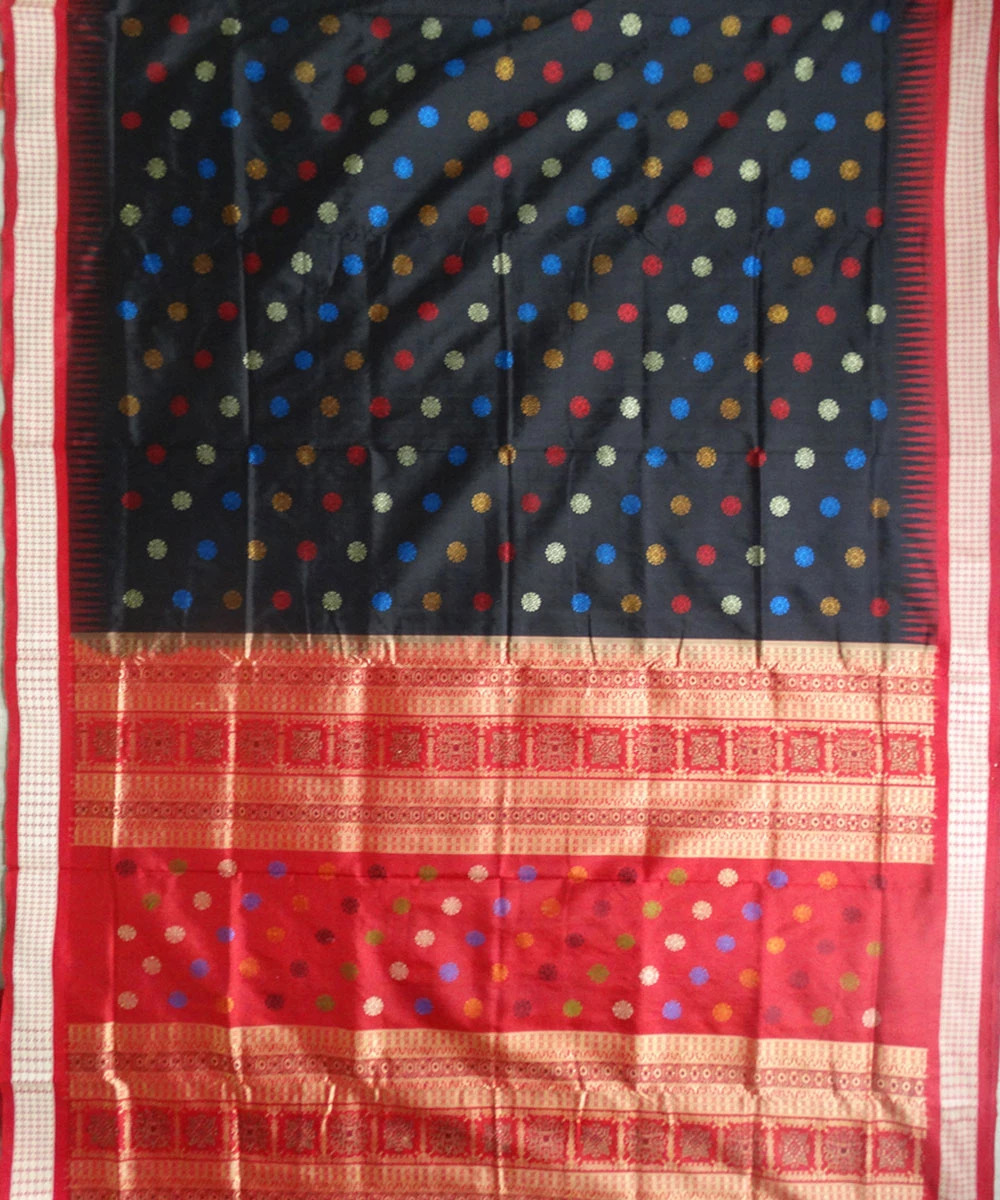 We can get a variety of sambalpuri sarees like Bomkai, Pasapalli, Sonepuri, Bapta, Barpalli, each having a unique design quality in its own way. You can also get a good collection of these sarees in different bright colours. These sarees come with different beautiful designs with traditional motifs like shankha(shell), Phula(flower), Chakra(Wheel), Shingha(Lions), Bird Depictions, Pasapalli, Tribals, etc. Gemoetrical patterns and lines are also used in the sarees to give an earthy and splendid look. The borders of these sarees are very well decorated and are always given a contrasting color to the main body so as to give the lustrous look.
It is said that the Late Prime Minister Indira Gandhi was very fond of Sambalpuri Sarees and attended almost all public events by wearing this attire. As a result, these sarees came to limelight outside Odisha and the demand for them as well increased. As time goes on, people started appreciating the unique design and optimum qualities of the hand-crafted textiles, and these sarees became prevalent in India as well as in abroad for its flourishing and ethnic beauty.
Sambalpuri Sarees are purely hand-crafted that is made by the Bhulia (weaver) families using the method of tie & dye, knotting sections of the yarn & then immersing them in color one at a time, and at last weaving them to provide patterns in a vibrant manner. The yarns are knotted according to the required patterns. These sarees have a distinctive feature that is the design can be mirrored on both sides with the identical clarity.
Master Radhashyam Meher is said as to get involved in saree weaving work since childhood from the age of 11 years. He was very attracted towards the weaving work. Due to his hard work, efforts and dedication, a lot of improvements have been developed in the quality of the textile and craftsmanship, which has created the popularity of Sambalpuri sarees today.
Here you can find a few descriptions regarding the different variants of sambalpuri sarees:
Bapta Saree
It is a design of sambalpuri saree with a combination of cotton and silk weaving. It has beautiful motifs, fascinating color combination and softness of fabric. The tangled art work of silk and cotton thread together gives an excellent dimension to improvise its beauty. In Bapta sarees, the gold coloured yarns are commonly used.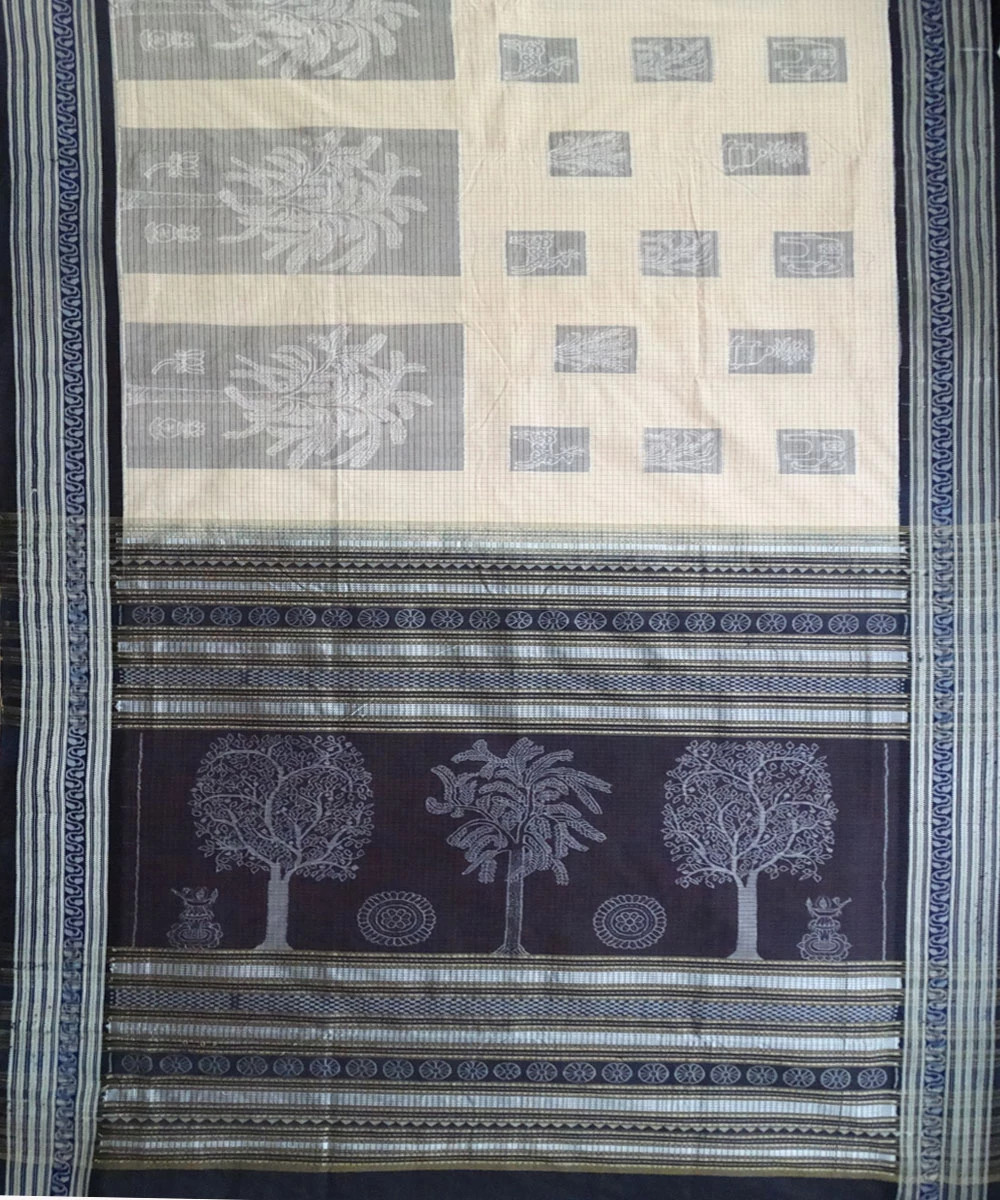 Bomkai Saree
These sarees are originated in a small town named Bomkai of Ganjam district of Odisha and are well-known for their historic look and is preferably convenient for middle-aged and elderly women. The motifs used in the Bomkai Sambalpuri sarees are influenced by history, mythology and iconic symbols.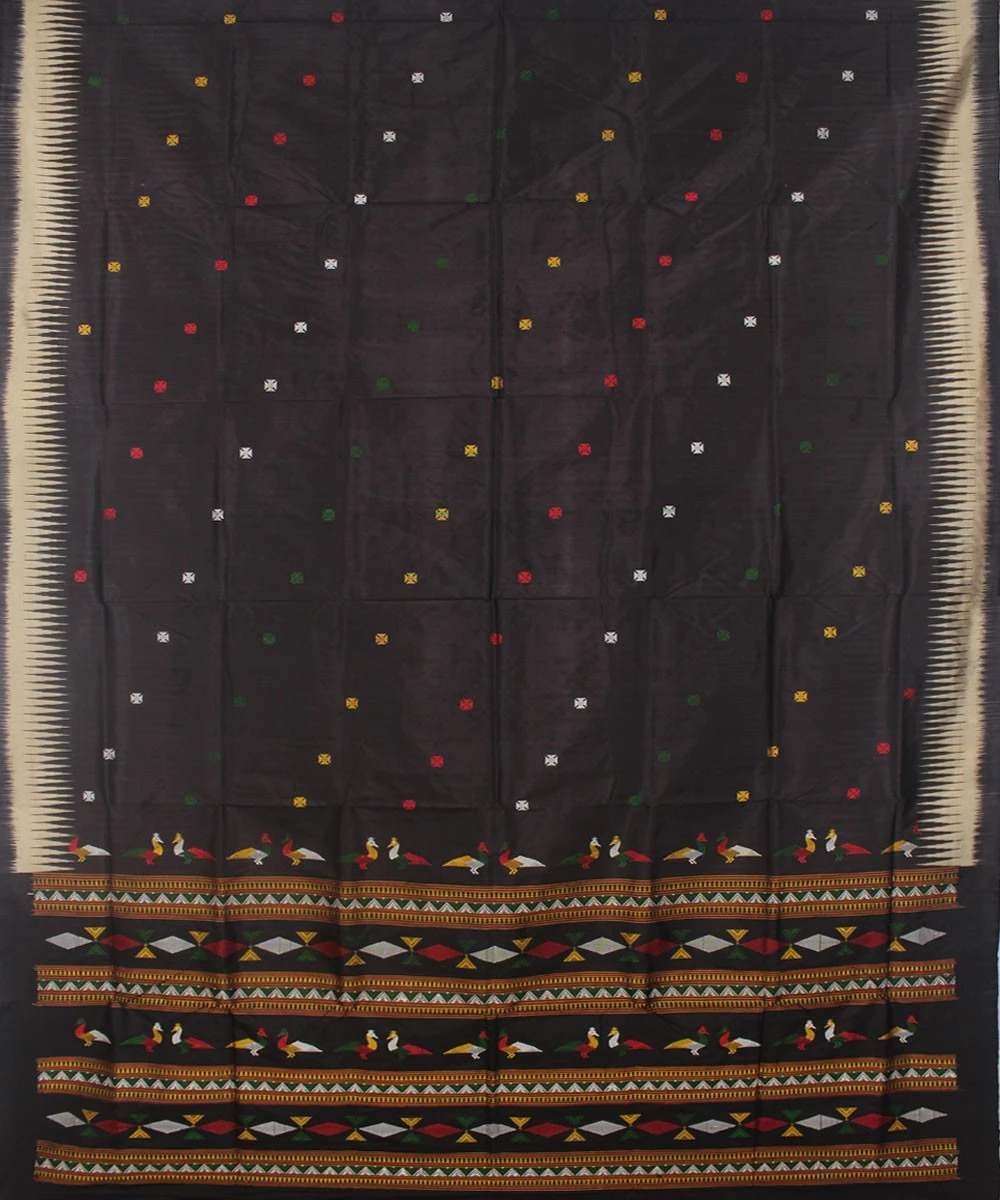 Pasapalli Saree
Pasa is known as the betting or gambling game and the name pasapalli is derived from it as the pattern of this saree looks like the chess board with the contrast color replicating chess board. The color combination of these sarees is mostly white-red, white-black, black-red squares design.
Barpalli Saree
These sarees are made in a small city of western Odisha famous for the weaving of sambalpuri handloom textiles. The motifs used in these sarees are mostly geometrical patterns.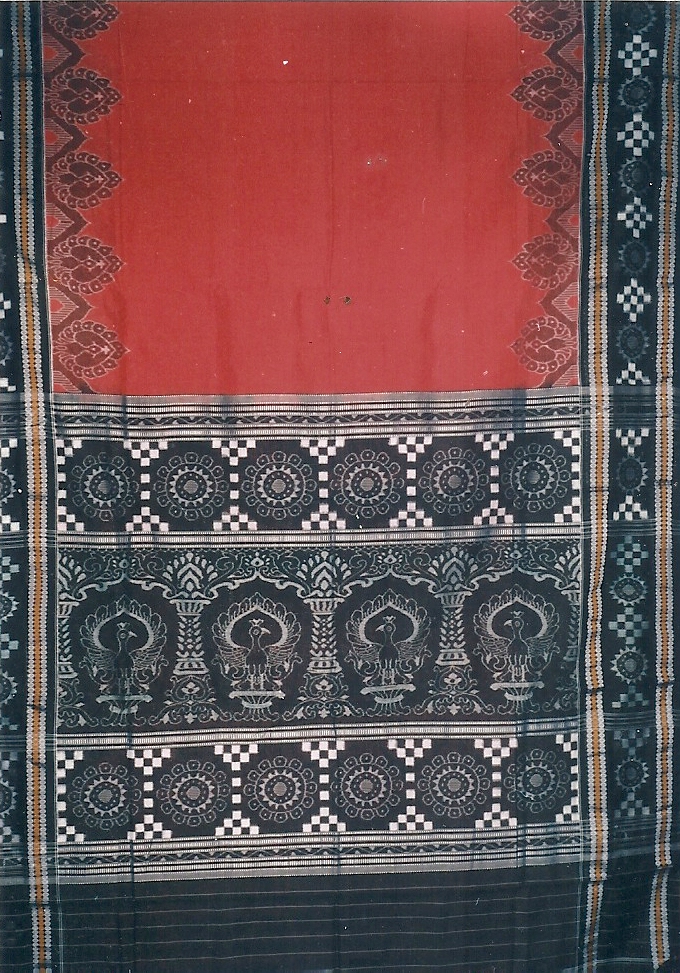 The Sambalpuri Saree is a tribute to the Indian Culture. Women of all generations including young age girls are known to have a variant of these sambalpur sarees in their wardrobe. As the time goes by, the trend gets updated with the latest design and modern outfits, but the hand-woven exclusive sambalpuri sarees is still popular for years because of its own unique style which embellishes the gracefulness and give more refinement. In these days we can find many designs that are implemented on materials, like polyester, nylon, etc with the use of automatic machines, but the original raw materials used for weaving Sambalpuri ikat saree were cotton and silk. It is no doubt that there is no comparison between the handmade sarees and the machine made sarees. The magical touch and the pure dedication of the weavers, produce the perfect transparent design which is not possible by mechanical means. Tie and dye art works well when it is hand crafted with proper integration. So it is said that the manually produced realistic art cannot be replaced by any machine.
Comments
comments