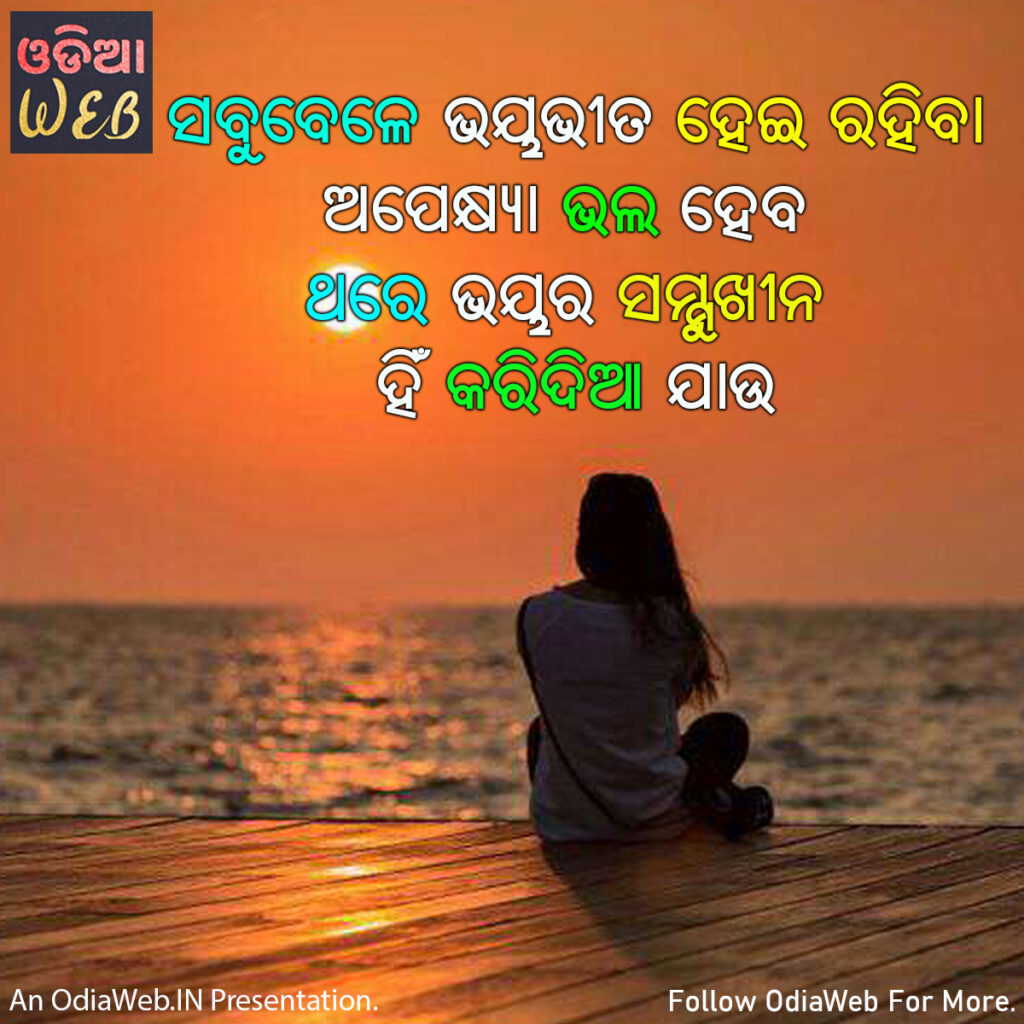 ସବୁବେଳେ ଭୟଭୀତ ହେଇ ରହିବା ଅପେକ୍ଷ୍ୟା ଭଲ ହେବ ଥରେ ଭୟର ସମ୍ମୁଖୀନ ହିଁ କରିଦିଆ ଯାଉ 
It's better to be scared than to be scared.
sabubele bhayabheeta hoi rahiba apkshya bhala heba thare bhayara sammukheena hi karidiaa jau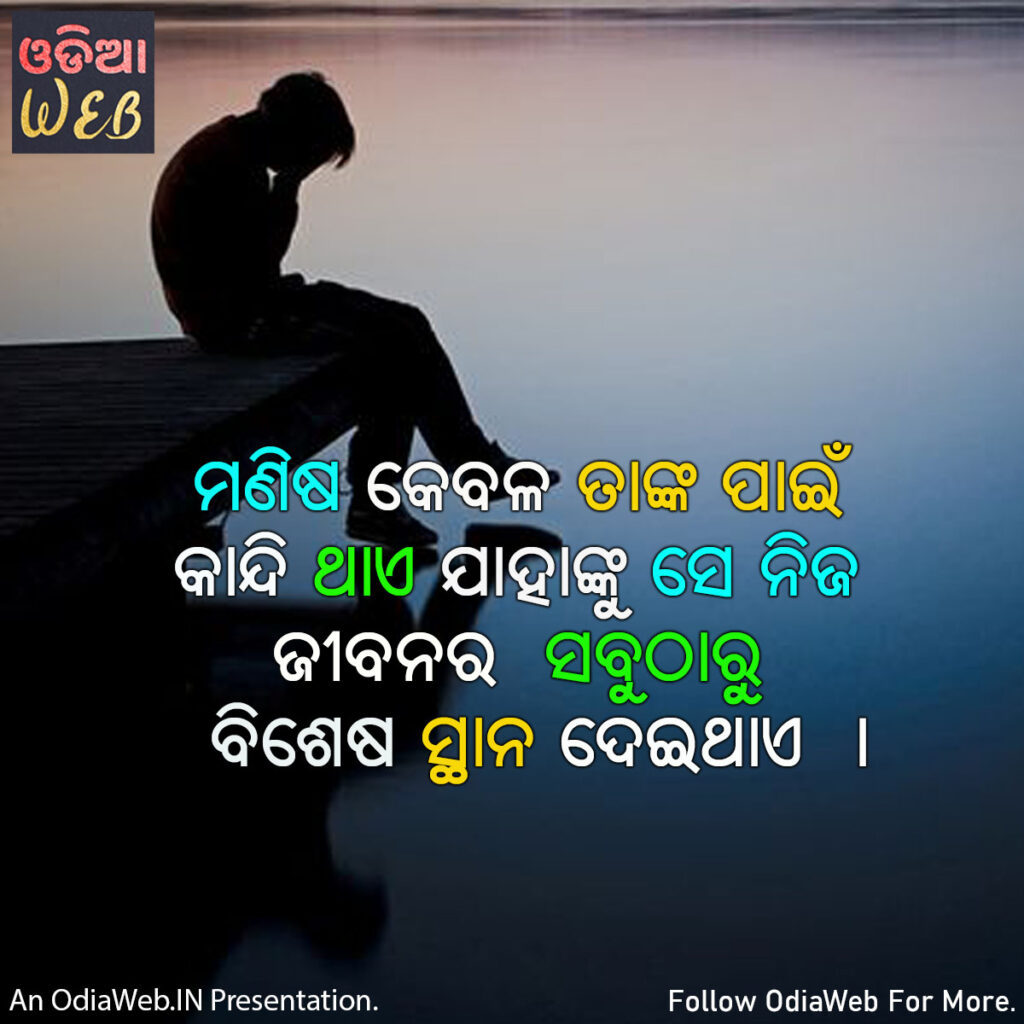 ମଣିଷ କେବଳ ତାଙ୍କ ପାଇଁ କାନ୍ଦି ଥାଏ ଯାହାଙ୍କୁ ସେ ନିଜ ଜେଏବନର ସବୁଠାରୁ ଭିଶେଷ ସ୍ଥାନ ଦେଇଥାଏ 
Man cries only for him, which gives him the most special place in his life
manisha kebala tanka pai kandi thae jahaku se nija jeebanara sabutharu bishesha sthana deithae 
Best Broken heart Sad Quotes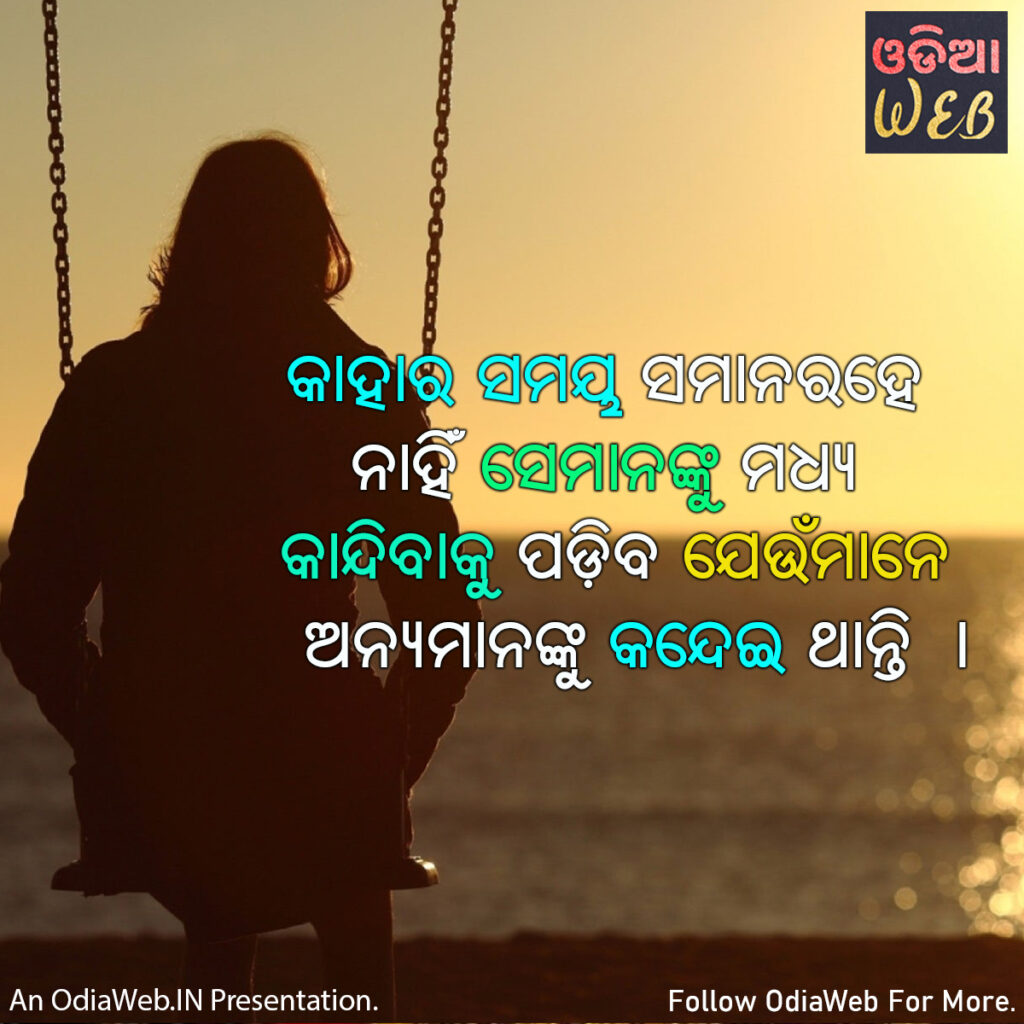 କାହାର ସମୟ ସମାନରହେ ନାହିଁ ସେମାନଙ୍କୁ ମଧ୍ୟ କାନ୍ଦିବାକୁ ପଡିବ ଯେଉଁମାନେ ଅନ୍ୟମାନଙ୍କୁ କନ୍ଦେଇ ଥାନ୍ତି 
No one has the same amount of time to cry, and those who do cry out to others
kahara samaya samanrahe nahi semananku madhya kandibaku padiba jeumane anyamananku kandei thanti .
New Odia Sad Quotes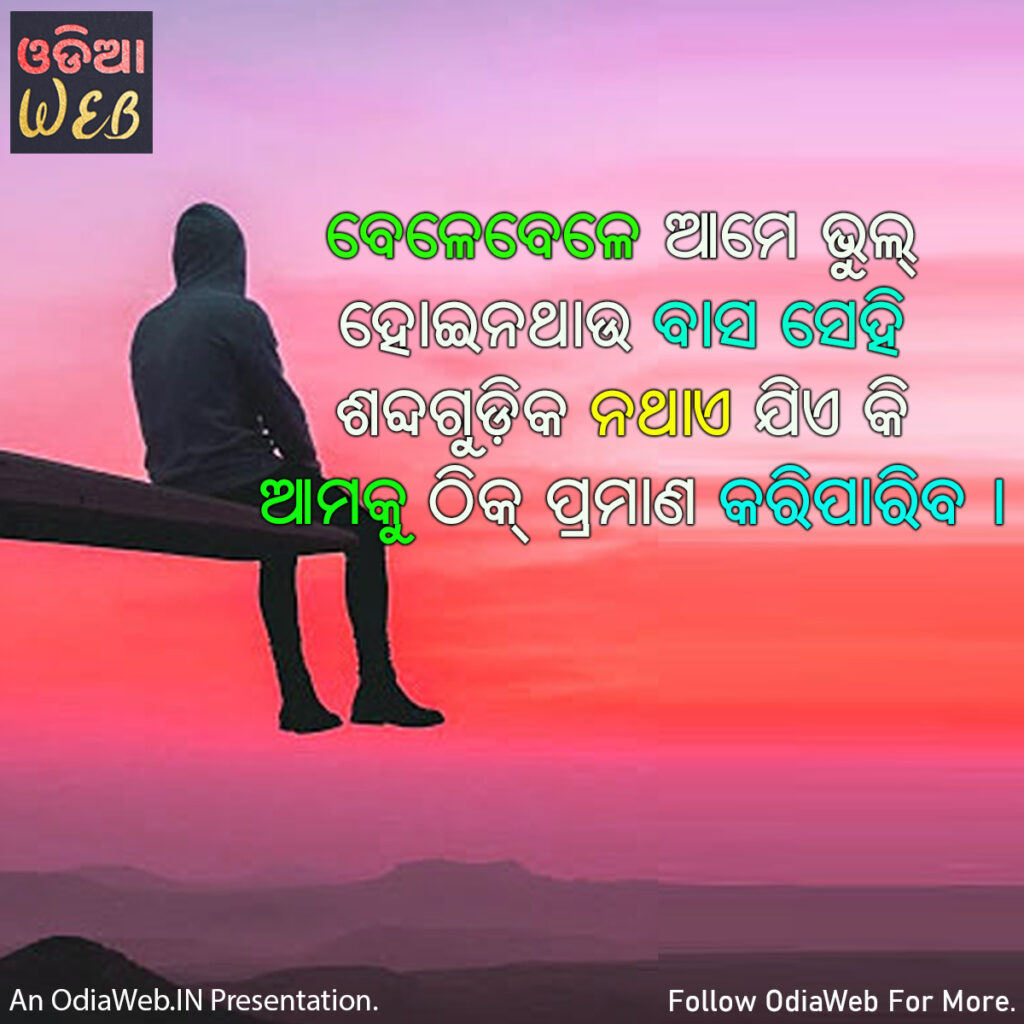 ବେଳେବେଳେ ଆମେ ଭୁଲ୍ ହୋଇନଥାଉ ବାସ ସେହି ଶବ୍ଦଗୁଡିକ ନଥାଏ ଯିଏ  କି ଆମକୁ ଠିକ୍ ପ୍ରମାଣ କରିପାରିବ 
Sometimes we are not mistaken, there are no words that can prove us right.
belebele Aame bhul hoinathau bas sehi shabdagudhika nathae jie ki amaku thik pramana karipariba.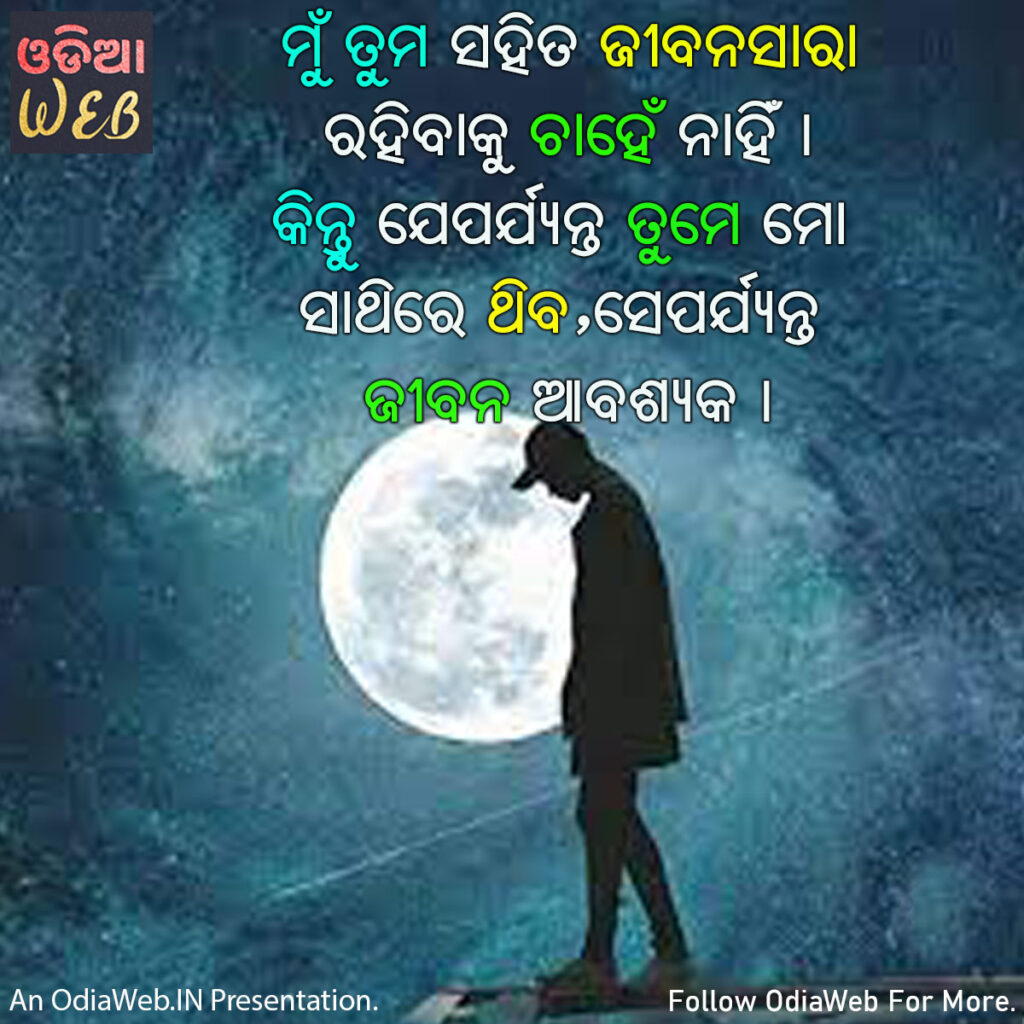 ମୁଁ ତୁମ ସହିତ ଜୀବନସାରା ରହିବାକୁ ଚାହେଁ ନାହିଁ | କିନ୍ତୁ ଯେପର୍ଯ୍ୟନ୍ତ ତୁମେ ମୋ ସାଥିରେ ଥିବ, ସେପର୍ଯ୍ୟନ୍ତ ଜୀବନ ଆବଶ୍ୟକ |
I don't want to be with you for life But as long as you are with me, life is need .
Mu tuma sahita jeebanasara rahibaku chahe nahi . kintu jeparjantya tume mo sathire thiba separjyanta jeebana Aabashyaka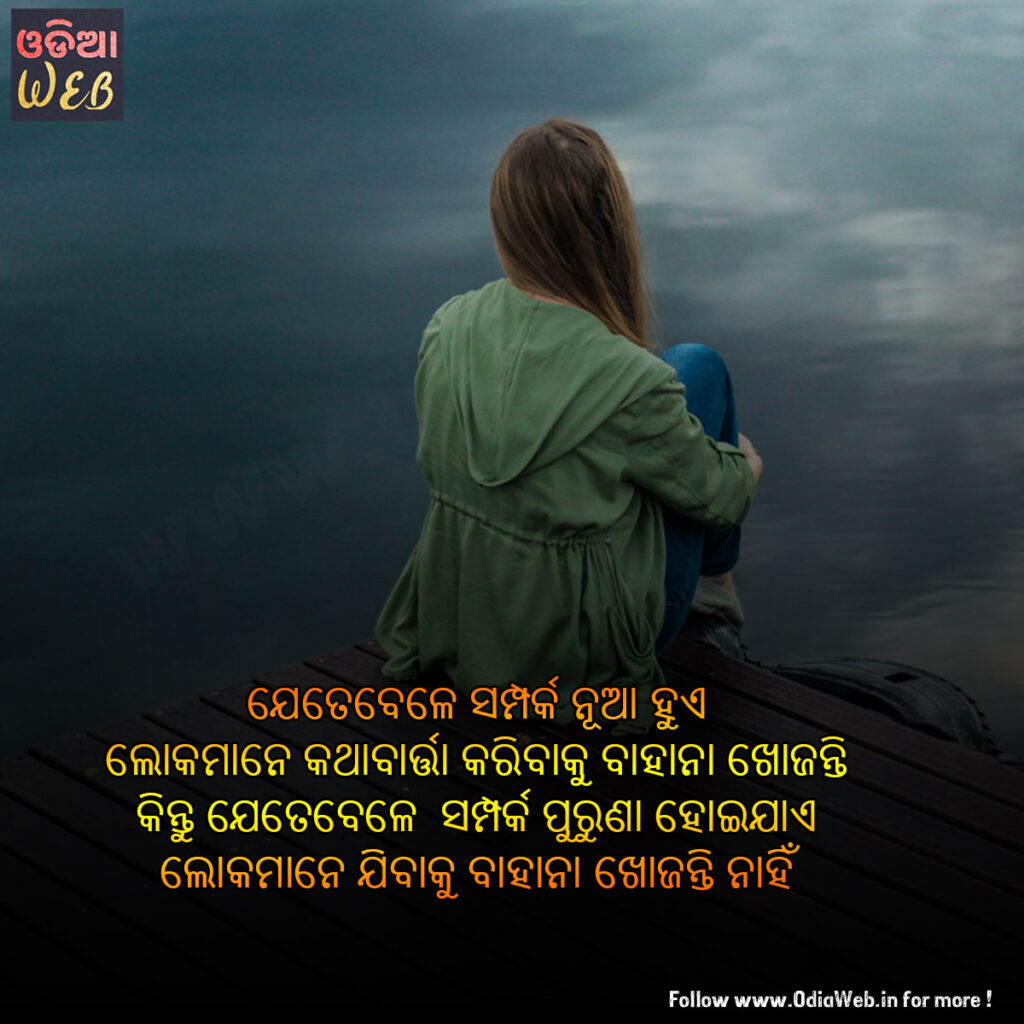 ଯେତେବେଳେ ସମ୍ପର୍କ ନୂଆ ହୁଏଲୋକମାନେ କଥାବାର୍ତ୍ତା କରିବାକୁ ବାହାନା ଖୋଜନ୍ତିକିନ୍ତୁ ଯେତେବେଳେ ସମ୍ପର୍କ ପୁରୁଣା ହୋଇଯାଏ
ଲୋକମାନେ ଯିବାକୁ ବାହାନା ଖୋଜନ୍ତି
When the relationship is new People look for excuses to talk But when the relationship gets old People don't look for excuses to go
jetabele Samprka Nua hue lokamane kathabartta karibaku bahana khojanti kintu jetabele sampraka puruna hoi jae loka mane jiba ku bahana khojanti
More: Odia Miscellaneous Quotes
More: Odia Good Night Quotes
Are you looking for authentic Odisha Jhuna, order today from OdishaShop
Comments
comments