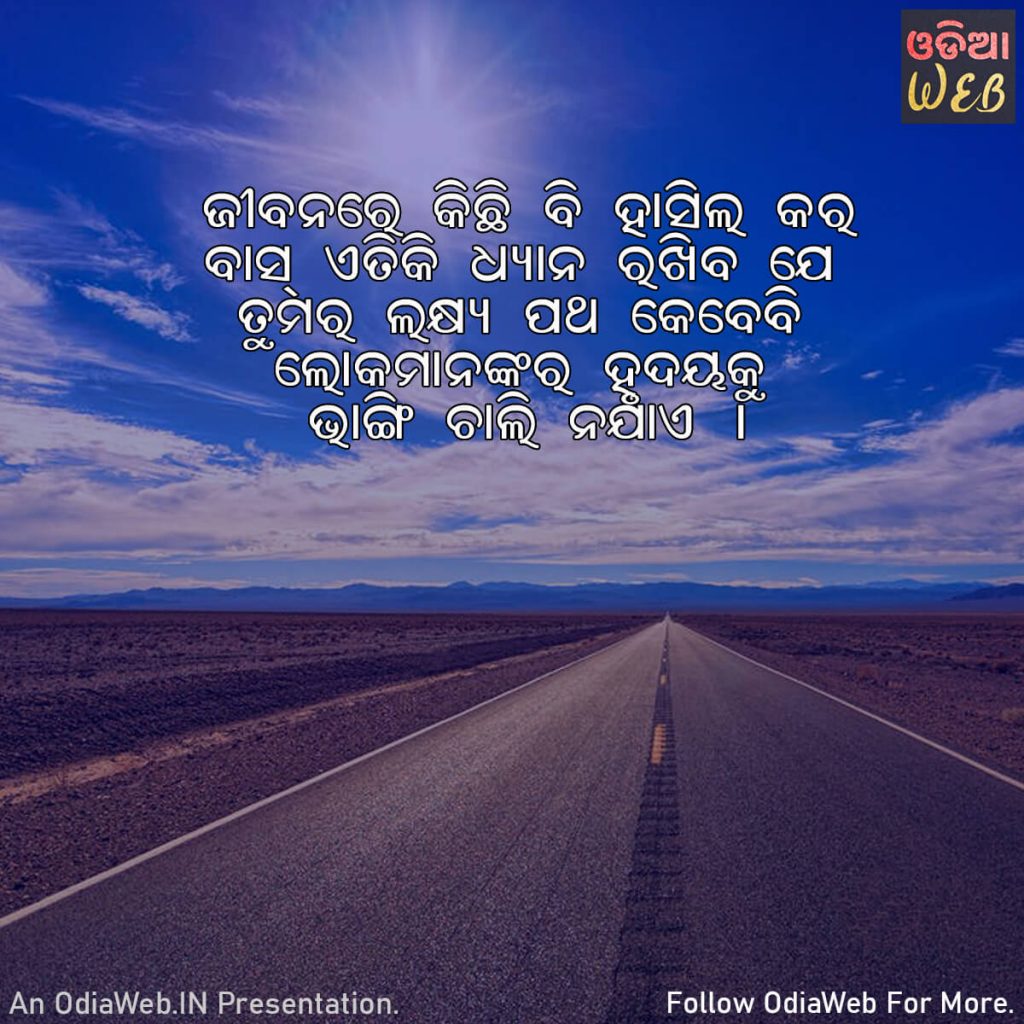 ଜୀବନରେ କିଛି ବି ହାସିଲ କର ବାସ୍ ଏତିକି ଧ୍ୟାନ ରଖିବ ଯେ ତୁମର ଲକ୍ଷ୍ୟ ପଥ କେବେବି ଲୋକମାନଙ୍କର ହୃଦୟକୁ ଭାଙ୍ଗି ଚାଲି ନଯାଏ ।
Achieve anything in life, make sure your path never breaks people's hearts.
Jibanare Kichibi Hasil Kara Bas Etiki Dhyana Rakhiba Je Tumara Lakhyapatha Kebebi Lokamanankara hrudayaku Bhangi Chali Najae.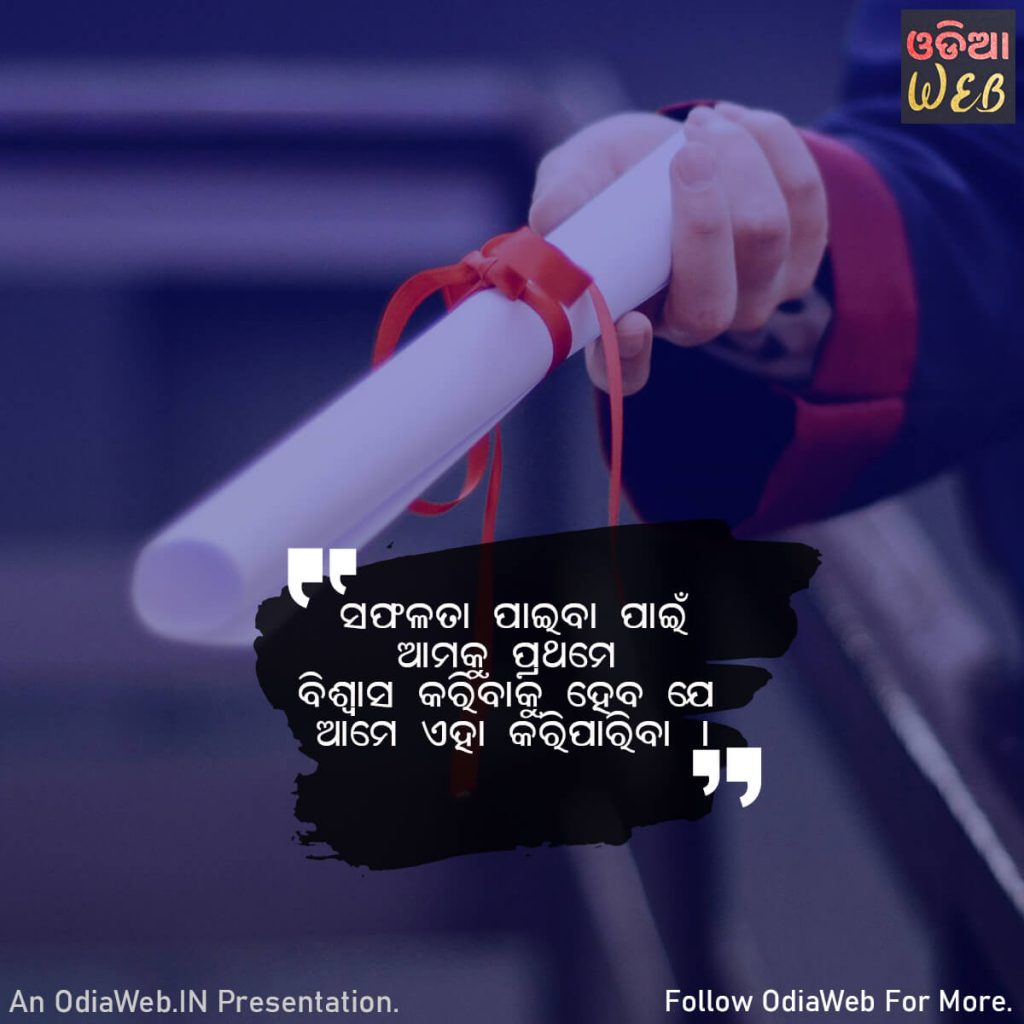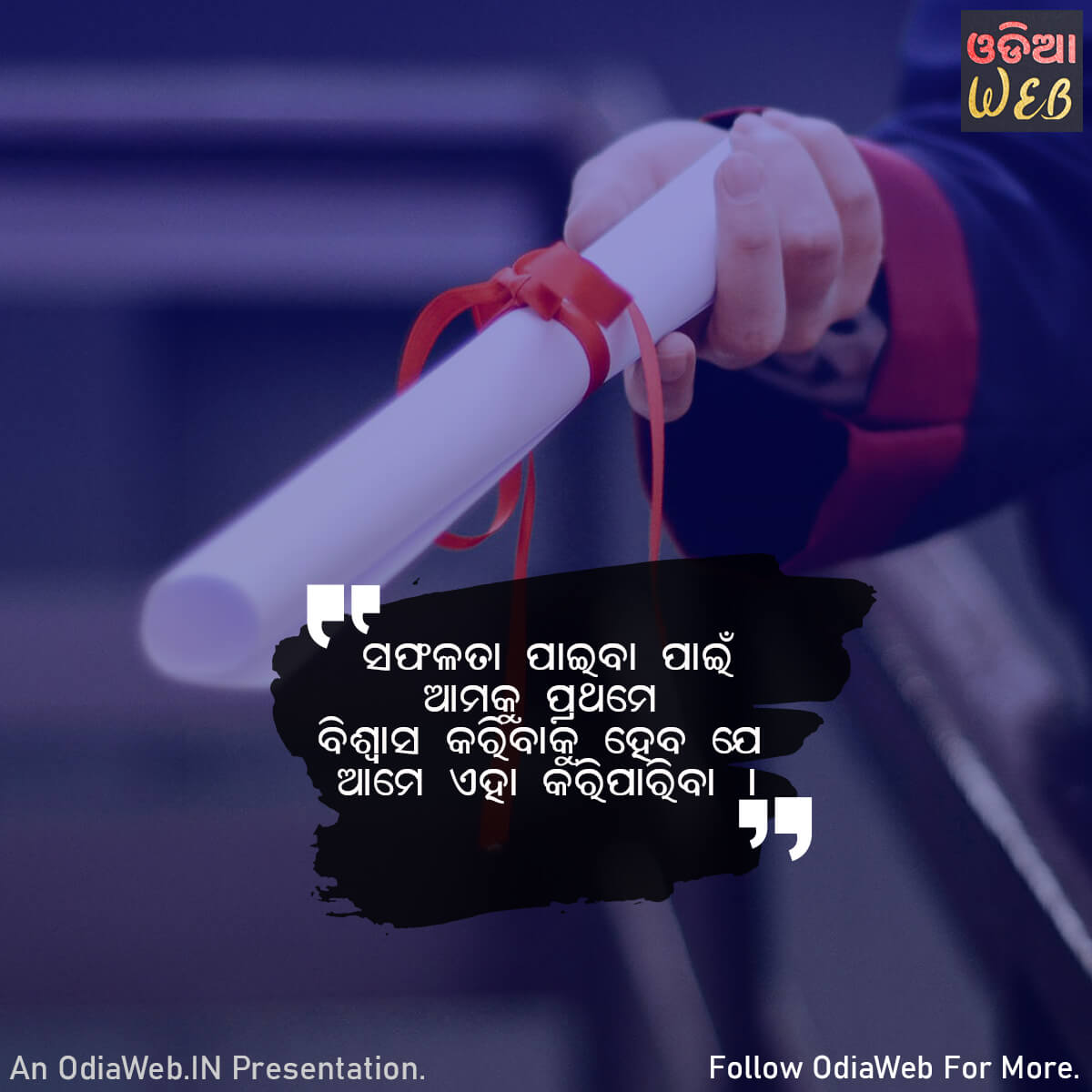 ସଫଳତା ପାଇବା ପାଇଁ ଆମକୁ ପ୍ରଥମେ ବିଶ୍ୱାସ କରିବାକୁ ହେବ ଯେ ଆମେ ଏହା କରିପାରିବା ।
To be successful, we must first believe that we can do it.
Saphalata Paiba Pain Amaku Prathame Biswas Karibaku Heba Je Ame Eha Karipariba.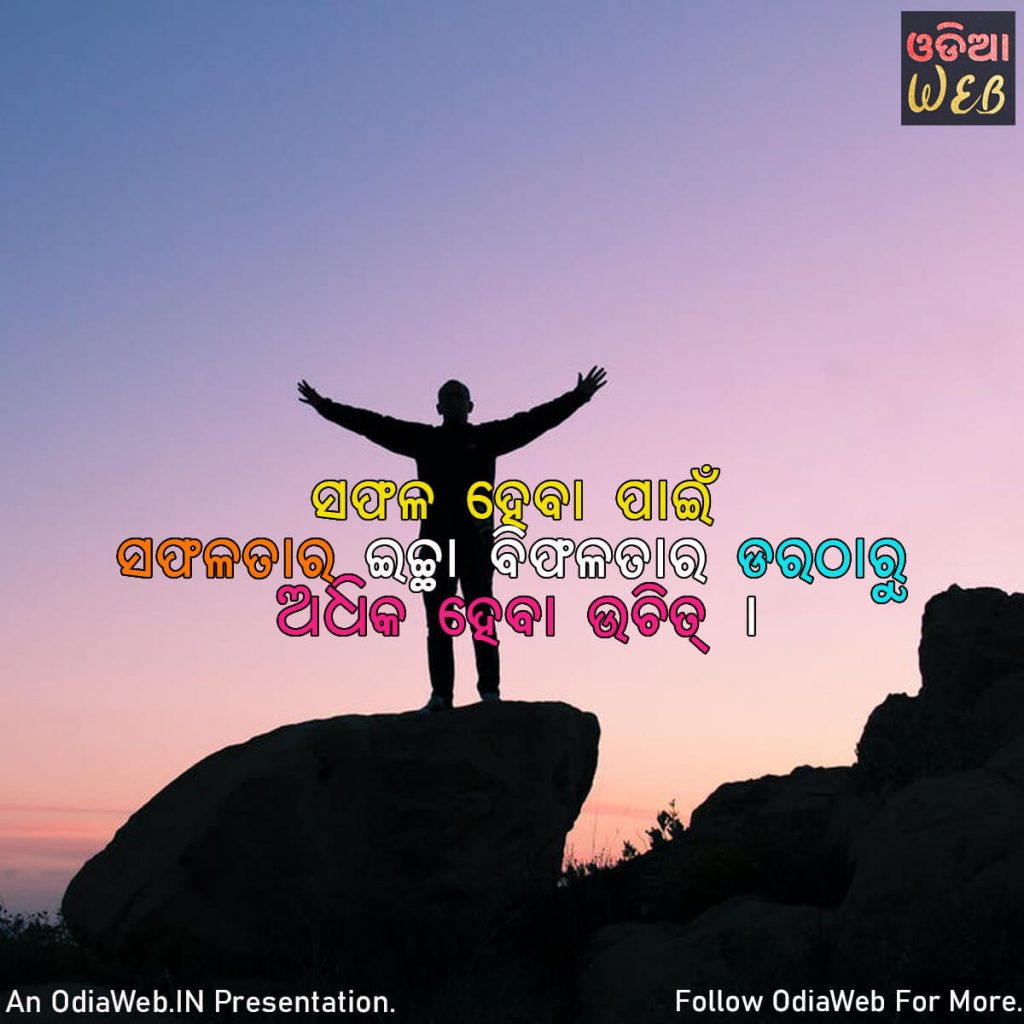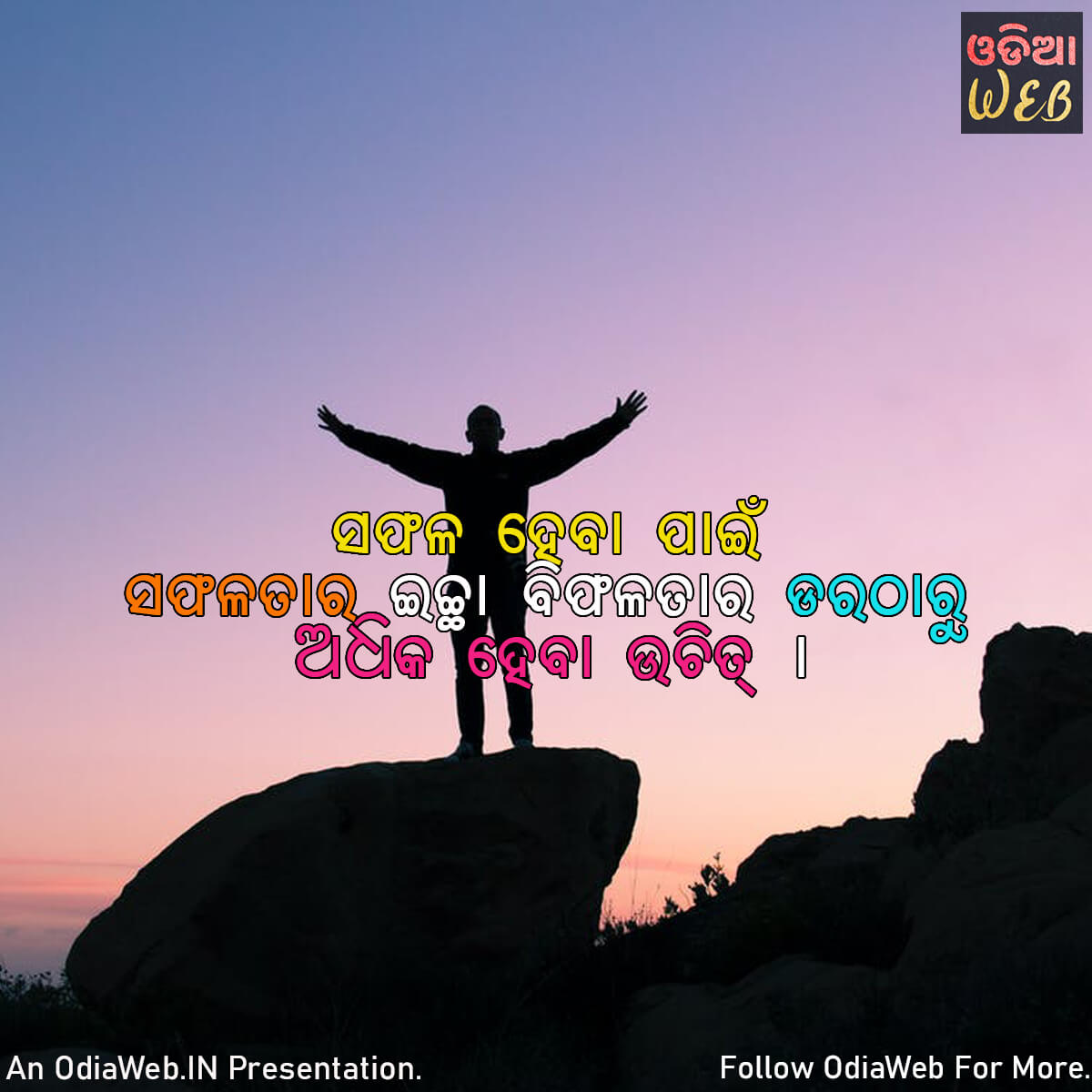 ସଫଳ ହେବା ପାଇଁ ସଫଳତାର ଇଚ୍ଛା ବିଫଳତାର ଡରଠାରୁ ଅଧିକ ହେବା ଉଚିତ୍ ।
The desire to succeed must be greater than the fear of failure.
Saphala Heba Pain Saphalatara Ichha Biphalatara Daratharu Adhika Heba Uchit.
ସଫଳ ହେବା ପାଇଁ ଏକା ହିଁ ଆଗକୁ ବଢିବାକୁ ପଡିଥାଏ, ଲୋକମାନେ ତ ପଛରେ ସେତେବେଳେ ଆସନ୍ତି ଯେତେବେଳେ ଆମେ ସଫଳ ହୋଇଯାନ୍ତି ।
We have to move forward to be successful, and people are following us when we succeed.
Saphala Hebapain Eka Hin Amaku Agaku Badhibaku Padithae, Lokamane Ta Pachhare Setebele Asanti Jetebele Ame Saphala Hoijanti.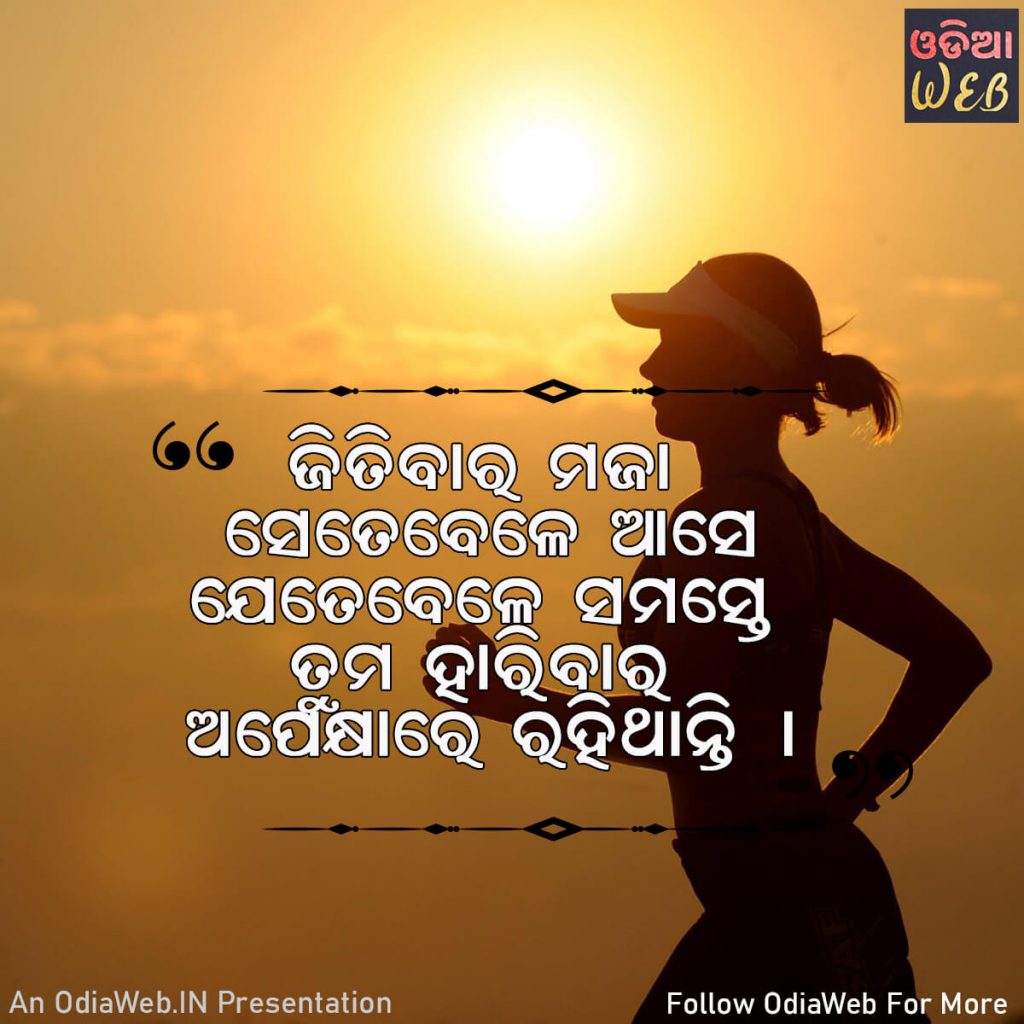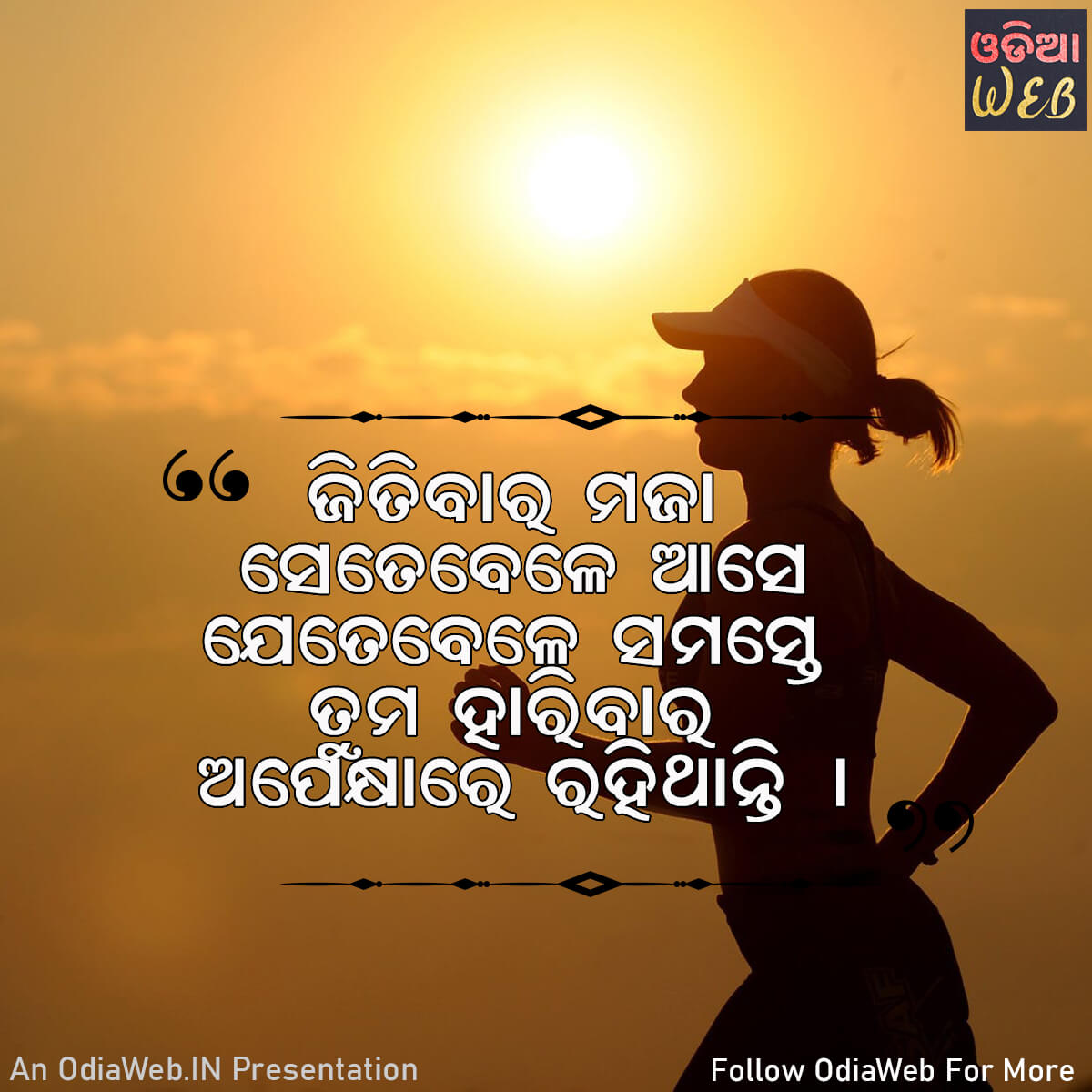 ଜିତିବାର ମଜା ସେତେବେଳେ ଆସେ, ଯେତେବେଳେ ସମସ୍ତେ ତୁମ ହାରିବାର ଅପେକ୍ଷାରେ ରହିଥାନ୍ତି ।
The fun of winning comes when everyone is waiting for you to lose.
Jitibara Maja Setebele Ase, Jetebele Samaste Tuma Haribara Apekhyare Rahithanti.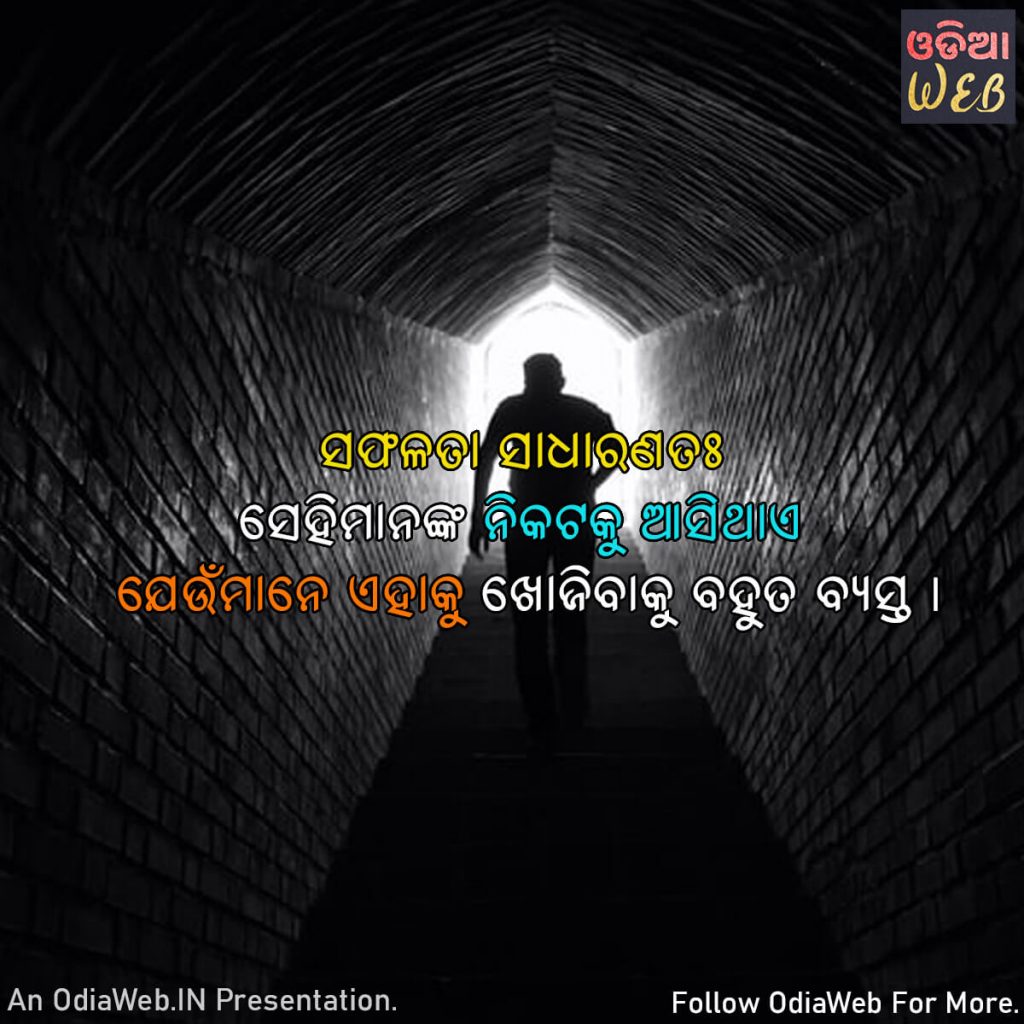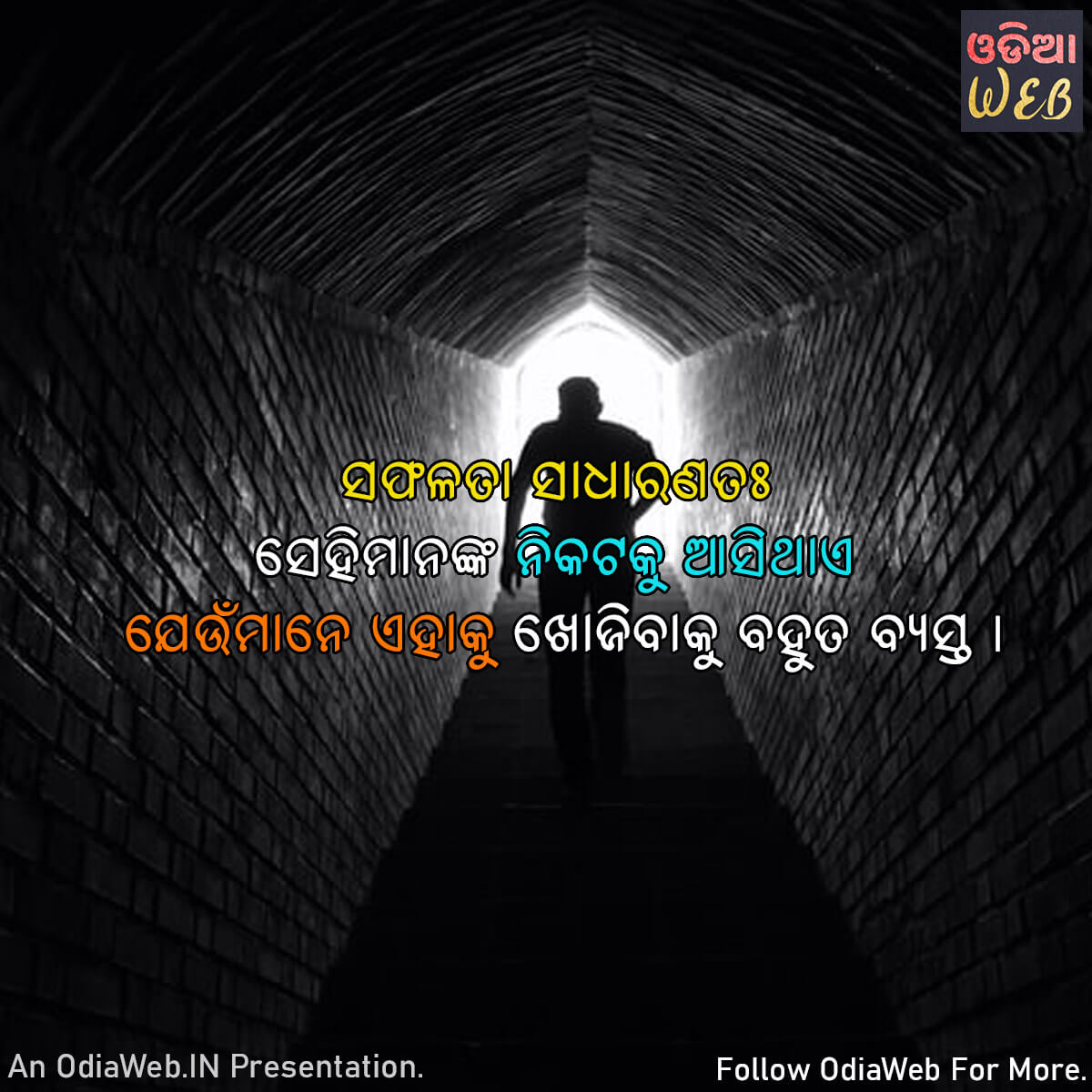 ସଫଳତା ସାଧାରଣତ ସେହିମାନଙ୍କ ନିକଟକୁ ଆସିଥାଏ ଯେଉଁମାନେ ଏହାକୁ ଖୋଜିବାକୁ ବହୁତ ବ୍ୟସ୍ତ |
Success usually comes to those who are too busy to find it.
Saphalata Sadharanata Sehimananka Nikataku Asithae Jeunmane Ehaku Khojibaku Bysta.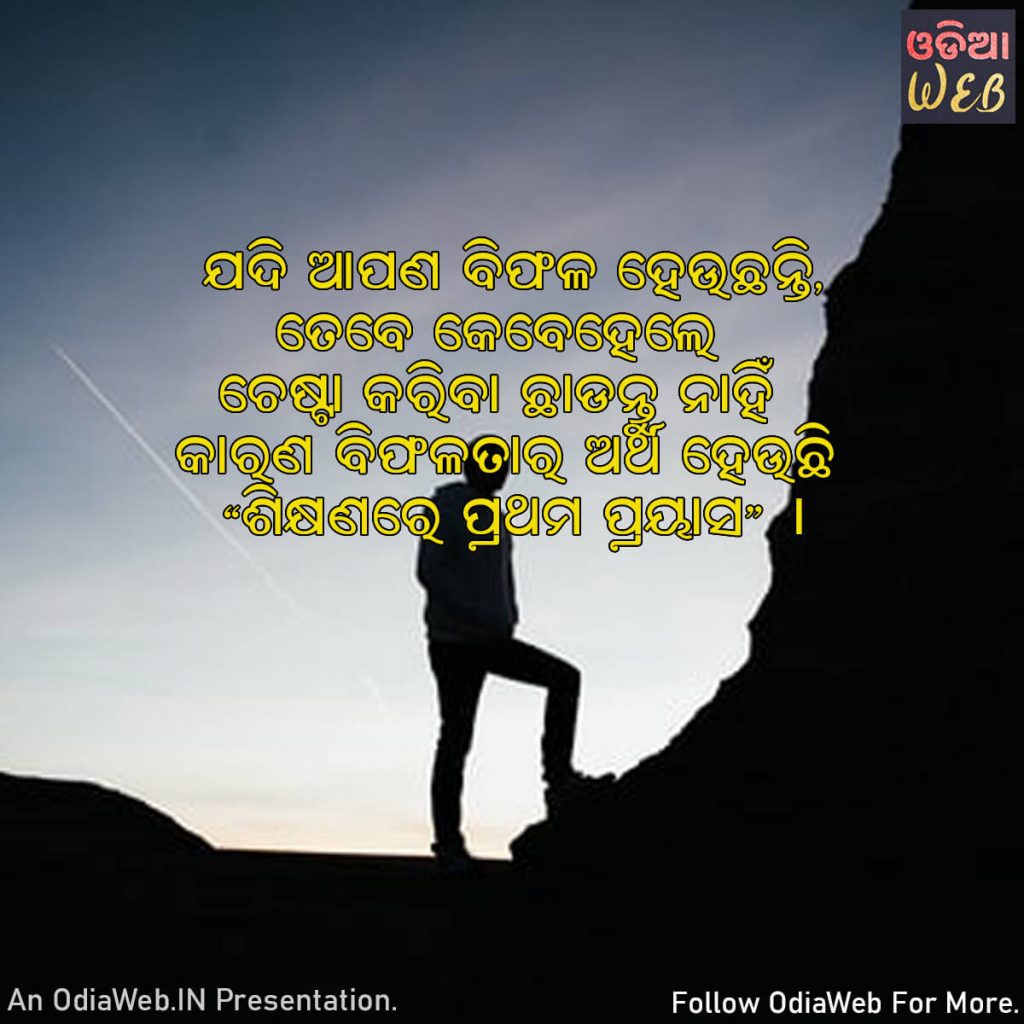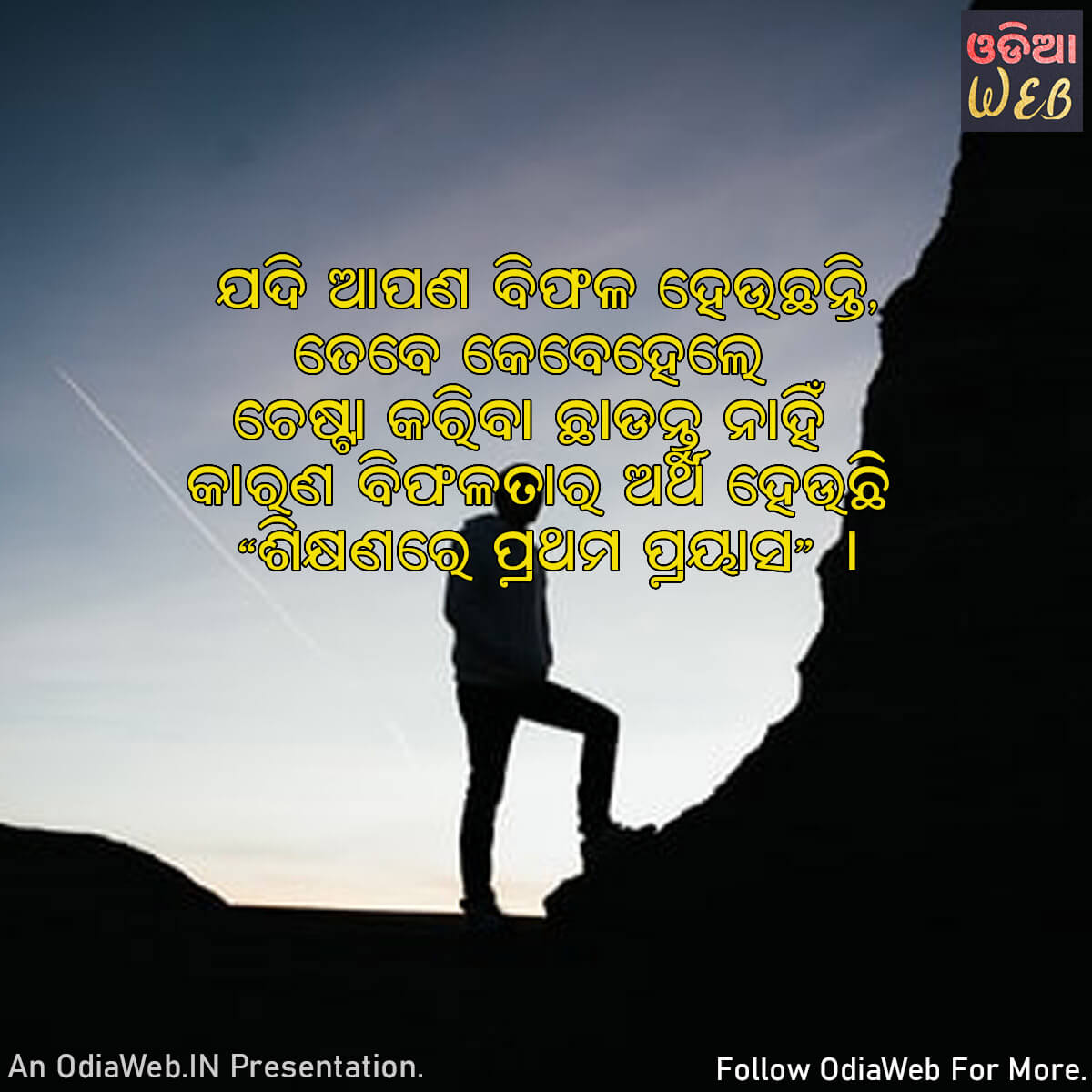 ଯଦି ଆପଣ ବିଫଳ ହେଉଛନ୍ତି, ତେବେ କେବେହେଲେ ଚେଷ୍ଟା କରିବା ଛାଡନ୍ତୁ ନାହିଁ କାରଣ ବିଫଳତାର ଅର୍ଥ ହେଉଛି "ଶିକ୍ଷଣରେ ପ୍ରଥମ ପ୍ରୟାସ" |
If you fail, never give up trying because failure means "first attempt in learing".
Jadi Apana Biphala Heuchanti, Tebe Kebehele Chesta Kariba Chadantu Nahin Karana Biphalatara Artha Heuchhi "Sikhyanare Prathama Prayasa.
More: Odia Quotes on success
More: Odia Motivational Quotes
More: Odia Succesfuul Quotes
Are you looking for Odia Novel By Dhuli Ghara Dr. Bibhuti Pattnaik ,order today from OdishaShop.
Comments
comments