Best Odia Good Morning Quotes : We say good morning to each one of them and they all have special time with us. For "Odia Good Morning Quotes " , " Subha Sakala Odia Quotes " ,Or " Odia Good Morning Wishes " then you are at the right place. Here you would find 100s of new design good Morning quotes that you can easily share with your near and dear ones.+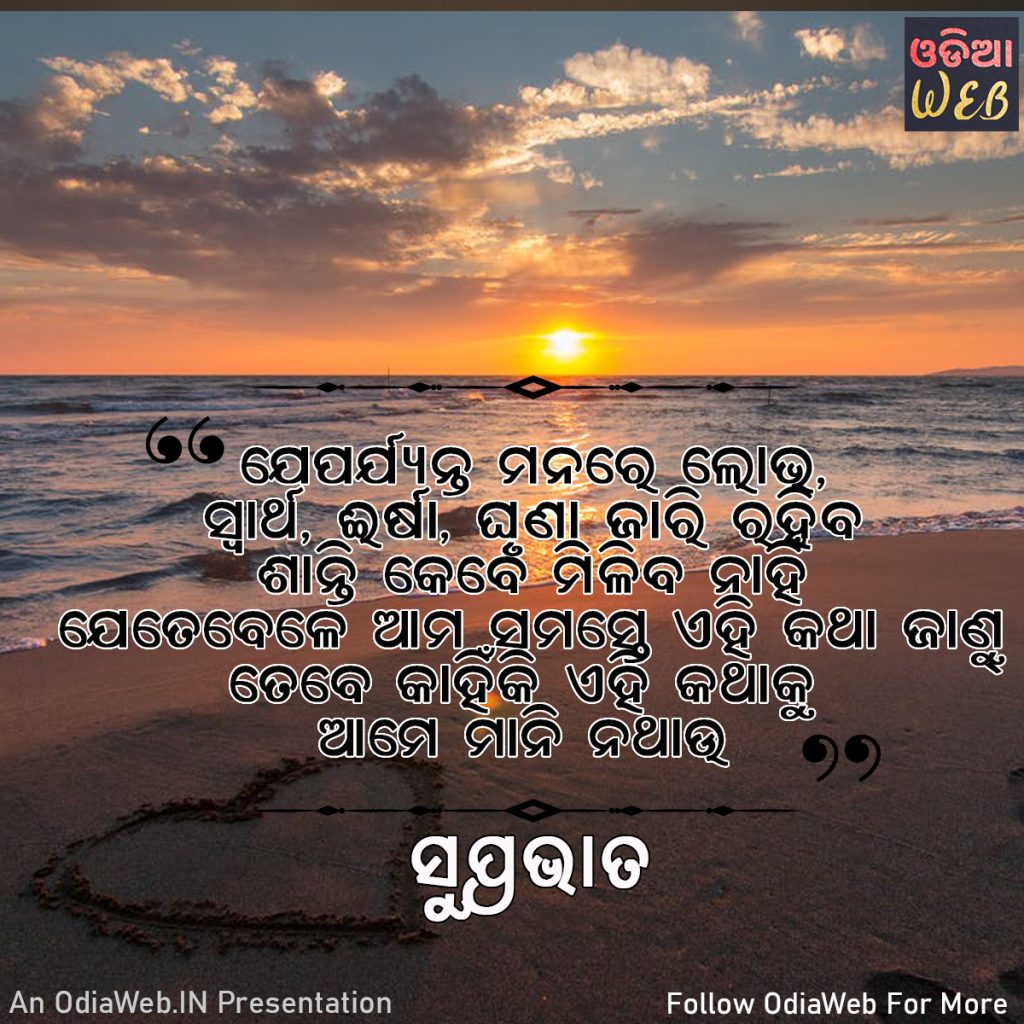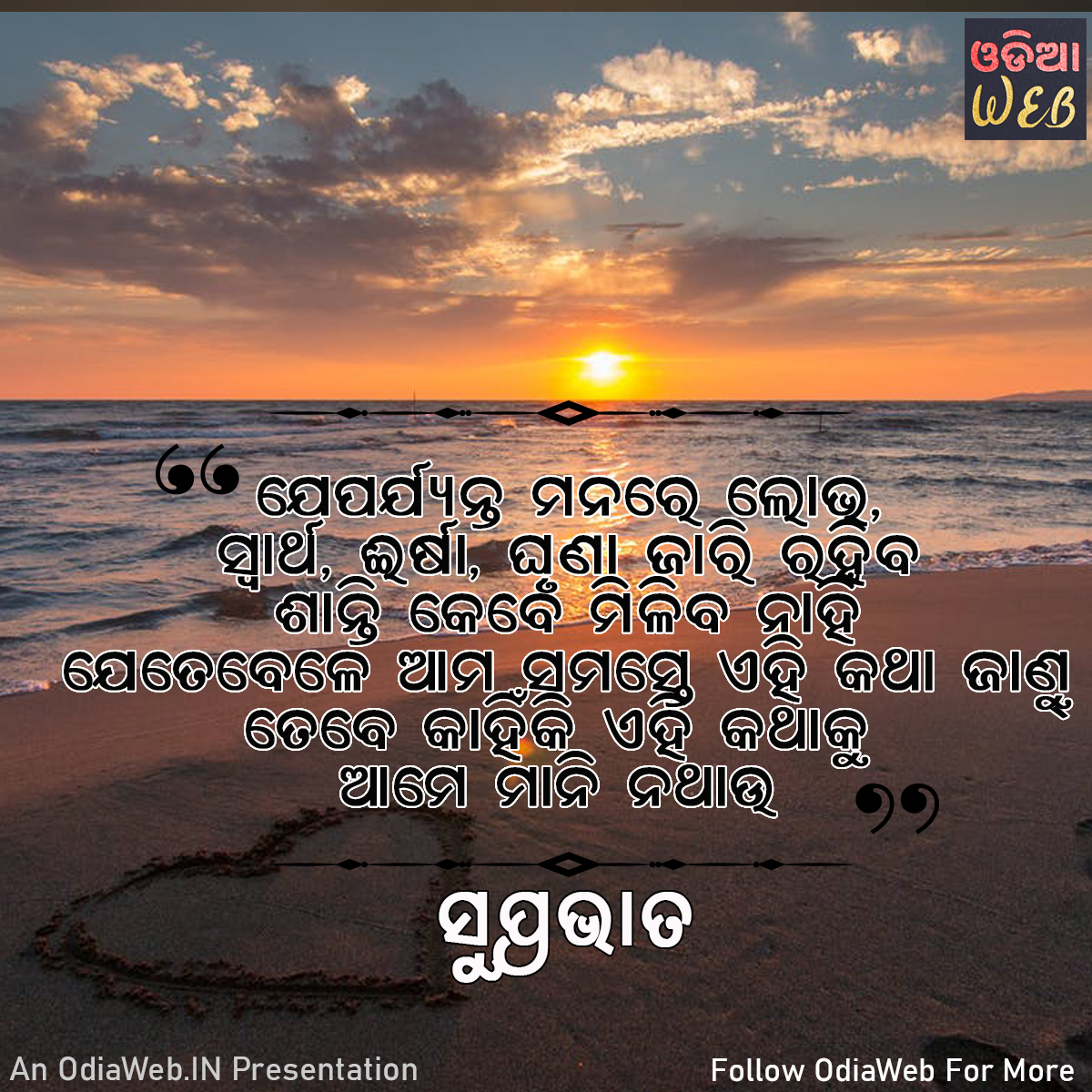 ଯେପର୍ଯ୍ୟନ୍ତ ମନରେ ଲୋଭ, ସ୍ୱାର୍ଥ, ଈର୍ଷା, ଘୃଣା ଜାରି ରହିବ ଶାନ୍ତି କେବେ ମିଳିବ ନାହିଁ, ଯେତେବେଳେ ଆମେ |ସମସ୍ତେ ଏହି କଥା ଜାଣୁ୍ ତେବେ କାହିଁକି ଏହି କଥାକୁ ଆମେ ମାନି ନଥାଉ
As long as greed, selfishness, jealousy, hatred continue in the mind there will never be peace, when we all know this so why don't we obey it.
Je Parjanta Manare Lobha, Swartha, Irsha, Ghruna Jari Rahiba Shanti Kebe Miliba Nahin, Jetebele Ame Samaste Ehi katha Janu Tebe Kahinki Ehi Kathaku Ame Mani Nathau.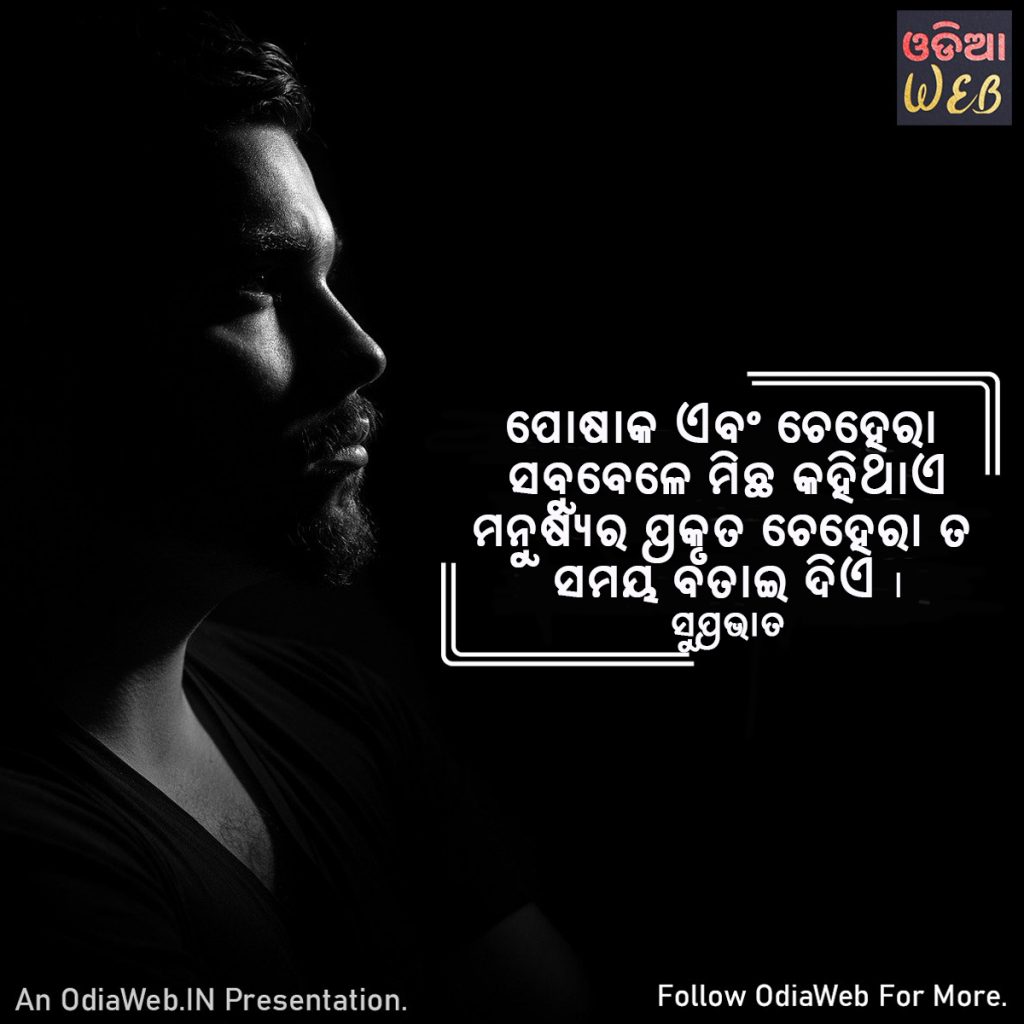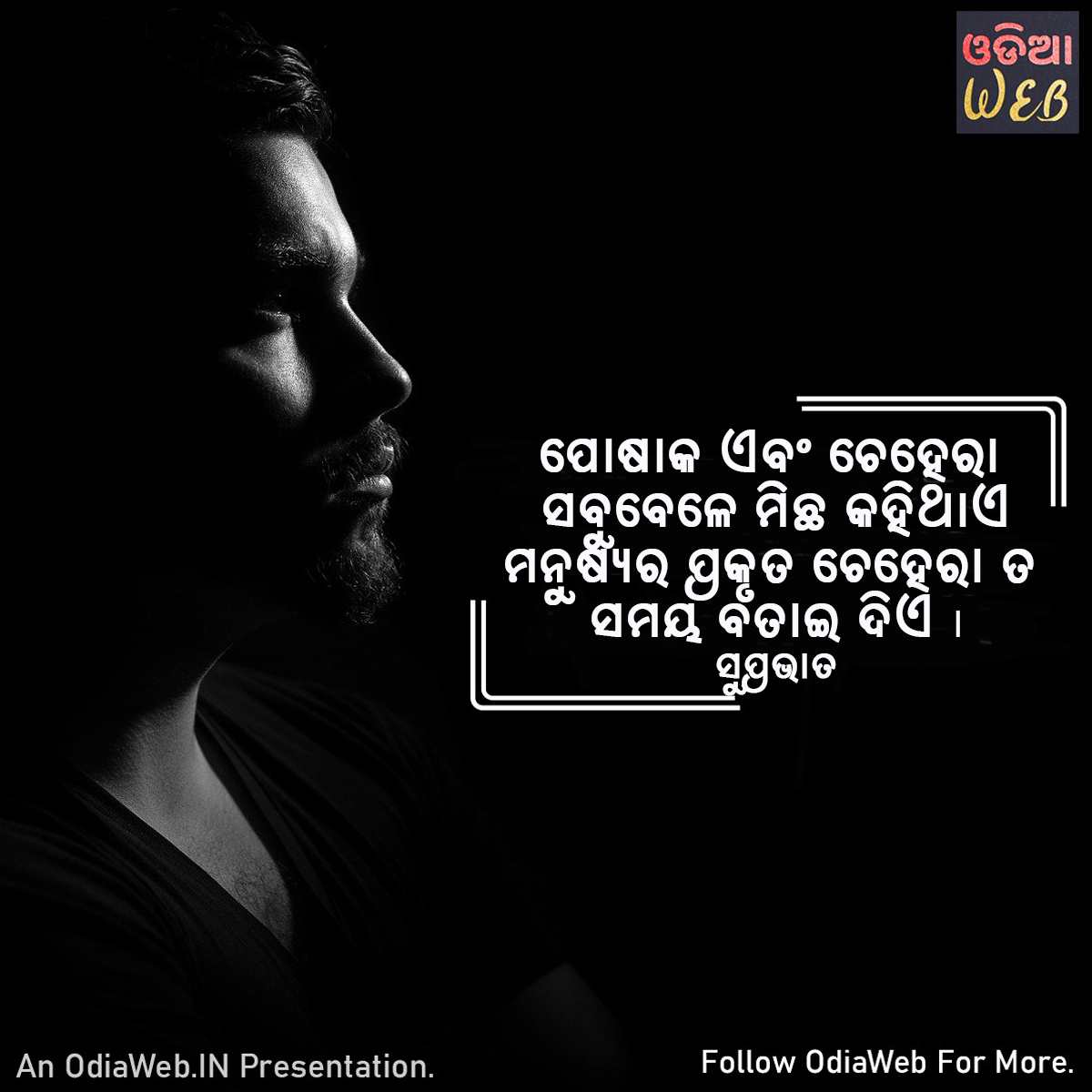 ପୋଷାକ ଏବଂ ଚେହେରା ସବୁବେଳେ ମିଛ କହିଥାଏ, ମନୁଷ୍ୟର ପ୍ରକୃତ ଚେହେରା ତ ସମୟ ବତାଇ ଦିଏ |
Clothes and faces always lie, The true face of man is time.
Poshaka Ebam Chehera sabubele Michha Kahithae,Manushyara Prakruta Chehera ta Samaya Batai Die.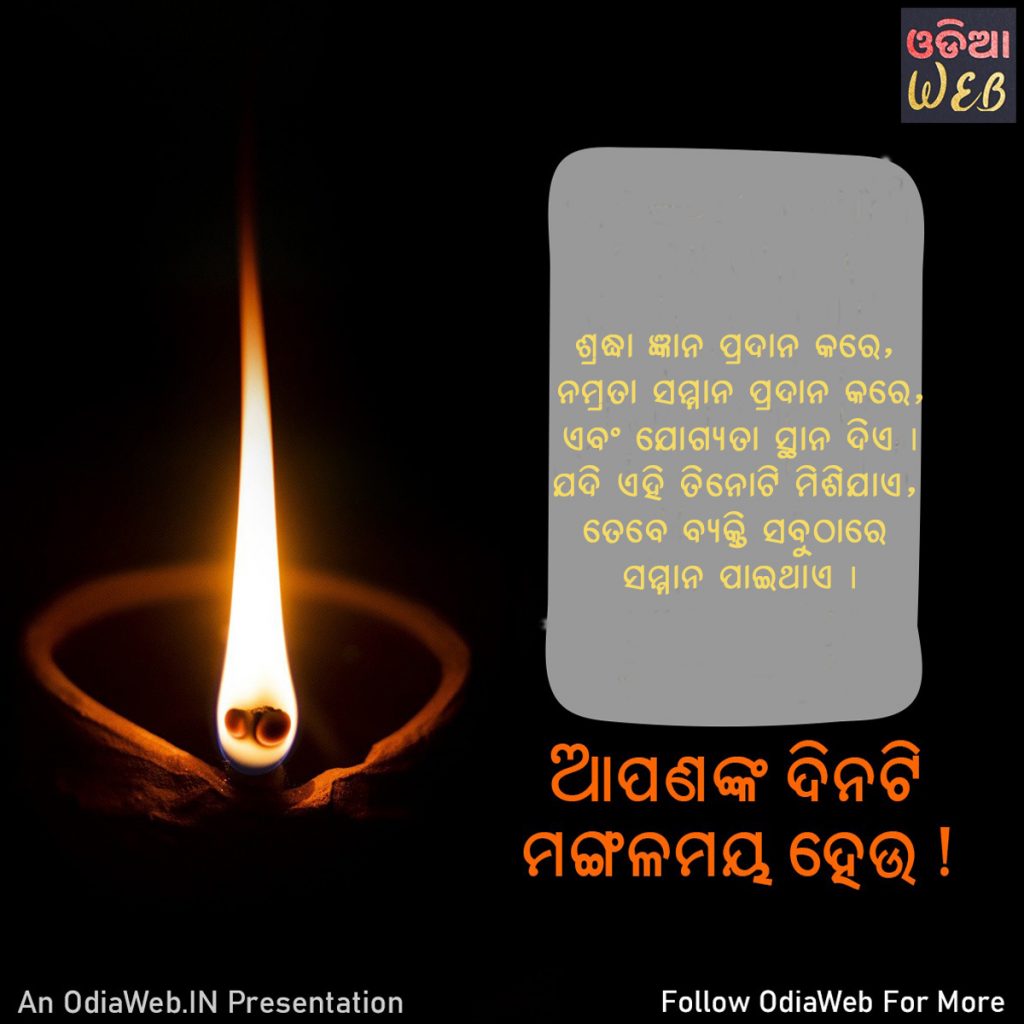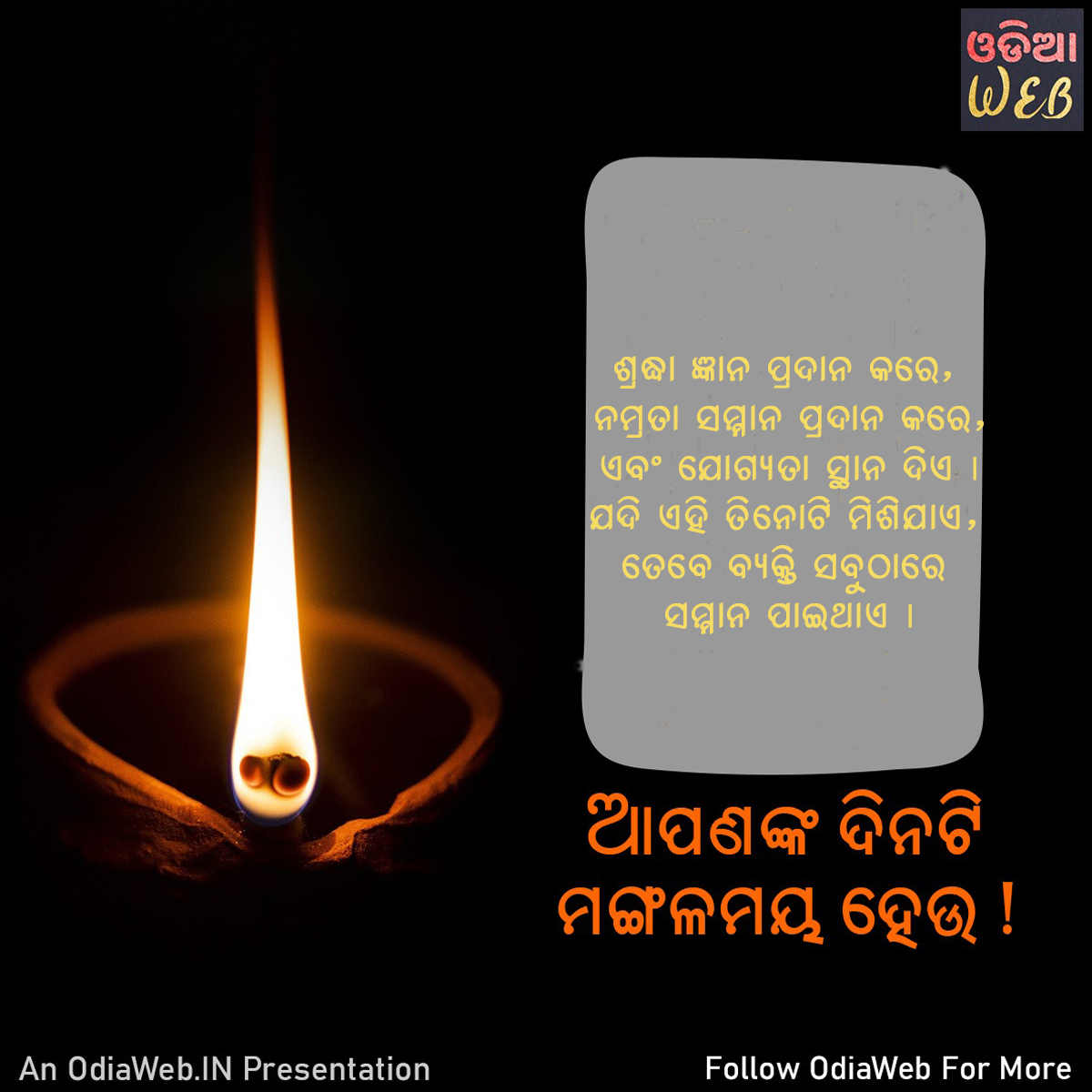 ଶ୍ରଦ୍ଧା ଜ୍ଞାନ ପ୍ରଦାନ କରେ, ନମ୍ରତା ସମ୍ମାନ ପ୍ରଦାନ କରେ,ଏବଂ ଯୋଗ୍ୟତା ସ୍ଥାନ ଦିଏ |
ଏବଂ ଯଦି ଏହି ତିନୋଟି ମିଶିଯାଏ, ତେବେ ବ୍ୟକ୍ତି ସବୁଠାରେ "ସମ୍ମାନ" ପାଇଥାଏ |
Respect gives wisdom, humility gives honor, and qualification gives place. And if these three are combined, the person gets "respect" everywhere.
Sraddha Gyana Pradan Kare, Namrata Samman Pradan Kare, Ebam Jogyata Sthana Die Ebam Jadi Ehi Tinoti Mishijae, Tebe Byakti SabuThare Samman Paithae.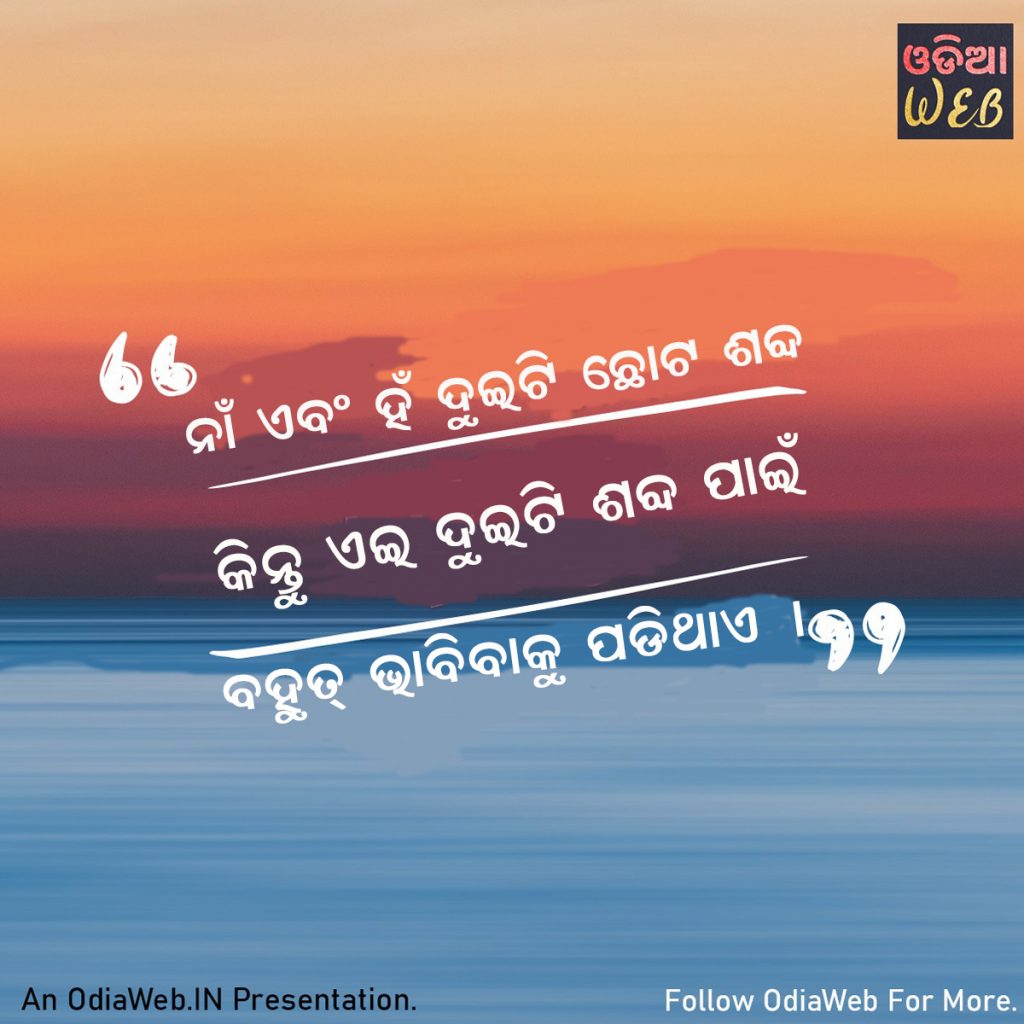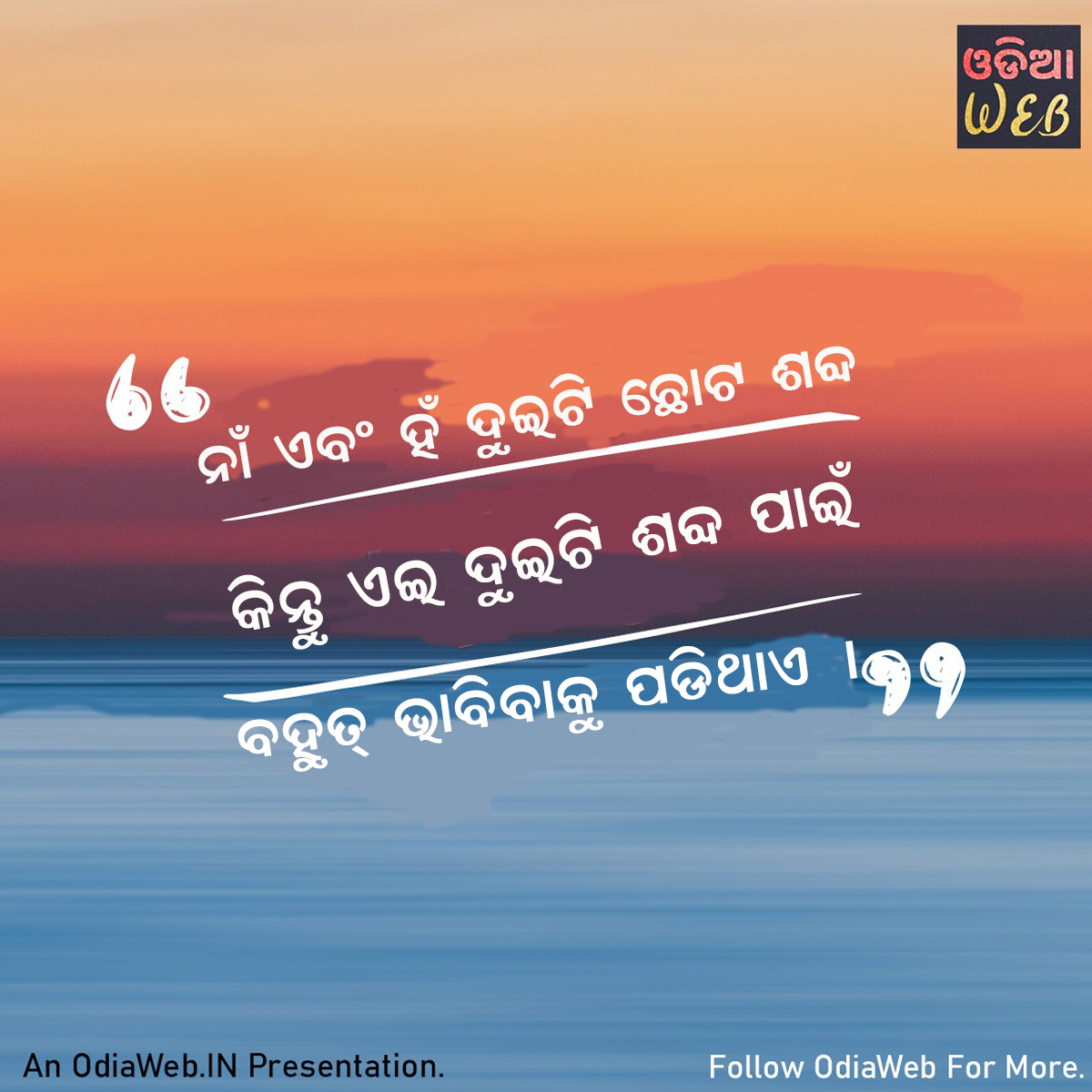 ନାଁ ଏବଂ ହଁ ଦୁଇଟି ଛୋଟ ଶବ୍ଦ କିନ୍ତୁ ଏଇ ଦୁଇଟି ଶବ୍ଦ ପାଇଁ ବହୁତ୍ ଭାବିବାକୁ ପଡିଥାଏ |
No and yes two small words But for these two words, A lot to think about.
Na ebam Han Duiti Chhota Shabda kintu Eie Duiti shabda Pai Bahut Bhabibaku Padithae.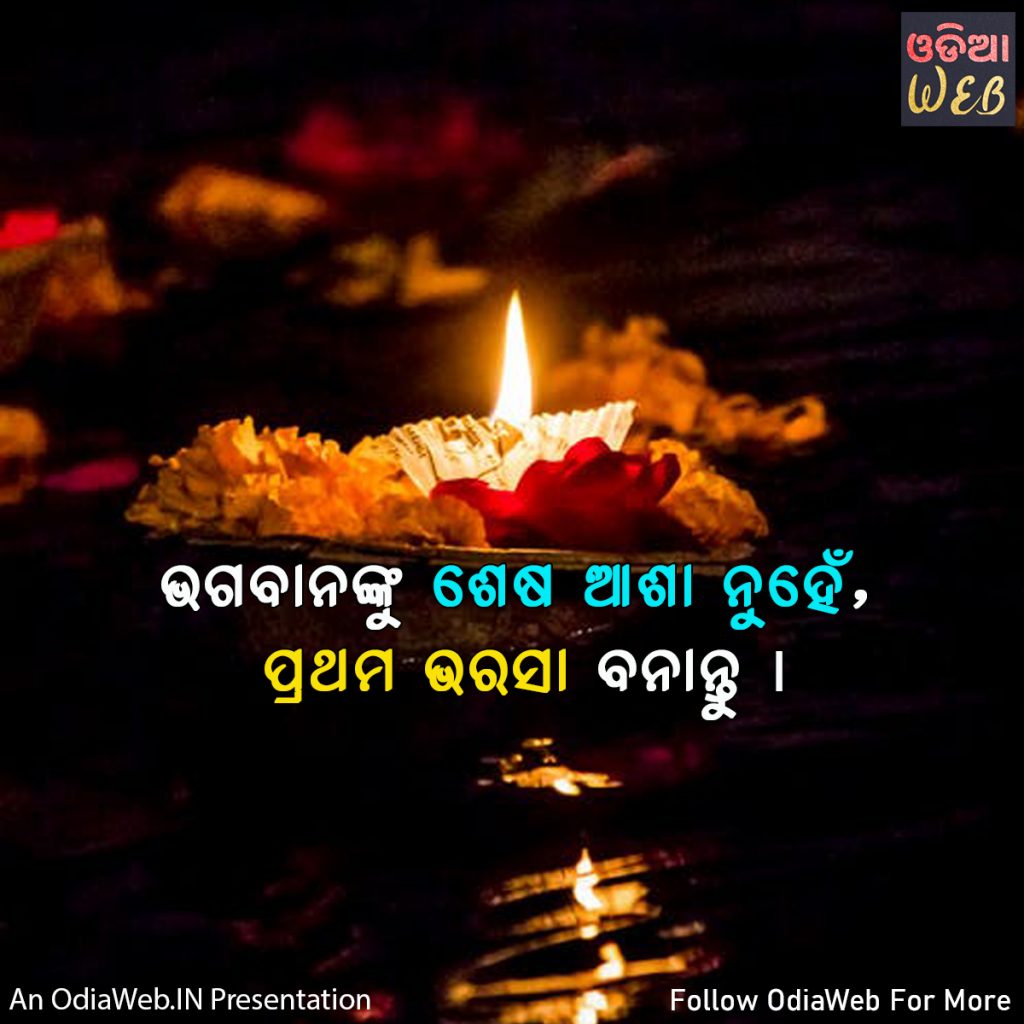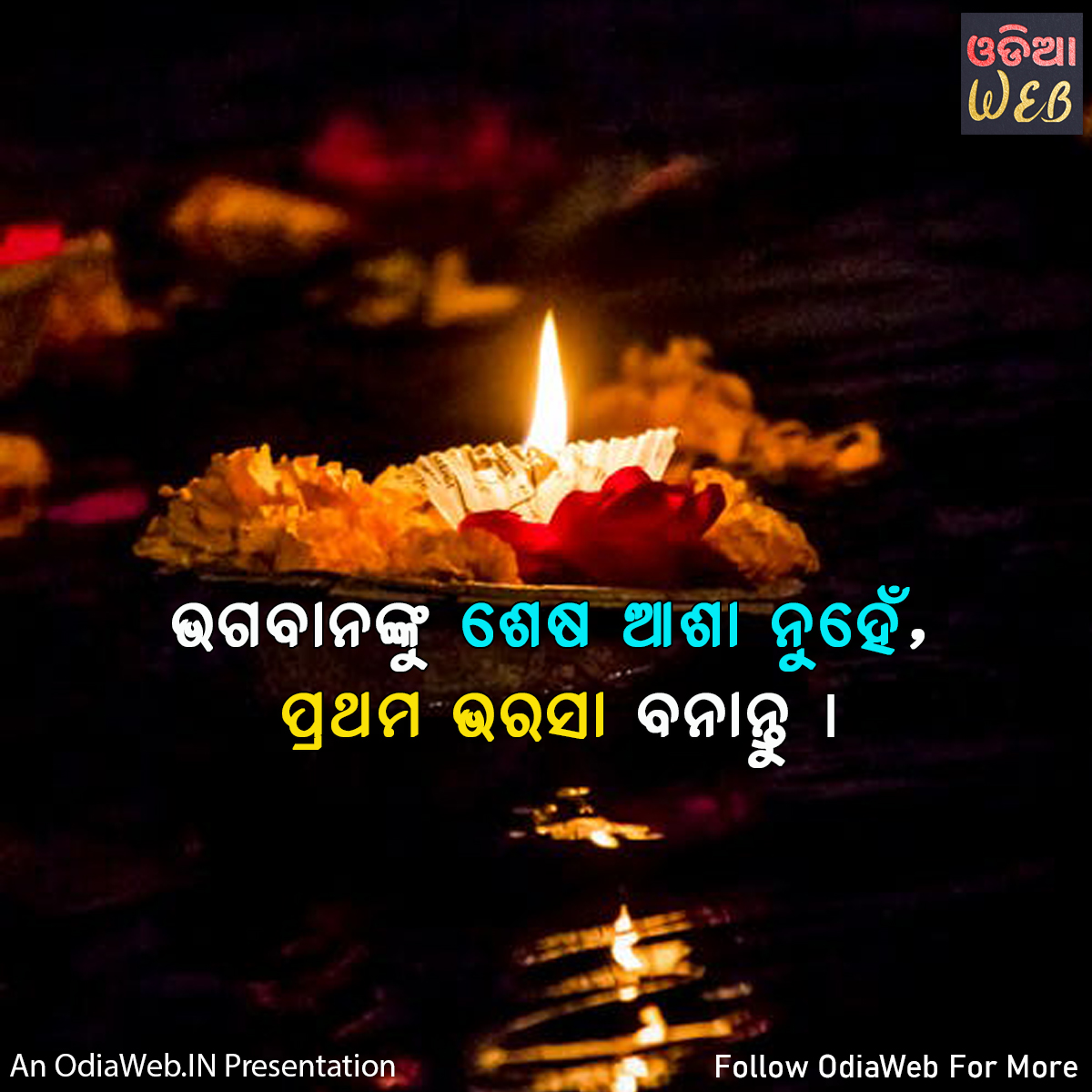 ଭଗବାନଙ୍କୁ ଶେଷ ଆଶା ନୁହେଁ, ପ୍ରଥମ ଭରସା ବନାନ୍ତୁ |
Make God the first hope, not the last hope.
Bhagaban nku Sesha Asha Nuhen, Prathama Bharasha Banantu.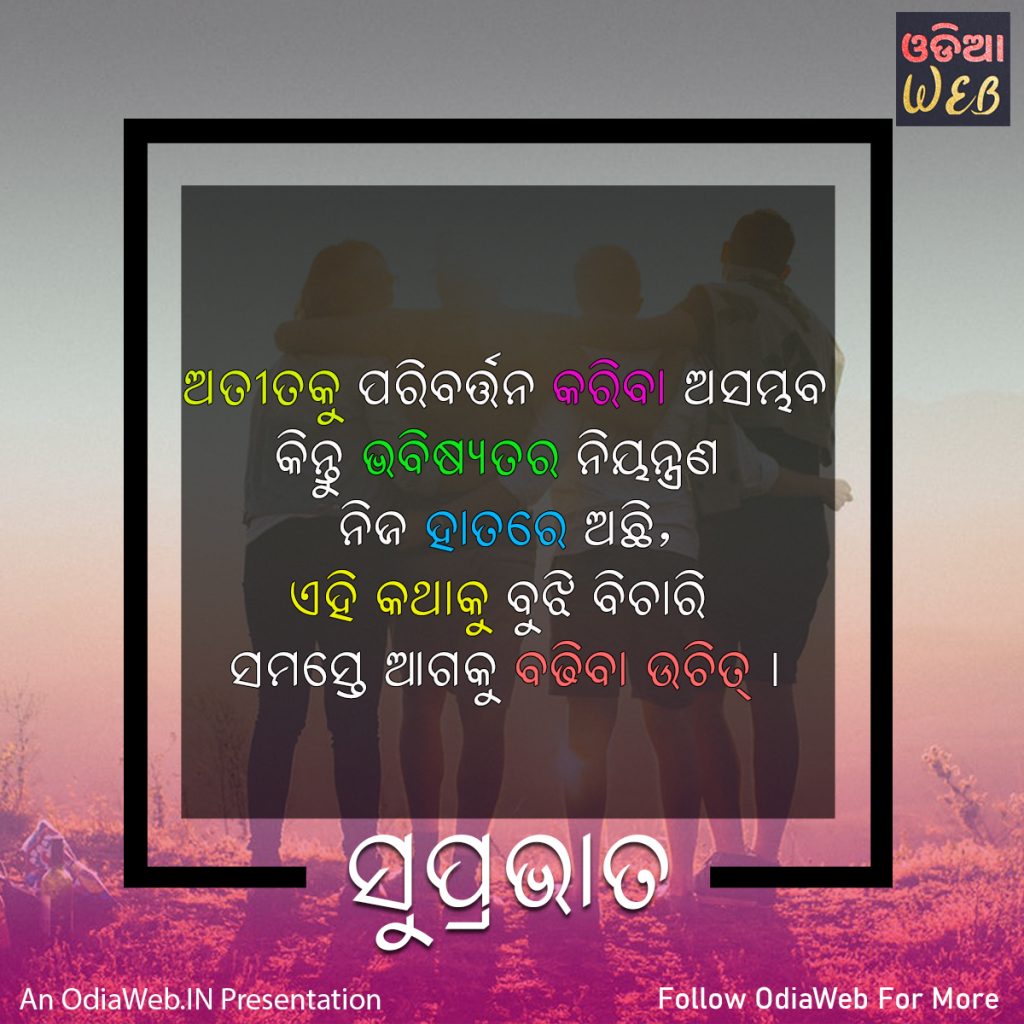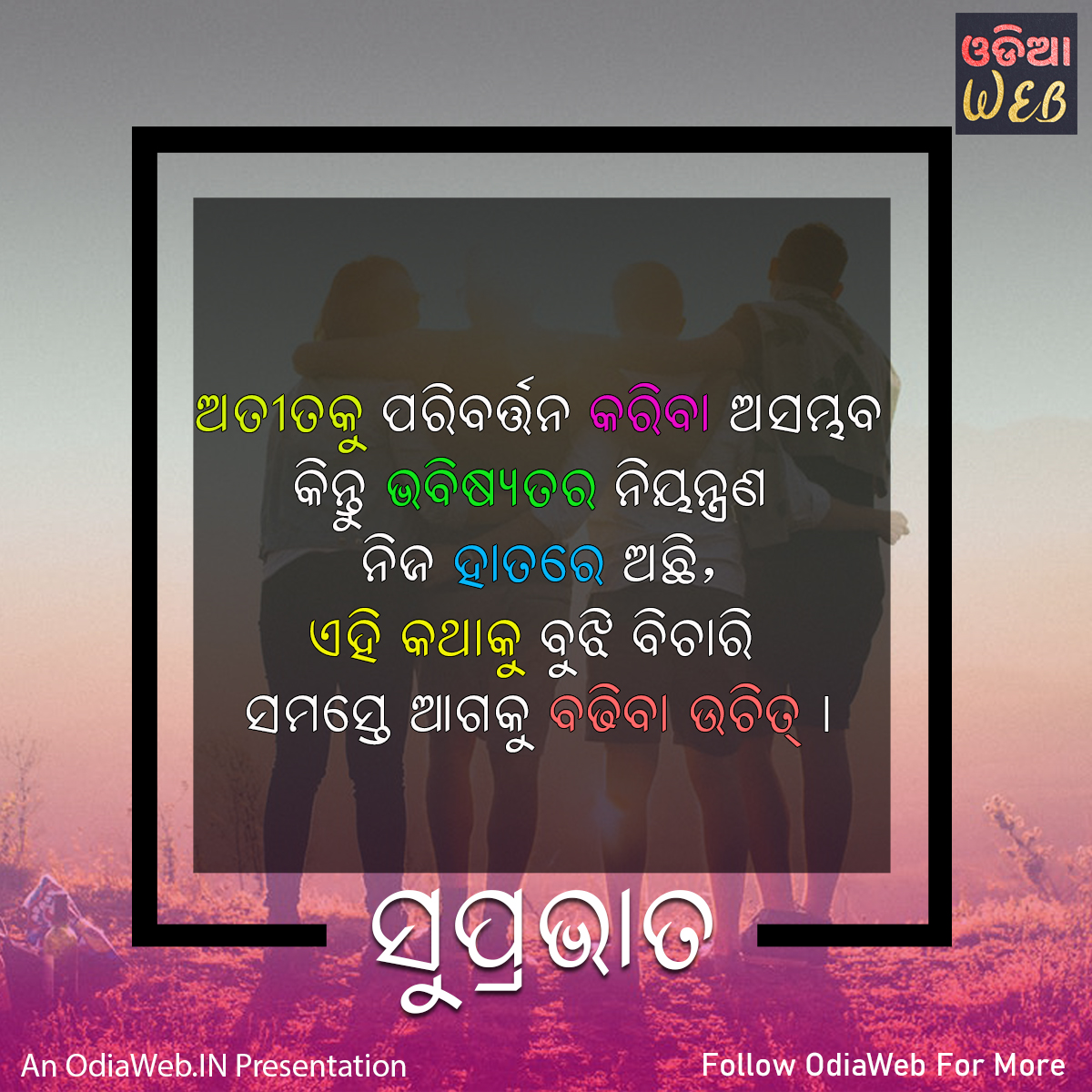 ଅତୀତକୁ ପରିବର୍ତ୍ତନ କରିବା ଅସମ୍ଭବ କିନ୍ତୁ ଭବିଷ୍ୟତର ନିୟନ୍ତ୍ରଣ ନିଜ ହାତରେ ଅଛି, ଏହି କଥାକୁ ବୁଝି ବିଚାରି ସମସ୍ତେ ଆଗକୁ ବଢିବା ଉଚିତ୍ |
It is impossible to change the past, but the future is in our hands. Everyone should move forward with this in mind.
Atitaku Paribarttan Kariba Asmbhab Kintu Bhabishyatara Niyantrana Nija Hatare Achhi, Ehi Kathaku Bujhi Bichari Samaste Agaku Badhiba Uchit.
Latest Odia Good Morning Sms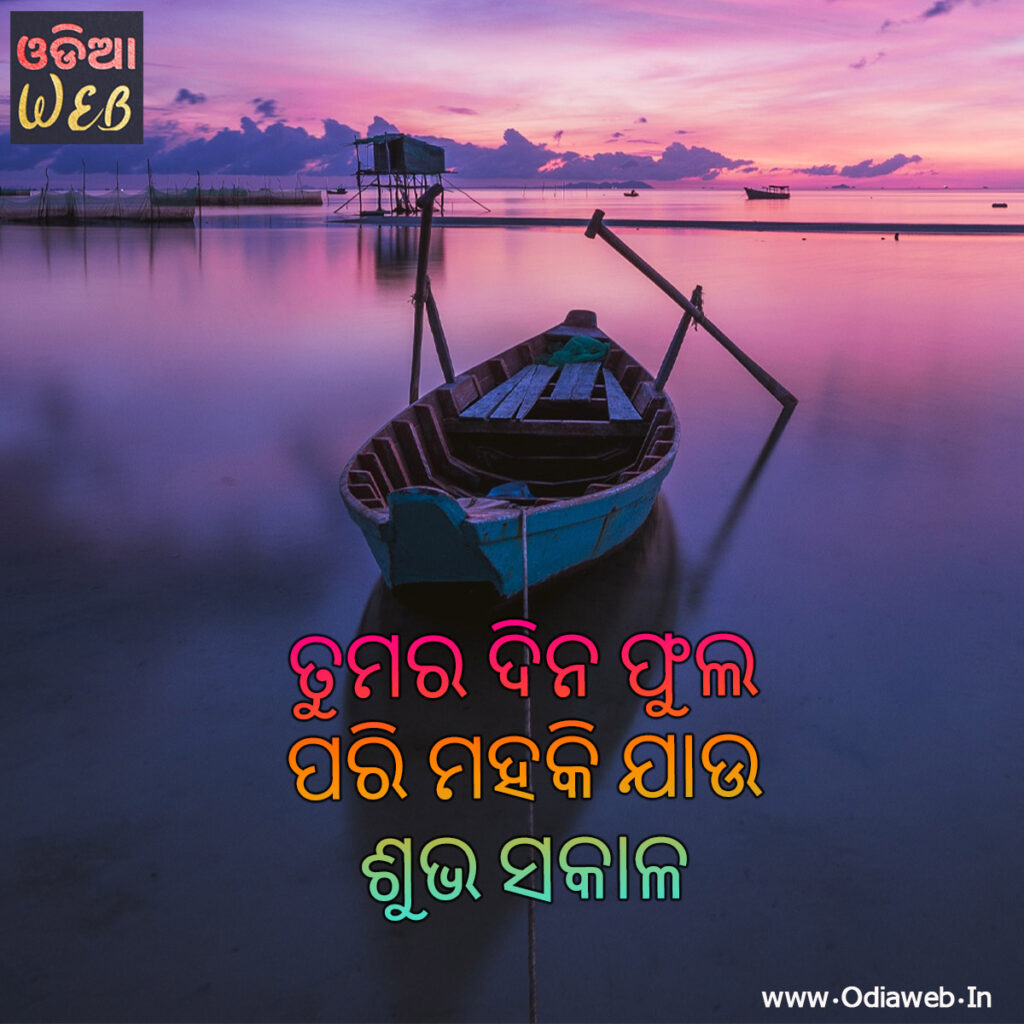 ତୁମର ଦିନ ଫୁଲ ପରି ମହକି ଯାଉ ଶୁଭ ସକାଳ
Good morning your day is blooming like a flower
youmara Dina Phula Pari Mahaki Jau Shubha sakala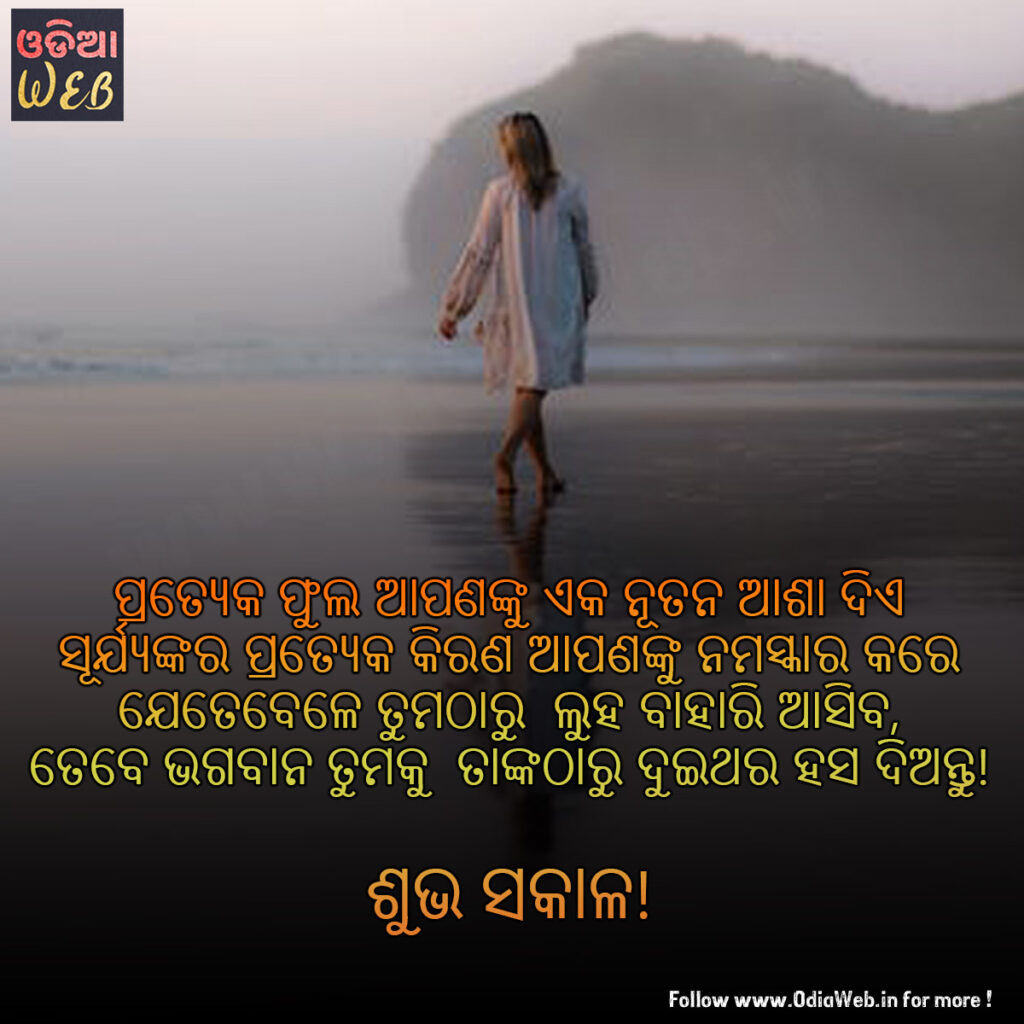 ପ୍ରତ୍ୟେକ ଫୁଲ ଆପଣଙ୍କୁ ଏକ ନୂତନ ଆଶା ଦିଏ ସୂର୍ଯ୍ୟଙ୍କର ପ୍ରତ୍ୟେକ କିରଣ ଆପଣଙ୍କୁ ନମସ୍କାର କରେ ଯେତେବେଳେ ତୁମଠାରୁ ଲୁହ ବାହାରି ଆସିବ, ତେବେ ଭଗବାନ ତୁମକୁ ତାଙ୍କଠାରୁ ଦୁଇଥର ହସ ଦିଅନ୍ତୁ!
Each flower gives you a new hope Every ray of the sun greets you When you shed tears, Then may God give you twice as much laughter as him!
Prateka Phula Apananku Eka nutana Asha die Surjyankara prateka Kirana Apananku Namaskara Kare Jetebele tumatharu Luha Bahari Asiba tebe Bhagaban Tumaku zTankatharu duthara Hasa diantu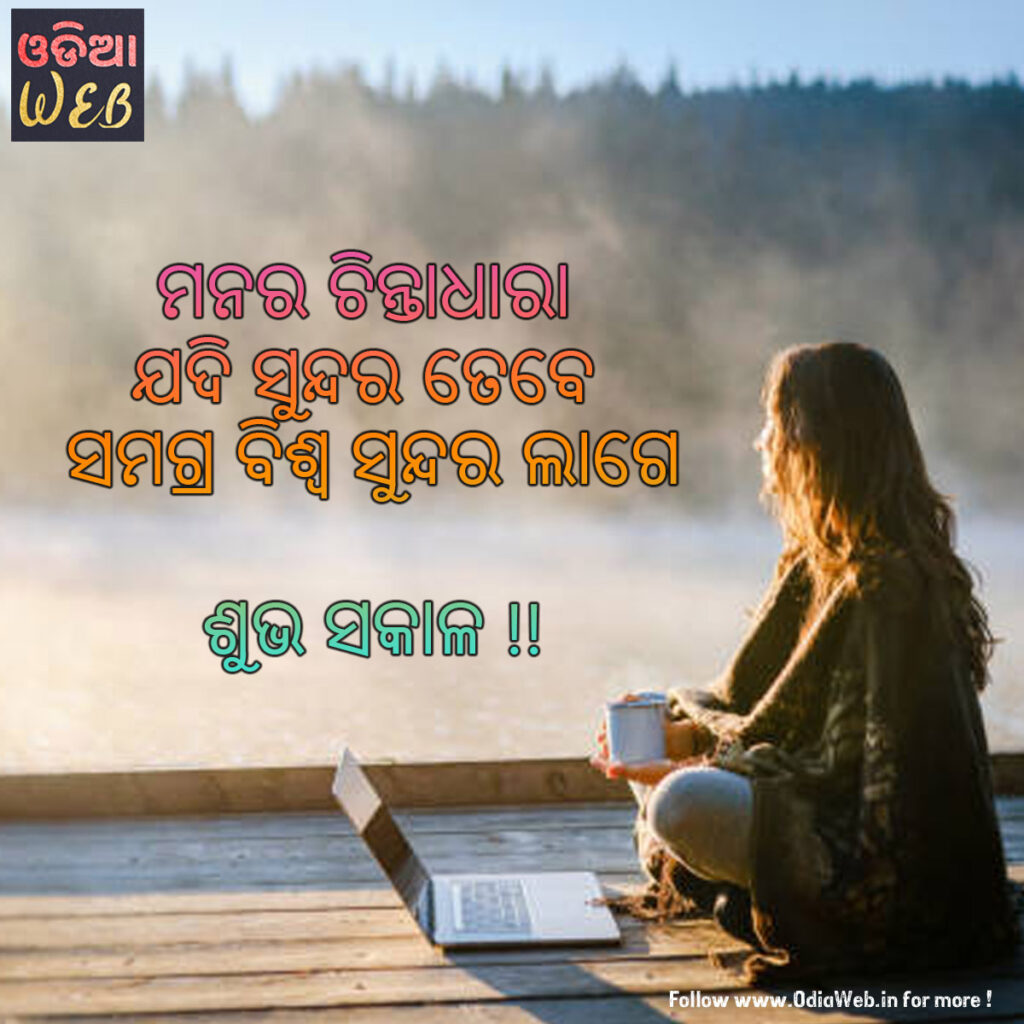 ମନର ଚିନ୍ତାଧାରା ଯଦି ସୁନ୍ଦର ତେବେ ସମଗ୍ର ବିଶ୍ୱ ସୁନ୍ଦର ଲାଗେ | , ଶୁଭ ସକାଳ !!
If the thoughts of the mind are beautiful then the whole world looks beautiful , good morning!!
manacintadhara Jadi Sundara Tebe samgra bishwa sundara Lage Shuba Sakhala
More : Odia Love Quotes
More : Odia Good ngith Quotes
Are you looking for authentic Odisha Jhuna, order today from OdishaShop.
Comments
comments