The Rath Yatra or the Car festival or Chariot Festival in Puri is a very popular and famous festival of Odisha. Ratha Yatra attracts pilgrims and visitors from all over the world. On the full moon day (Purnima/ପୂର୍ଣ୍ଣିମା) of the month of Jyestha known as Snana Purnima(ସ୍ନାନ ପୂର୍ଣ୍ଣିମା), the idols of Jagannath, Balabhadra and Subhadra are brought out and bathed on a pendal in side Shree Mandir known as the Snana Mandap(ସ୍ନାନ ମଣ୍ଡପ) according to religious rites. Then they are believed to become indisposed and are confined to a solitary abode for a fortnight where they undergo treatment, are offered special Ayurvedic medicine boli and some special liquid diet called sarapana.
 Festival of Odisha Ratha Yatra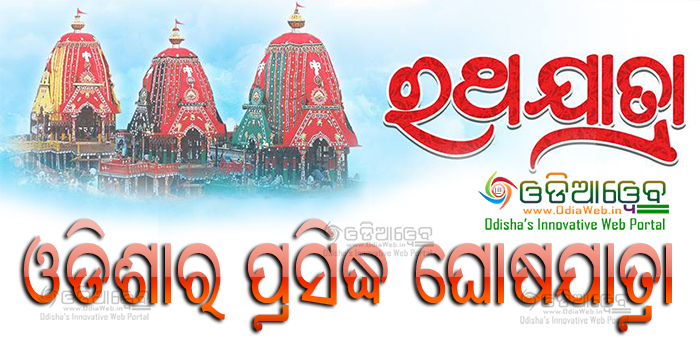 Alter a rest of fifteen days on the second day of the lunar month huge chariots are pulled by thousands of people, irrespective of religion, caste or creed to proclaim their universality and accessibility, to humanity at large. The chariots are cleaned by the Gajapati Maharaja of puri with a golden broom to proclaim that he is the first of the Lord's servants and on this particular day he performs the duty of a scavenger to demonstrate socialism in action and the dignity of labour. 'this act is connected with " famous incident in Odisha history in course of which the king Purushottama Deva was outwitted by his minister to marry the princess Padmavati. The deities then So to Gundichaghar where they stall for eight days at the end of which the return car festival (Bahuda Yatra) takes place, One has only to see the vast sea of humanity on these occasions to convince oneself about the influence of religion on the people of Odisha for whom Jagannath is no other Supreme Brahman, without beginning and without end, and the saviour of mankind.
More: Pakhala Divasa
More: Oriya Sms short cut for chatting
More: Odia WhatsApp Image
More: Best Oriya Quotes
Are you looking for Odia Novel authentic Palm Leaf Pattachitra Painting Of Jagannath order today from OdishaShop.
Comments
comments