Are you looking for Good Morning Sms, then this is the perfect Odia sms you are looking for. Share this sms with your family and Relative and impress her. Here you can find latest Odia sms in Odia language.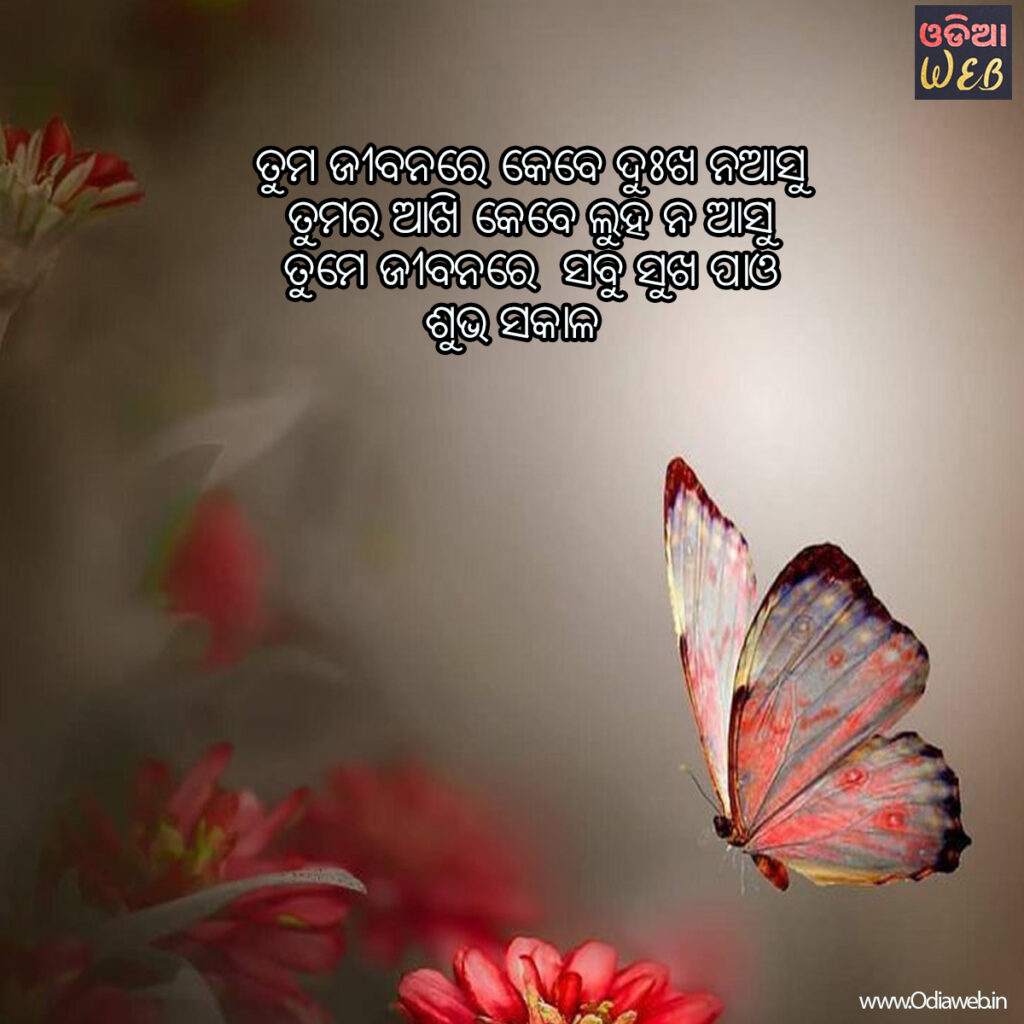 ତୁମ ଜୀବନରେ କେବେ ଦୁଃଖ ନଆସୁ,
ତୁମର ଆଖି କେବେ ଲୁହ ନ ଆସୁ,
ତୁମେ ଜୀବନରେ ସବୁ ସୁଖ ପାଓ,
ଶୁଭ ସକାଳ!
Tuma Jeebanare Kebe Duhkha Naasu
Tumara Akhi Kebe Luha Na Asu
Tume Jeebanare Sabu Sukha Pao
Shubha Sakala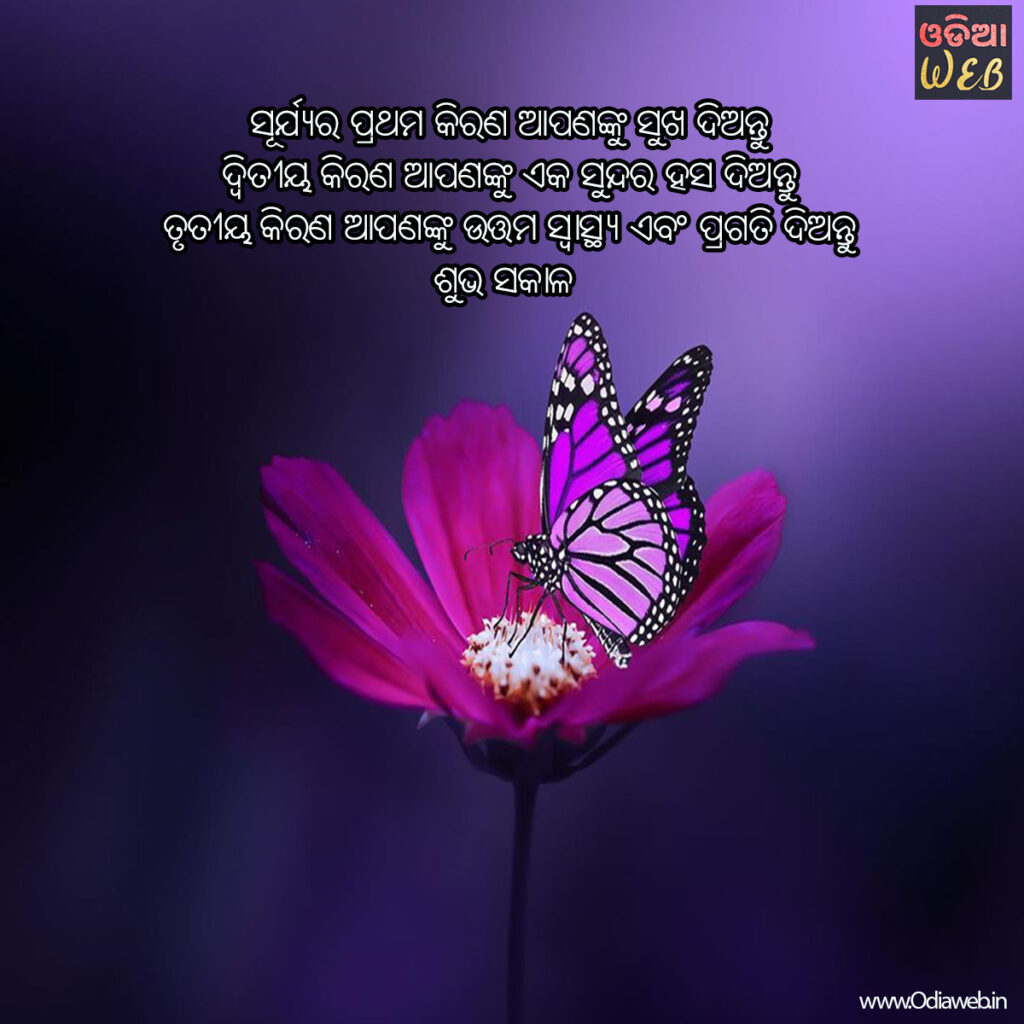 ସୂର୍ଯ୍ୟର ପ୍ରଥମ କିରଣ ଆପଣଙ୍କୁ ସୁଖ ଦିଅନ୍ତୁ,
ଦ୍ୱିତୀୟ କିରଣ ଆପଣଙ୍କୁ ଏକ ସୁନ୍ଦର ହସ ଦିଅନ୍ତୁ,
ତୃତୀୟ କିରଣ ଆପଣଙ୍କୁ ଉତ୍ତମ ସ୍ୱାସ୍ଥ୍ୟ ଏବଂ ପ୍ରଗତି ଦିଅନ୍ତୁ
ଶୁଭ ସକାଳ
Surjyara Prathama Kirana Apananku Sukha Diantu
Dwiteeya Kirana Apananku Eka Sundara Hasa Diantu
Truteeya Kirana Apananku uttama swasthya ebam pragati diantu
Shubha Sakala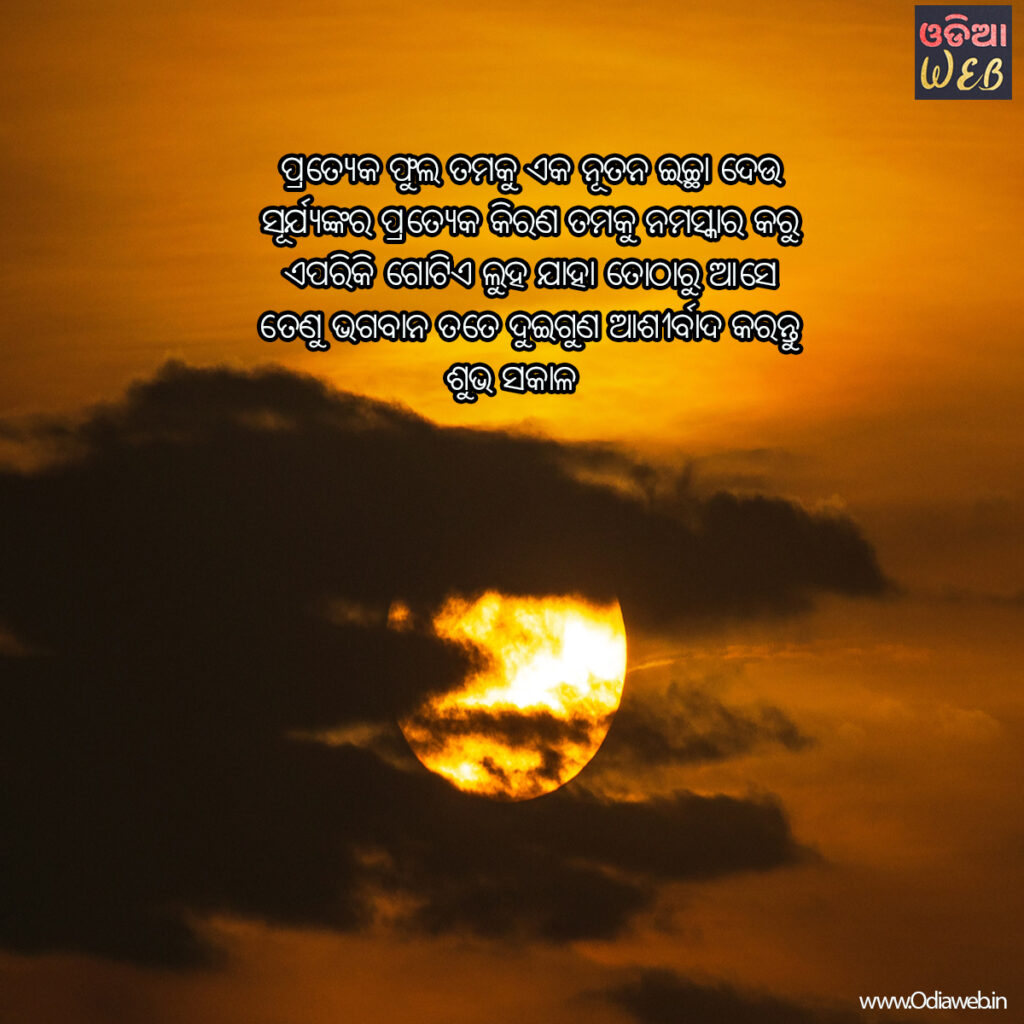 ପ୍ରତ୍ୟେକ ଫୁଲ ତମକୁ ଏକ ନୂତନ ଇଚ୍ଛା ଦେଉ,
ସୂର୍ଯ୍ୟଙ୍କର ପ୍ରତ୍ୟେକ କିରଣ ତମକୁ ନମସ୍କାର କରୁ,
ଏପରିକି ଗୋଟିଏ ଲୁହ ଯାହା ତୋଠାରୁ ଆସେ,
ତେଣୁ ଭଗବାନ ତତେ ଦୁଇଗୁଣ ଆଶୀର୍ବାଦ କରନ୍ତୁ!
ଶୁଭ ସକାଳ!
Pratyeka Phula Tamaku Eka Nutana Ichha Deu
Surjyankara Pratyeka Kirana Tamaku Namaskara Karu
Epariki Gotie Luha Jaha Totharu Ase
Tenu Bhagabana Tate Duiguna Ashrbada Karantu
Shubha Sakala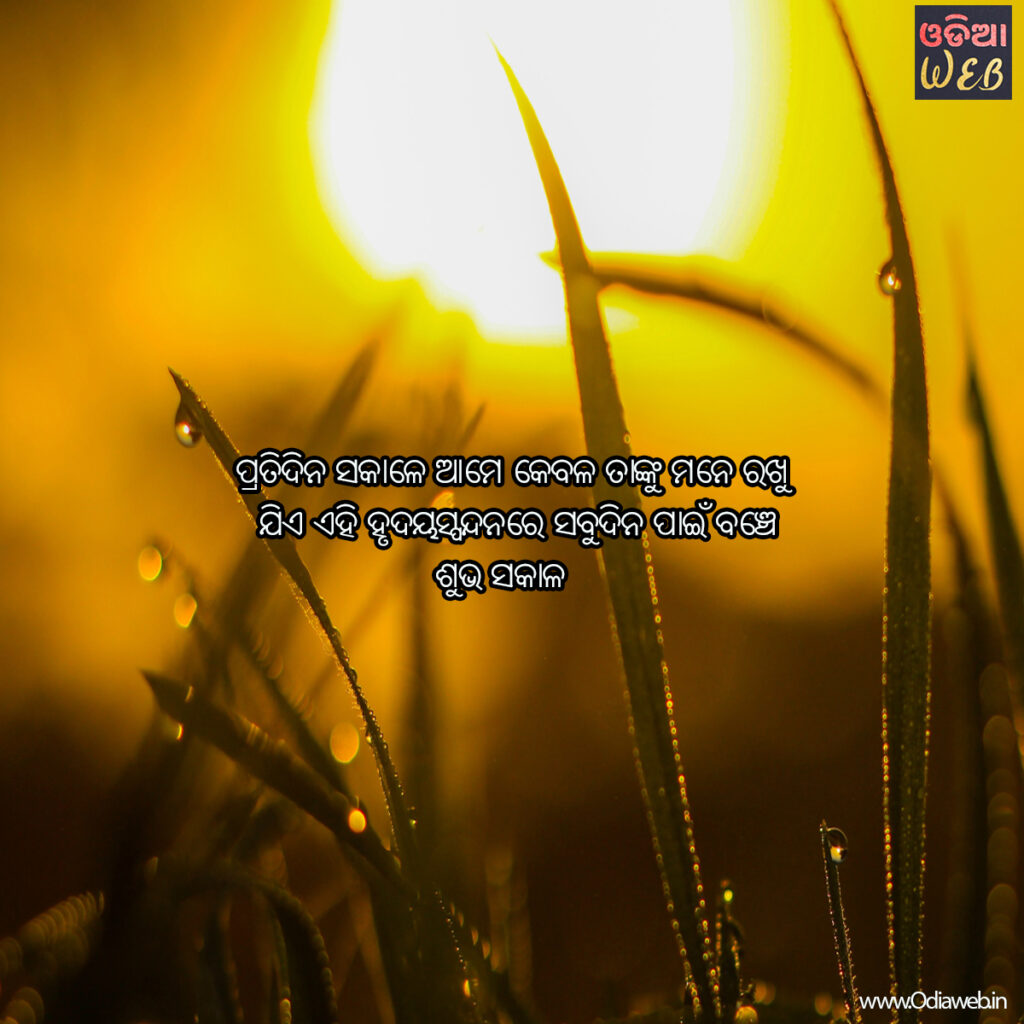 ପ୍ରତିଦିନ ସକାଳେ ଆମେ କେବଳ ତାଙ୍କୁ ମନେ ରଖୁ,
ଯିଏ ଏହି ହୃଦୟସ୍ପନ୍ଦନରେ ସବୁଦିନ ପାଇଁ ବଞ୍ଚେ |
ଶୁଭ ସକାଳ
Pratidina Sakale Ame Kebala Tanku Mane Rakhu
Jie Ehi Hrudayaspandanare Sadina Pain Banche
Shubha Sakala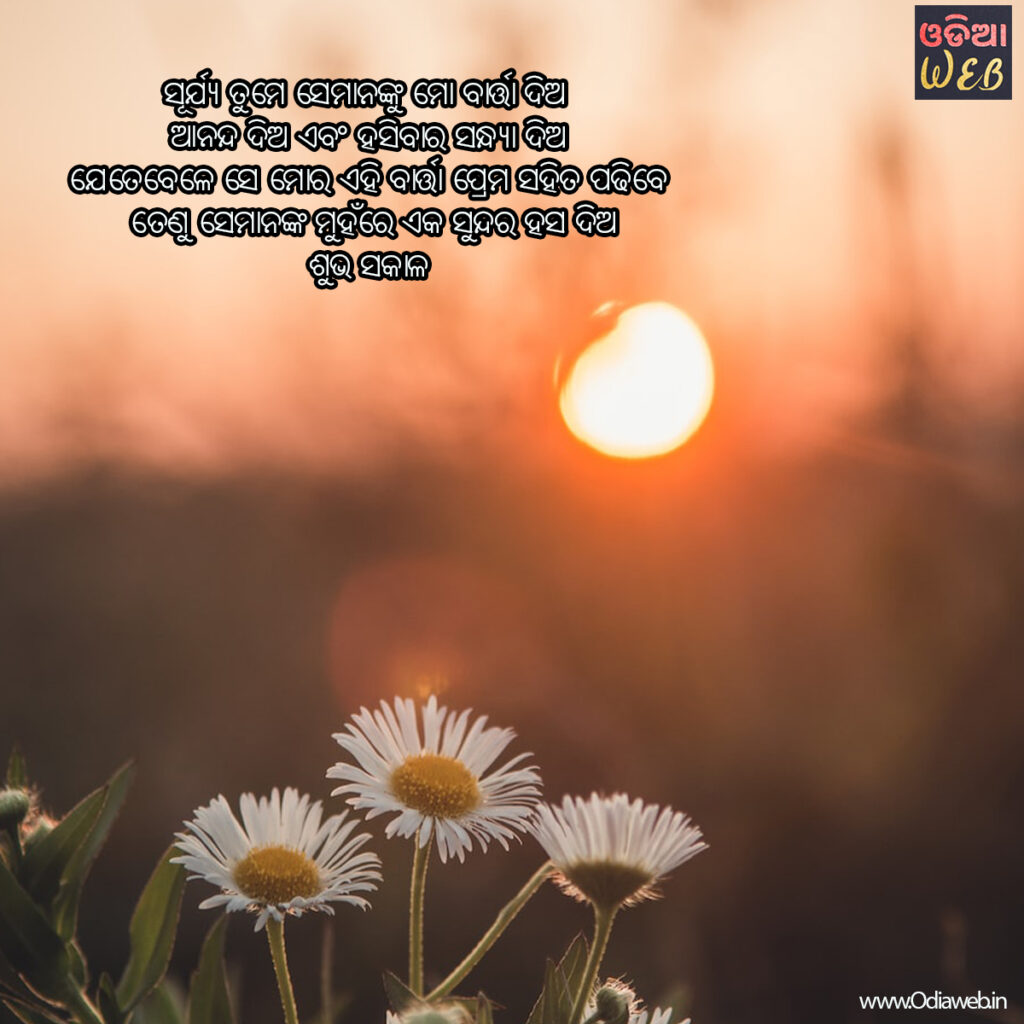 ସୂର୍ଯ୍ୟ ତୁମେ ସେମାନଙ୍କୁ ମୋ ବାର୍ତ୍ତା ଦିଅ,
ଆନନ୍ଦ ଦିଅ ଏବଂ ହସିବାର ସନ୍ଧ୍ୟା ଦିଅ,
ଯେତେବେଳେ ସେ ମୋର ଏହି ବାର୍ତ୍ତା ପ୍ରେମ ସହିତ ପଢିବେ,
ତେଣୁ ସେମାନଙ୍କ ମୁହଁରେ ଏକ ସୁନ୍ଦର ହସ ଦିଅ |
ଶୁଭ ସକାଳ!
Surjya Tume Semananku Mo Bartta Dia
Ananda Dia ebam Hasibara Sandhya dia
Jetebele Se Mora Ehi Bartta Prema Sahita Padhibe
Tenu Semananka Muhnare Eka Sundara hasa Dia

Shubha Sakala
Comments
comments