Are you looking for Odia Sms for Odia lovers, then this is the perfect Odia sms you are looking for. Share this sms with your lover and impress her. Here you can find latest Odia sms in Odia language.
ଆଳୁ ପତର କି ସାରୁ ପତର ତ କେବେ ନି ନୁହେଁଇ ପାନ ,
ବିଡିଆ ପାନରେ ଗୁଆ ନ ଦେଇ ମୁଁ ଦେଇ ଦେଲି ମୋର ମନ |
Alu patara  ki saru patara ta kebe ni nuhei
pana bidia panare gua na dei mu dei deli mora mana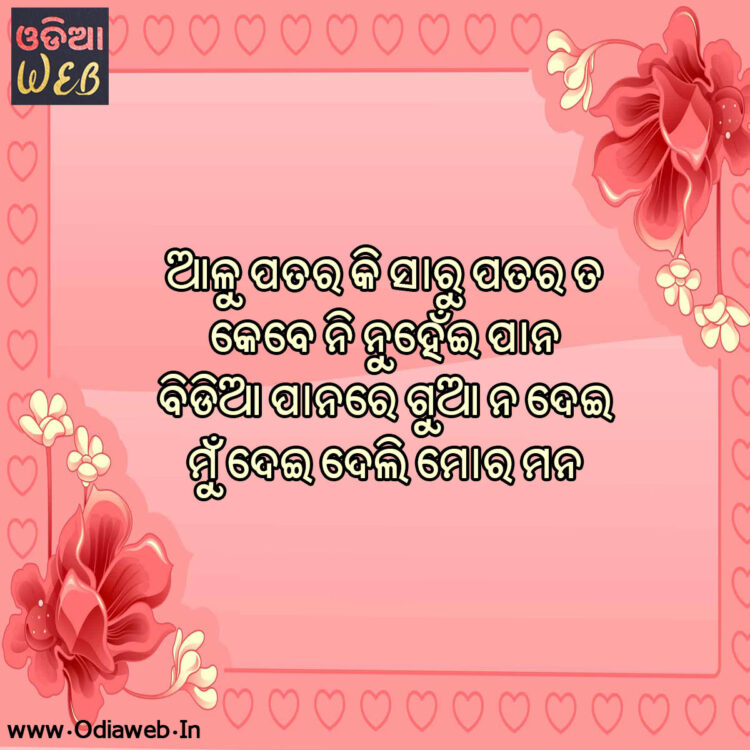 ଆଳୁ ପତର କି ସାରୁ ପତର ତ କେବେ ନି ନୁହେଁଇ ପାନ
ବିଡିଆ ପାନରେ ଗୁଆ ନ ଦେଇ ମୁଁ ଦେଇ ଦେଲି ମୋର ମନ |
କି ବେଳାରେ ଦେଖା ପାଇଲି ତୁମର ଏବେ ମୋର ଧନ୍ଦା,
ଭାବି ଭାବି ମୋର ନିଦ ହଜେଇଛି ମୁଣ୍ଡ ହୋଇଲାଣି ଚନ୍ଦା |
ki blare dekha paili tumara ebe mora dhanda
bhabi bhabu mora nida jaheichhi munda hoilani chanda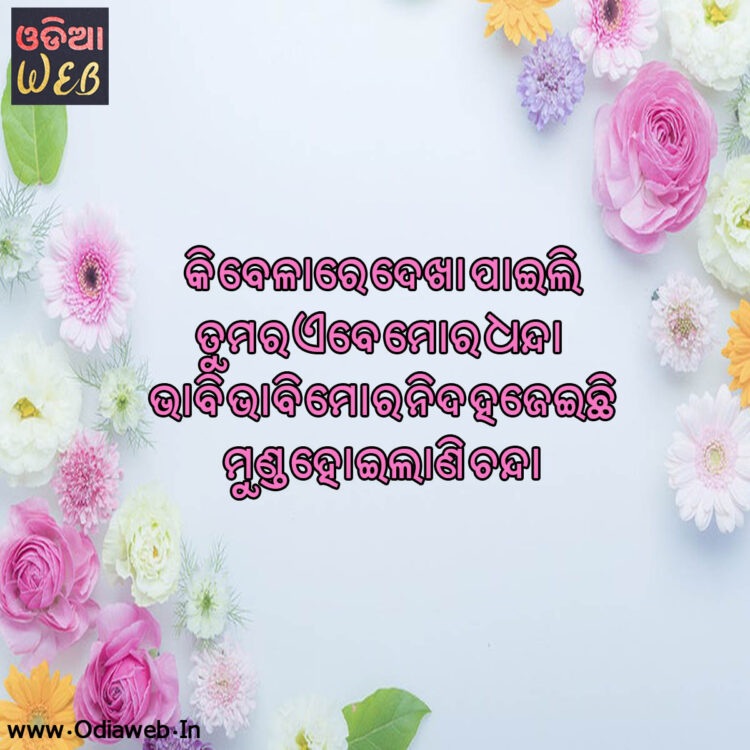 କି ବେଳାରେ ଦେଖା ପାଇଲି ତୁମର ଏବେ ମୋର ଧନ୍ଦା
ଭାବି ଭାବି ମୋର ନିଦ ହଜେଇଛି ମୁଣ୍ଡ ହୋଇଲାଣି ଚନ୍ଦା |
ହିଡ ଦୁଇ ମଝି ଜମି ପଡିଆ ପଡିଛି ଚଷିବାକୁ ଚାଷି କାହାନ୍ତି ?
ସକାଳ ପହରୁ ସଞ୍ଜ ହେଲା ଆସି ନାଗର ମୋ ଆସି ନାହାନ୍ତି |
Hida dui majhi jami  padia chashibaku chashi kahanti
sakala paharu sanja hela asi nagara mo sasi nahanti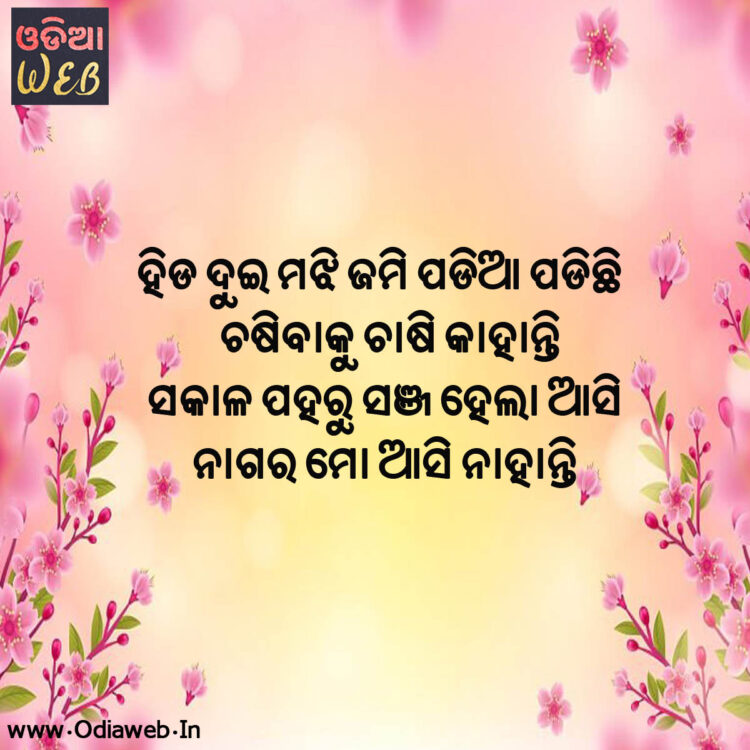 ହିଡ ଦୁଇ ମଝି ଜମି ପଡିଆ ପଡିଛି ଚଷିବାକୁ ଚାଷି କାହାନ୍ତି ?
ସକାଳ ପହରୁ ସଞ୍ଜ ହେଲା ଆସି ନାଗର ମୋ ଆସି ନାହାନ୍ତି |
ବତୁରା ଜମିରେ ଲଙ୍ଗଳ ପୁରାଇ ଚଷିଲେ ହେବ ତ ଫସଲ,
ସେ ଫସଲ ଦିନେ ଫଳ ଫଳିବ ଏକଥାଟା ଅଟେ ଅସଲ |
batura jamire langala purai chashile heba ta phasala
se phasala dine phala paliba ekathata ate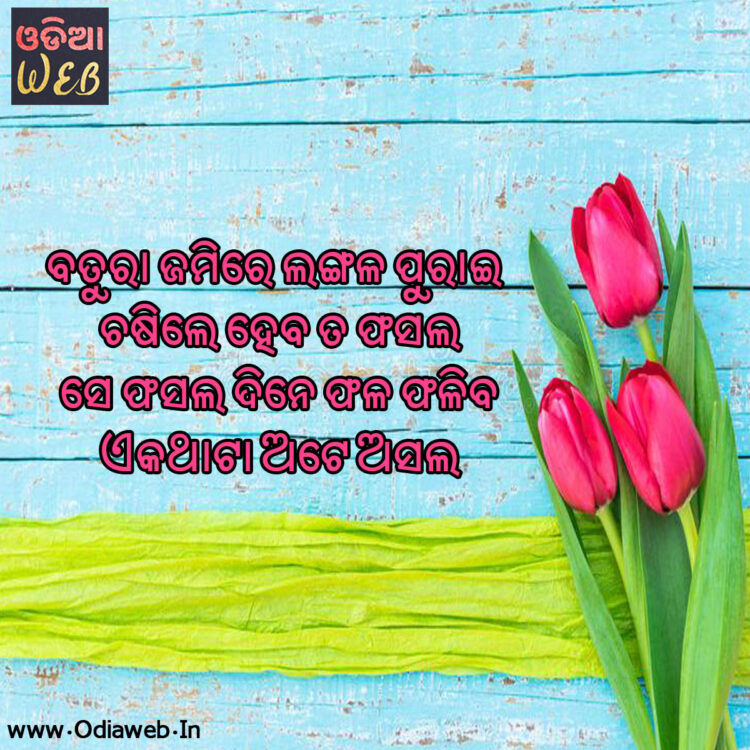 ବତୁରା ଜମିରେ ଲଙ୍ଗଳ ପୁରାଇ ଚଷିଲେ ହେବ ତ ଫସଲ
ସେ ଫସଲ ଦିନେ ଫଳ ଫଳିବ ଏକଥାଟା ଅଟେ ଅସଲ |
Comments
comments