Holi is an ancient Hindu tradition and also one of the most popular festivals in Hinduism. It celebrates the eternal and divine love of god Radha Krishna.The day also signifies the triumph of good over evil,as it commemorates the victory of god Vishnu as Narasimha Narayana over Hiranyakashipu. It was originated and is predominantly celebrated in the Indian subcontinent but has also spread to other regions of Asia and parts of the Western world through the Indian diaspora.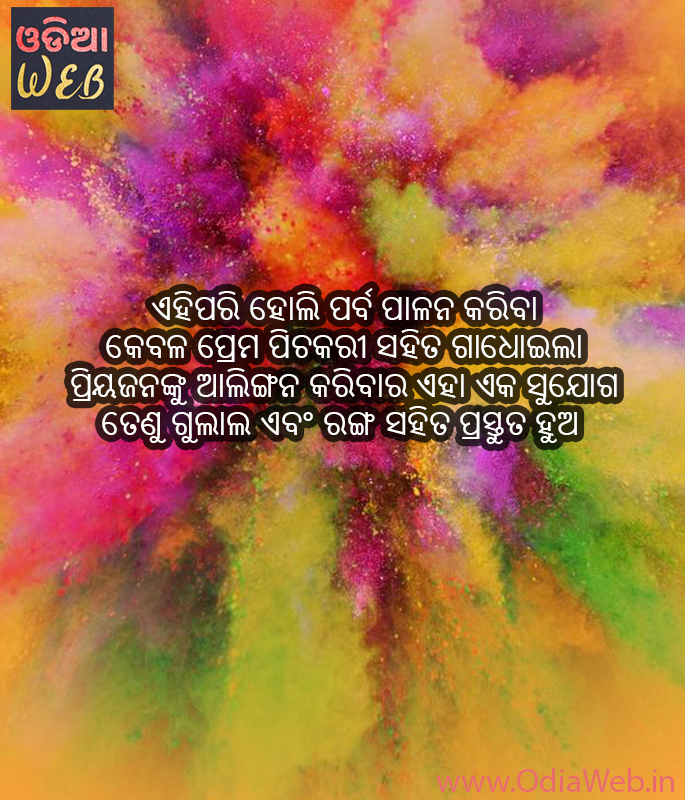 ଏହିପରି ହୋଲି ପର୍ବ ପାଳନ କରିବା,
କେବଳ ପ୍ରେମ ପିଚକରୀ ସହିତ ଗାଧୋଇଲା,
ପ୍ରିୟଜନଙ୍କୁ ଆଲିଙ୍ଗନ କରିବାର ଏହା ଏକ ସୁଯୋଗ,
ତେଣୁ ଗୁଲାଲ ଏବଂ ରଙ୍ଗ ସହିତ ପ୍ରସ୍ତୁତ ହୁଅ |
Ehipari Holi Parba Palana Kariba
Kebala Prema Pichakaree Sahita Gadhoila
Priyajananka Alinghana Karibara Eha Eka sujoga
Tenu Gulala Ebam Ranga Sahita prastuta hua.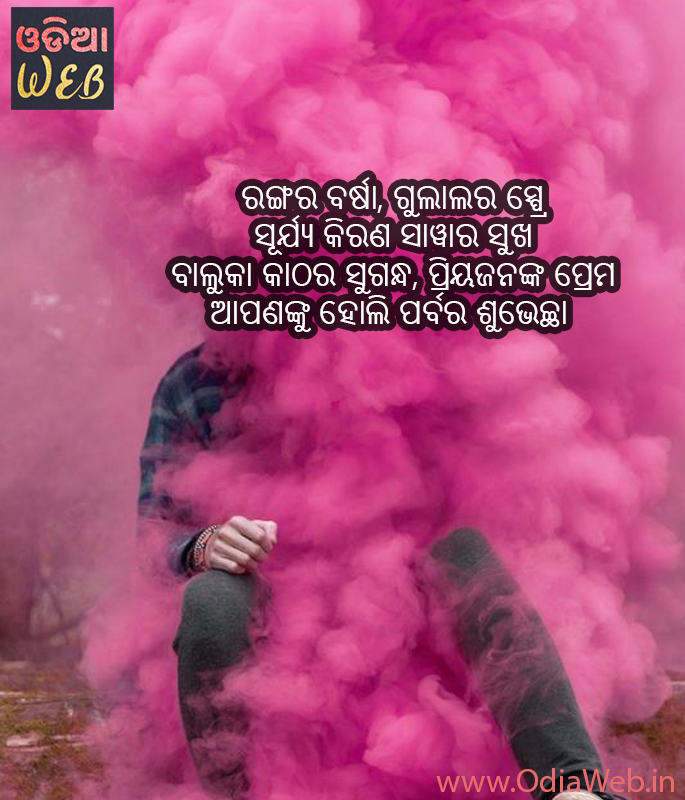 ରଙ୍ଗର ବର୍ଷା, ଗୁଲାଲର ସ୍ପ୍ରେ,
ସୂର୍ଯ୍ୟ କିରଣ ସାୱାର ସୁଖ,
ବାଲୁକା କାଠର ସୁଗନ୍ଧ, ପ୍ରିୟଜନଙ୍କ ପ୍ରେମ,
ଆପଣଙ୍କୁ ହୋଲି ପର୍ବର ଶୁଭେଚ୍ଛା |
Rangara Barsha ,Gulalara Sprey
Surjya Kirana Sawara Sukha
Baluka Kathara Sugandha,Priyajananka prema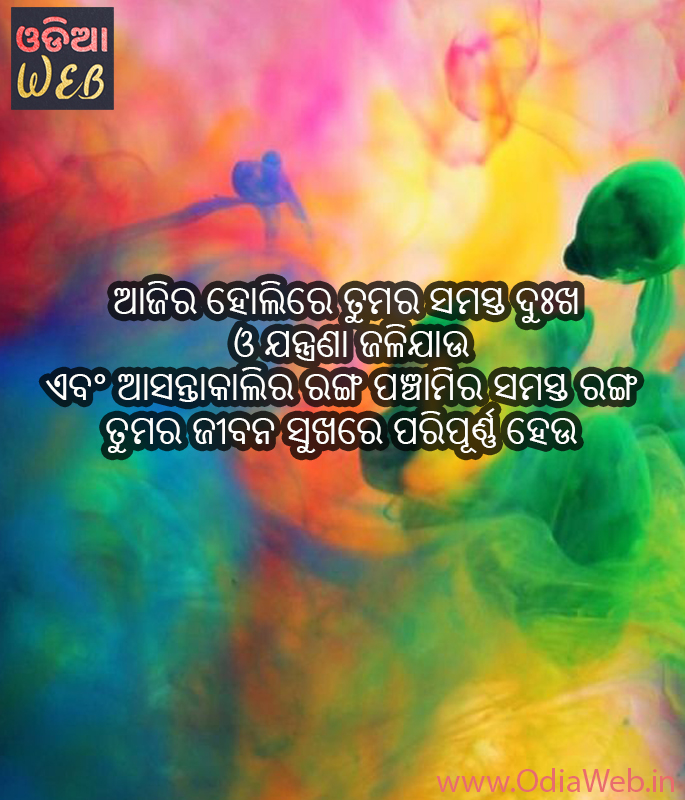 ଆଜିର ହୋଲିରେ ତୁମର ସମସ୍ତ ଦୁଃଖ ଓ ଯନ୍ତ୍ରଣା ଜଳିଯାଉ,
ଏବଂ ଆସନ୍ତାକାଲିର ରଙ୍ଗ ପଞ୍ଚାମିର ସମସ୍ତ ରଙ୍ଗ |
ତୁମର ଜୀବନ ସୁଖରେ ପରିପୂର୍ଣ୍ଣ ହେଉ |
Ajira Holire Tumara Duhkha O Jantrana Jalijau
Ebam Asantakalira Ranga Panchamira Samasta Ranga
Tumara Jeebana Sukhare Paripurnna Heu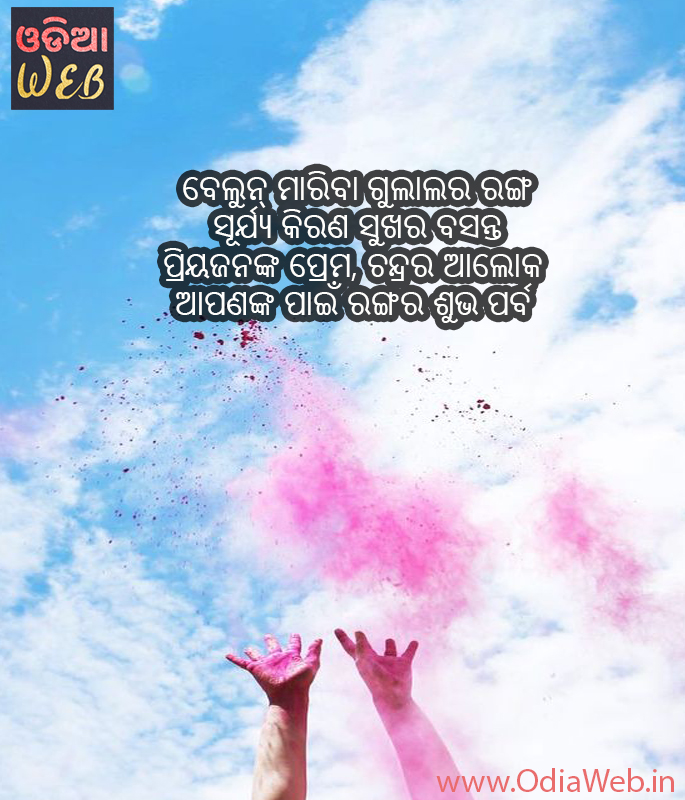 ବେଲୁନ୍ ମାରିବା ଗୁଲାଲର ରଙ୍ଗ,
ସୂର୍ଯ୍ୟ କିରଣ ସୁଖର ବସନ୍ତ,
ପ୍ରିୟଜନଙ୍କ ପ୍ରେମ, ଚନ୍ଦ୍ରର ଆଲୋକ |
ଆପଣଙ୍କ ପାଇଁ ରଙ୍ଗର ଶୁଭ ପର୍ବ |
Balloon Mariba Gulalara Ranga
Surjya Kirana Sukhara Basanta
Priyajananka Prema ,Chandrara Aloka
Apananka Pain Rangara Shubha Parba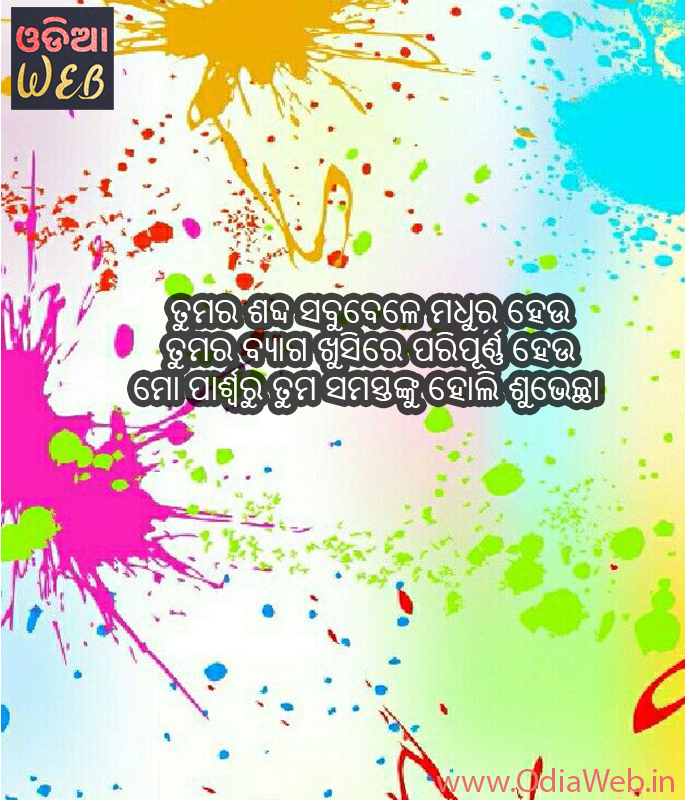 ତୁମର ଶବ୍ଦ ସବୁବେଳେ ମଧୁର ହେଉ,
ତୁମର ବ୍ୟାଗ ଖୁସିରେ ପରିପୂର୍ଣ୍ଣ ହେଉ,
ମୋ ପାର୍ଶ୍ୱରୁ ତୁମ ସମସ୍ତଙ୍କୁ ହୋଲି ଶୁଭେଚ୍ଛା |
Tumara Shabda Sabubele Madhura Heu
Tumara Bag Khusire Paripurnna Heu
Mo Parshwaru Tuma Samastanku Holi Shubheccha
Comments
comments