Are you looking for Odia Goodnight Sms , then this is the perfect Odia sms you are looking for. Goodnight everyone! As the day comes to an end, it is time to relax and recharge our bodies and minds for the adventures and challenges that tomorrow may bring. Take a moment to reflect on the events of the day, appreciating each experience and the lessons they have taught us.
Let go of any worries or stresses that may be lingering within you, and allow yourself to drift into a peaceful and restful sleep. Close your eyes and imagine a serene and tranquil setting, where all your worries are whisked away by the gentle breeze.Share this sms with your Family Friends and impress her. Here you can find latest Odia sms in Odia language.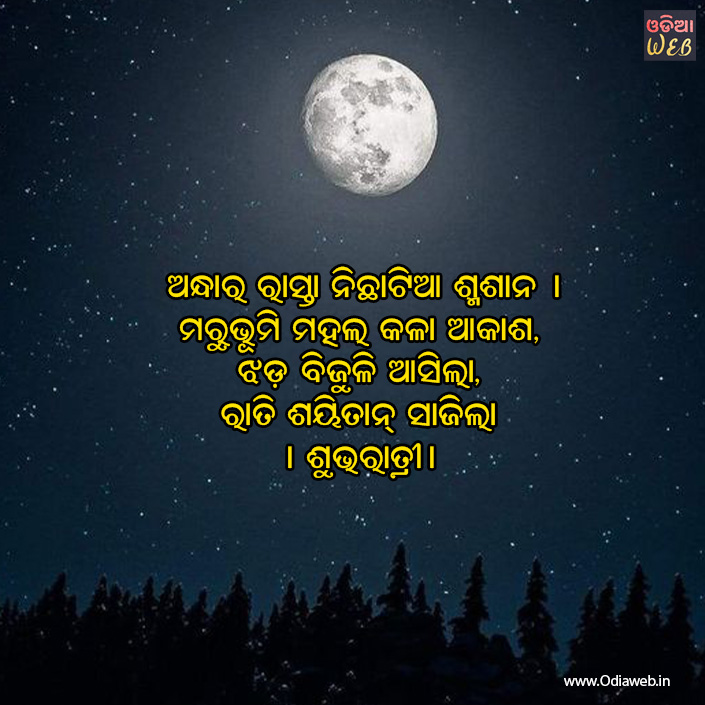 ଅନ୍ଧାର ରାସ୍ତା ନିଛାଟିଆ ଶ୍ମଶାନ |
ମରୁଭୂମି ମହଲ କଳା ଆକାଶ,
ଝଡ଼ ବିଜୁଳି ଆସିଲା,
ରାତି ଶୟିତାନ୍ ସାଜିଲା
| ଶୁଭରାତ୍ରୀ।
Andhara Rasta Nichhatia shmashana
Marubhumi Mahala Kala Akasha
Jhada Bijuli Asila,
Rati Shayitan Sajila
Good Night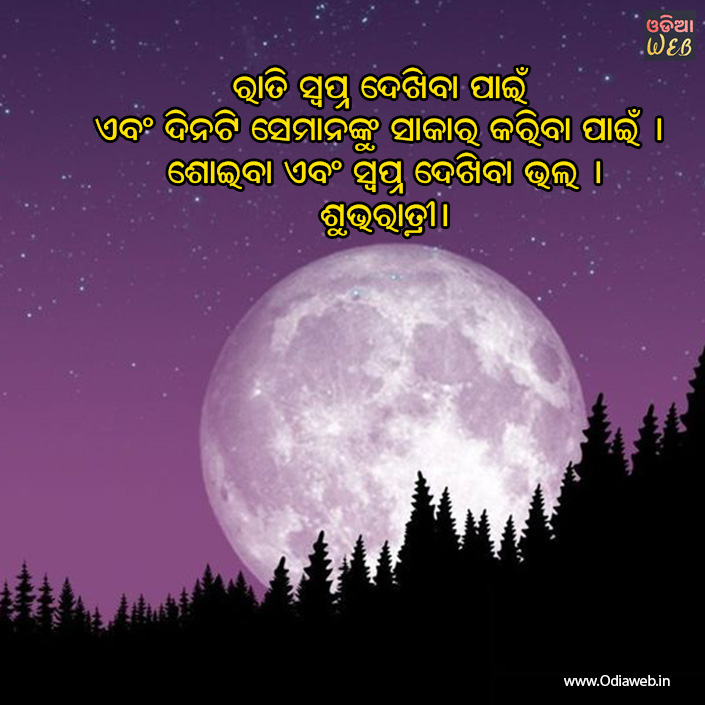 ରାତି ସ୍ୱପ୍ନ ଦେଖିବା ପାଇଁ
ଏବଂ ଦିନଟି ସେମାନଙ୍କୁ ସାକାର କରିବା ପାଇଁ |
ଶୋଇବା ଏବଂ ସ୍ୱପ୍ନ ଦେଖିବା ଭଲ |
ଶୁଭରାତ୍ରୀ।
Rati Swapna Dekhiba Pain
Ebam Dinati Semananka Sakara Kariba Pain
Shoiba Ebam Swapna Dekhiba Bhala
Good Night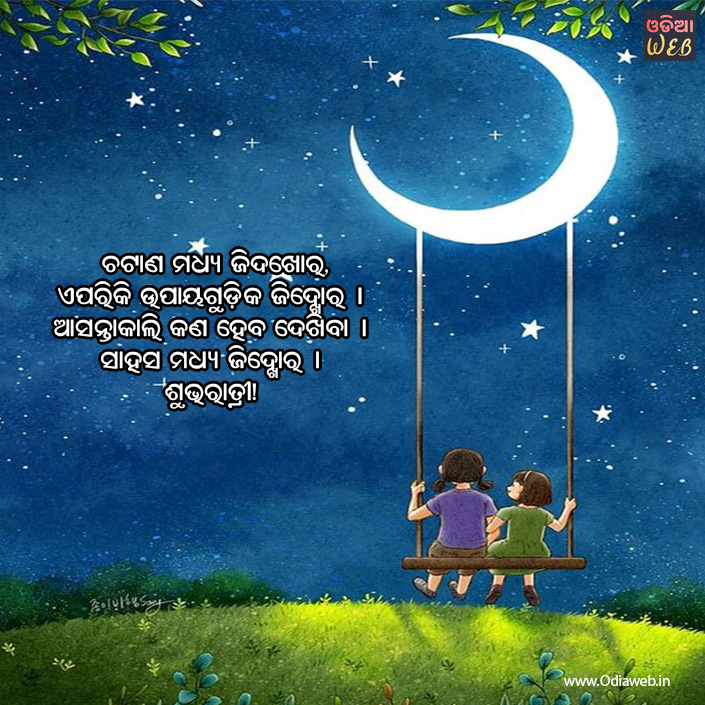 ଚଟାଣ ମଧ୍ୟ ଜିଦ୍ଖୋର,
ଏପରିକି ଉପାୟଗୁଡ଼ିକ ଜିଦ୍ଖୋର
ଆସନ୍ତାକାଲି କଣ ହେବ ଦେଖିବା
ସାହସ ମଧ୍ୟ ଜିଦ୍ଖୋର
ଶୁଭରାତ୍ରୀ!
Chatana Madhua Jidkhora
Epariki Upayagudika Jidkhor
Asantakali Kan Heba Dekhiba
Sahasa Madhya Jidkhora
Shubha Ratri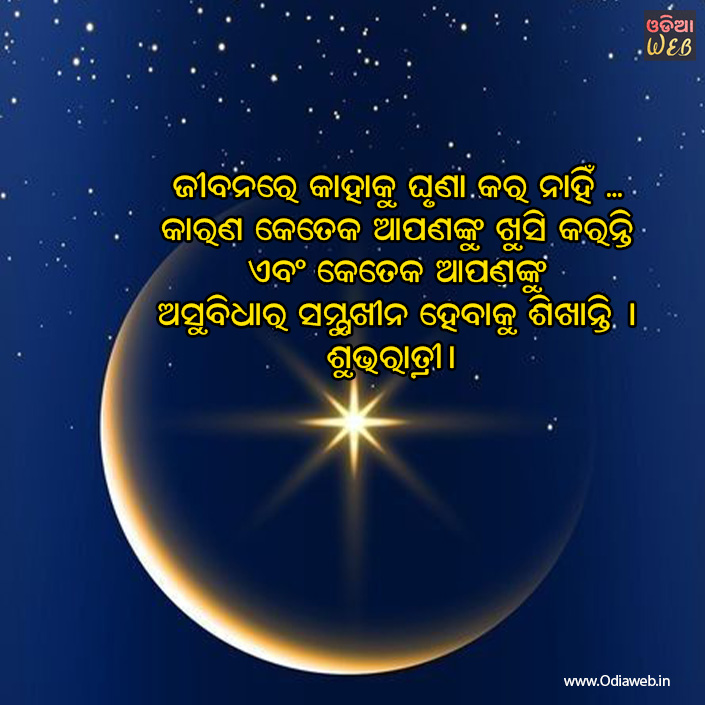 ଜୀବନରେ କାହାକୁ ଘୃଣା କର ନାହିଁ …
କାରଣ କେତେକ ଆପଣଙ୍କୁ ଖୁସି କରନ୍ତି
ଏବଂ କେତେକ ଆପଣଙ୍କୁ
ଅସୁବିଧାର ସମ୍ମୁଖୀନ ହେବାକୁ ଶିଖାନ୍ତି |
ଶୁଭରାତ୍ରୀ।
Jeebanare Kahaku Ghruna Kara Nahni
Karana Keteka Apananku Khusi Karanti
Ebam Keteka Apananku
Asubidhara Sammukhina Hebaku Shikhanti
Good Night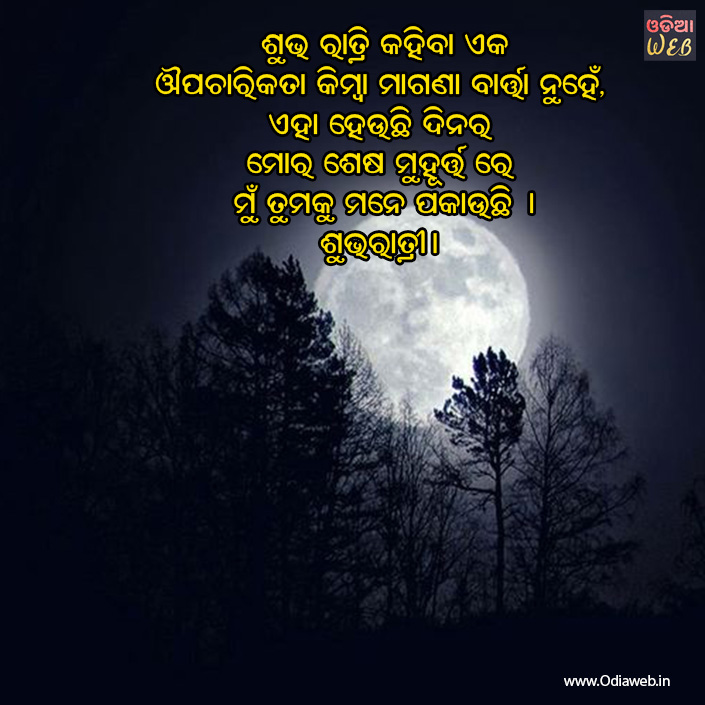 ଶୁଭ ରାତ୍ରି କହିବା ଏକ
ଔପଚାରିକତା କିମ୍ବା ମାଗଣା ବାର୍ତ୍ତା ନୁହେଁ,
ଏହା ହେଉଛି ଦିନର
ମୋର ଶେଷ ମୁହୂର୍ତ୍ତ ରେ
ମୁଁ ତୁମକୁ ମନେ ପକାଉଛି |
ଶୁଭରାତ୍ରୀ।
Shubha Ratri Kahiba Eka
Oipacharikata Kimba Magna Bartta Nuhne
Eha Heuchhi Dinara
Mora Shesha Muhurtta Re
Mun Tumaku Mane Pakauchhi
Good Night
Comments
comments