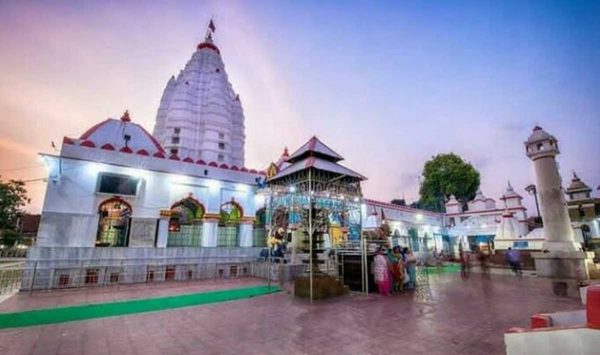 Samaleswari Temple is a temple of Samaleswari Thakurani in Sambalpur, Odisha. It is located on the outskirts of Sambalpur in Odisha. Maa Samaleshwari, the worshiped goddess of western Odisha, has been worshiped all year round as a gourd of red. On the day of the new moon of the month of Ashwin (Mahalaya), the mother is dressed in white. This niara annual form of the mother is called the white-faced costume or the Ganga philosophy costume. The sixteenth puja of the mother begins with the Pujiauntia Parvan. The day before Mahalaya, Ma Sati appears to the devotees in the guise of Ma. At midnight that day, the worshipers close the door of the temple, bathe the goddess in the Ganges water mixed with camphor, and adorn the mother in a white-faced dress with sandalwood and agarwood. The mother is kept in a white face for two days. It is believed that the appearance of the goddess on the day of Mahalaya Shraddha benefits the Ganges philosophy.
Nabaratra is worshiped in the temple for 9 days before Vijaya Dashmi. For these 9 days, many devotees light unbroken lamps. All these lamps are inscribed in the name of the devotee and placed in a large chamber, and the oil is given continuously so that the lamp does not go out. Mother Samaleswari must fulfill the mentality that the devotees believe in by lighting the lamp. The practice is becoming so popular day by day that the temple administration is building another large chamber for this purpose.
Although the Mahalaya day is the most celebrated festival in the temple of Mother Samaleshwari, there are special festivals of worship, such as Diwali, Dashahara and other Hindu festivals, as well as mass festivals such as Nuakhai. Many people in the Sambalpur area buy new vehicles and go to the temple after the worship service. It is also customary to start distributing to others after the wedding, with the first invitation being given to Mother Samlei before the wedding.
Comments
comments