Raghunath Mohapatra : An Incredible Architect
When he touches stone, the stone speaks out. He carves unbelievable and unimaginable sculptures from the heart of the stone. Out of a few sculpture artists of Odisha, who has represented himself as an eminent artist, Raghunath Mohapatra is a name to be uttered in the list of successful personalities. It is interesting to note that Raghunath Mohapatra was adorned with Padma Shree Award when he was only 23. This great architect, sculptor and current Rajya Sabha MP from Odisha, who dreams of building a second Konark in the state, is the topic of discussion in this article.
Raghunath Mahapatra Biography :
Raghunath Mohapatra was born on 23 March 1943 at PathuriaSahi in the Puri district. His father's name is Damodar Mohapatra and his mother's name is Shakuntala Devi. He dropped from school when he was in class 8, never studied thereafter, but dedicated himself to the art of carving sculptures out of stones. He left Puriwhen he was 18 and started working at Government Handicraft Training and Design Center, Bhubaneswar. For his hard efforts and dedication in the field of sculpture making, he was awarded with Padma Shree, only at an age of 23 in 1976.
Raghunath Mohapatra has founded two major craft hubs in the capital city of Bhubaneswar, the "ShilpiGrama" Craftsmen's village) and the "Raghunath Crafts".
Tara Tarini Temple, a new style built temple in old architectural structure, was the creativity of Raghunath. He is the chief Architect of the same. He has sculptured various temples not only across Odisha, but also across India. Government of Odisha has appointed him as the President of Odisha Lalita Kala Academy.
Architect RaghunathMohapatra was awarded with the Padma Bhushan award in 2001.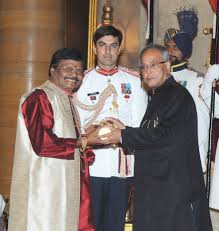 External Affairs nominated him as a member of the Indian Council for Cultural Relations (ICCR) in 2000.
Architectures and Sculptures :
RaghunathMohapatra has sculptured and designed many marvelous architectural buildings and postures. The following is a list of his eminent works.
A 18 feet long and 15 feet high Konark Horse statue at Master Canteen square, Bhubaneswar.
A 12 feet high Konark Horse at Barabati Stadium, Cuttack.
16 Konark Chakra at Bhubaneswar Airport
3 Temples of height 70 feet each at Titlagarh
Tara Tarini Temple at Ganjam
5 feet Surya Narayan posture standing in the Parliament
Samadhi (Burial Mount) of Rajib Gandhi
14 feet high Komark Chakra at Ashoka Hotel, New Delhi
2 Baudhha postures at Dhauli
3 Baudhha postures of 20 feet at Ladhak
A large wooden posture of Lord Budhha in France
15 feet high AshokaStambha in Japan
Awards and Honoray :
As a great Architect of the state and of the country, Raghunath Mohapatra has been awarded with all the three Padma Awards. Raghunath Mohapatra has been awarded with Padma Bibhusan in 2013. He was honoured with Padma Bhusan in 2001.
He was conferred with Padma Shree in 1976.
He also bagged the state award in the year 1964.
In 2006, he was honoured with Shilpi Guru Samman.
2014 brought him the prestigious Bharat Muni award.
He was honoured with MalharSamman in 2017.
Comments
comments