"Best Odia Tea Quotes: we have brought some best Odia Tea quotes.There is something magical about sipping a warm cup of tea. Whether it's a soothing chamomile infusion to calm your mind, a fragrant green tea to uplift your senses, or a robust black tea to kickstart your day, tea has a remarkable ability to transport us to different realms of taste, aroma, and relaxation.Here we have the greatest tea Quotes in Odia .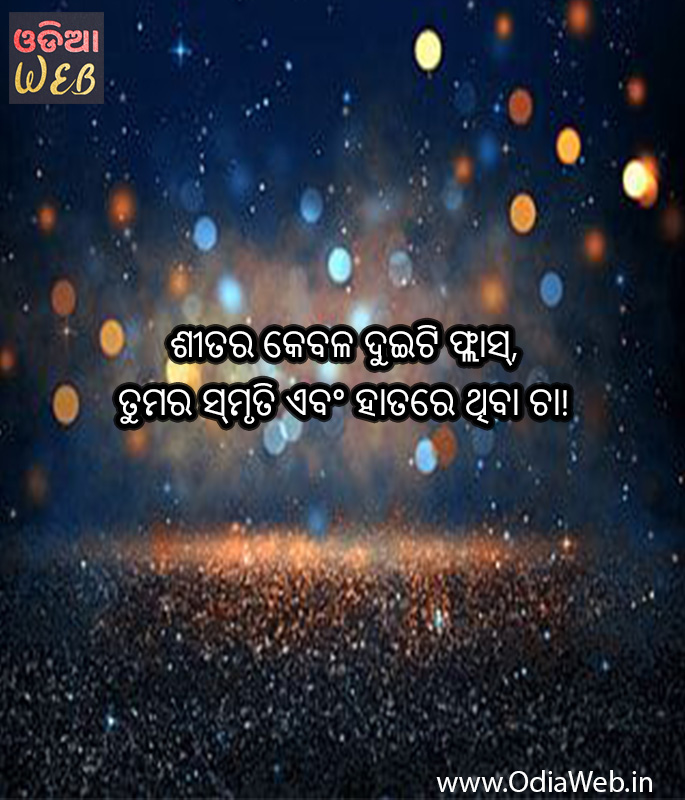 ଶୀତର କେବଳ ଦୁଇଟି ଫ୍ଲାସ୍,
ତୁମର ସ୍ମୃତି ଏବଂ ହାତରେ ଥିବା ଚା!
Sheetara Kebala Duiti Flash
Tumara Smruti Ebam Hatare Thiba Chaha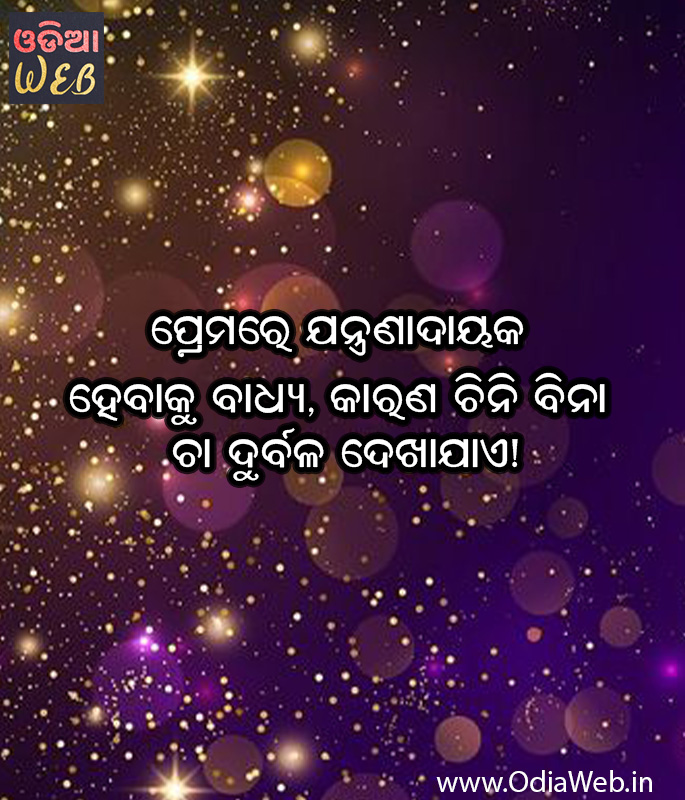 ପ୍ରେମରେ ଯନ୍ତ୍ରଣାଦାୟକ
ହେବାକୁ ବାଧ୍ୟ କାରଣ ଚିନି ବିନା
ଚା ଦୁର୍ବଳ ଦେଖାଯାଏ!
Premara Jantradayaka
Hebaku Badhya Karana Chini Bina
Chaha Durbala Dekhajae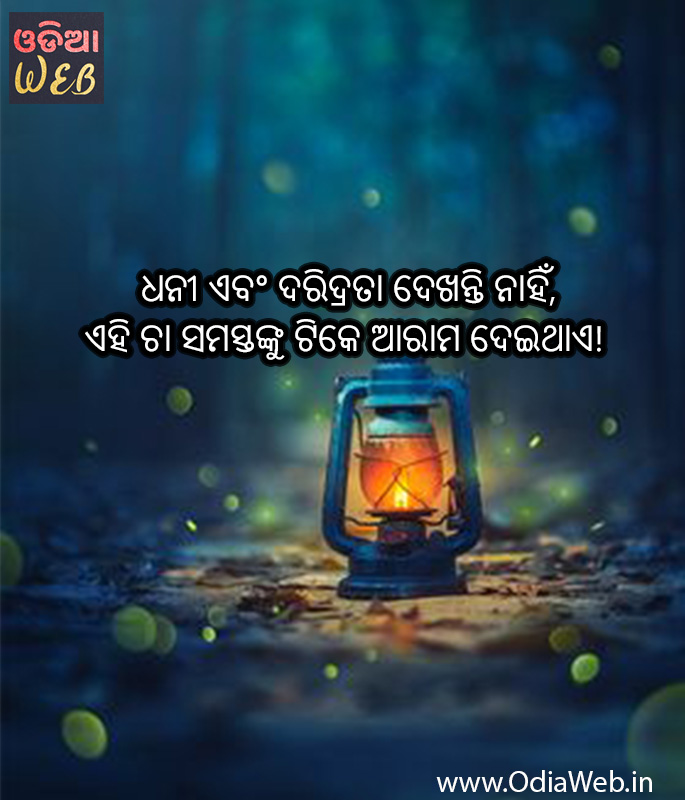 ଧନୀ ଏବଂ ଦରିଦ୍ରତା ଦେଖନ୍ତି ନାହିଁ,
ଏହି ଚା ସମସ୍ତଙ୍କୁ ଟିକେ ଆରାମ ଦେଇଥାଏ!
Dhani Ebam Daridrata Dekhanti Nahni
Ehi Chaha Samstanku Arama Deithae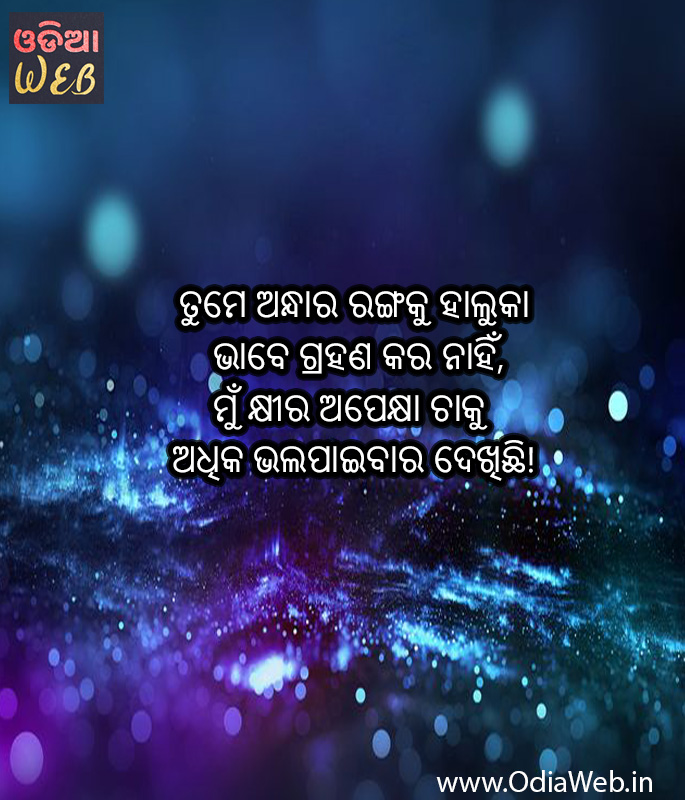 ତୁମେ ଅନ୍ଧାର ରଙ୍ଗକୁ ହାଲୁକା
ଭାବେ ଗ୍ରହଣ କର ନାହିଁ,
ମୁଁ କ୍ଷୀର ଅପେକ୍ଷା ଚାକୁ
ଅଧିକ ଭଲପାଇବାର ଦେଖିଛି!
Tume andhara Rangaku Haluka
Bhabe Grahana Kara Nahni
Mun Kshira Apekshya Caku
Adhika Bhalapaibara Dekhichhi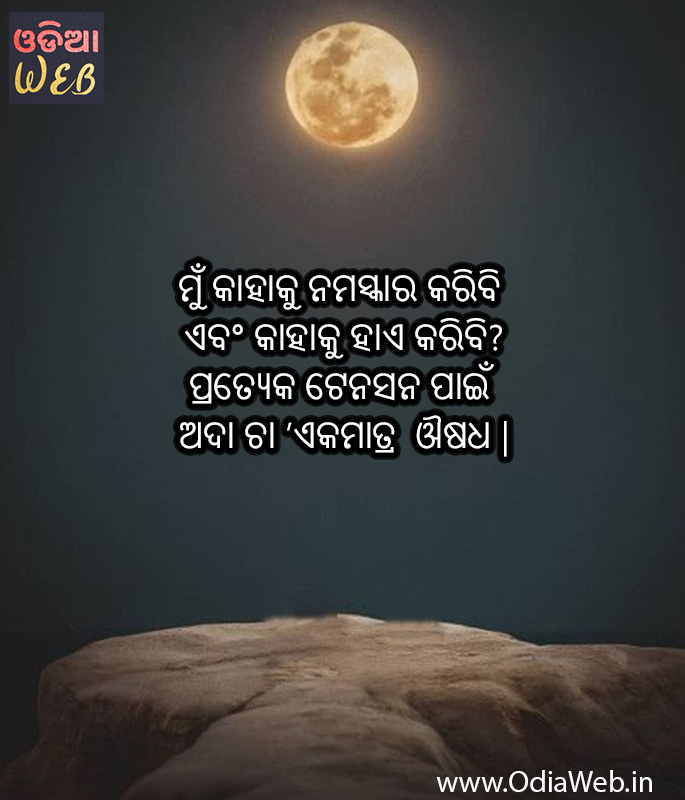 ମୁଁ କାହାକୁ ନମସ୍କାର କରିବି
ଏବଂ କାହାକୁ ହାଏ କରିବି?
ପ୍ରତ୍ୟେକ ଟେନସନ ପାଇଁ
ଅଦା ଚା 'ଏକମାତ୍ର ଔଷଧ |
Mun Kahaku Namaskara Karibi
Ebam Kahaku Hey Kahibi
Pratyeka Tension Pain
Ada Chaha Ekamatra Oushadha
Comments
comments