Are you looking for Odia Good Morning Sms, then this is the perfect Odia sms you are looking for. Share this sms with your family and Relative and impress her. Here you can find latest Odia sms in Odia language.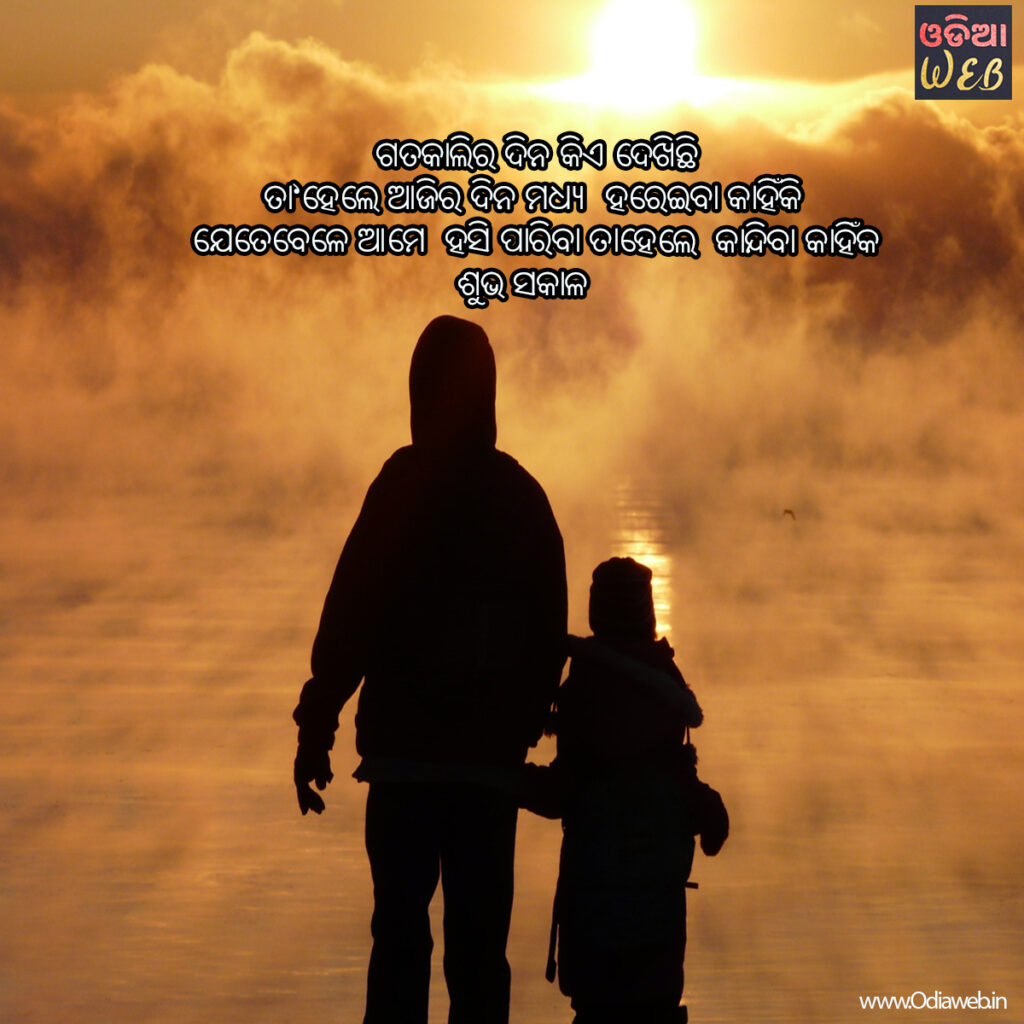 ଗତକାଲିର ଦିନ କିଏ ଦେଖିଛି, ତା'ହେଲେ ଆଜିର ଦିନ ମଧ୍ୟ ହରେଇବା କାହିଁକି,
ଯେତେବେଳେ ଆମେ ହସି ପାରିବା ତାହେଲେ କାନ୍ଦିବା କାହିଁକି?
ଶୁଭ ସକାଳ!
Gatakalira Dina Kie Dekhichhi,Tahele Ajira Dina Madhya Hareiba Kahniki
Jetebele Ame Hasi Pariba Tahele Kandiba Kahniki?
Shubha Sakala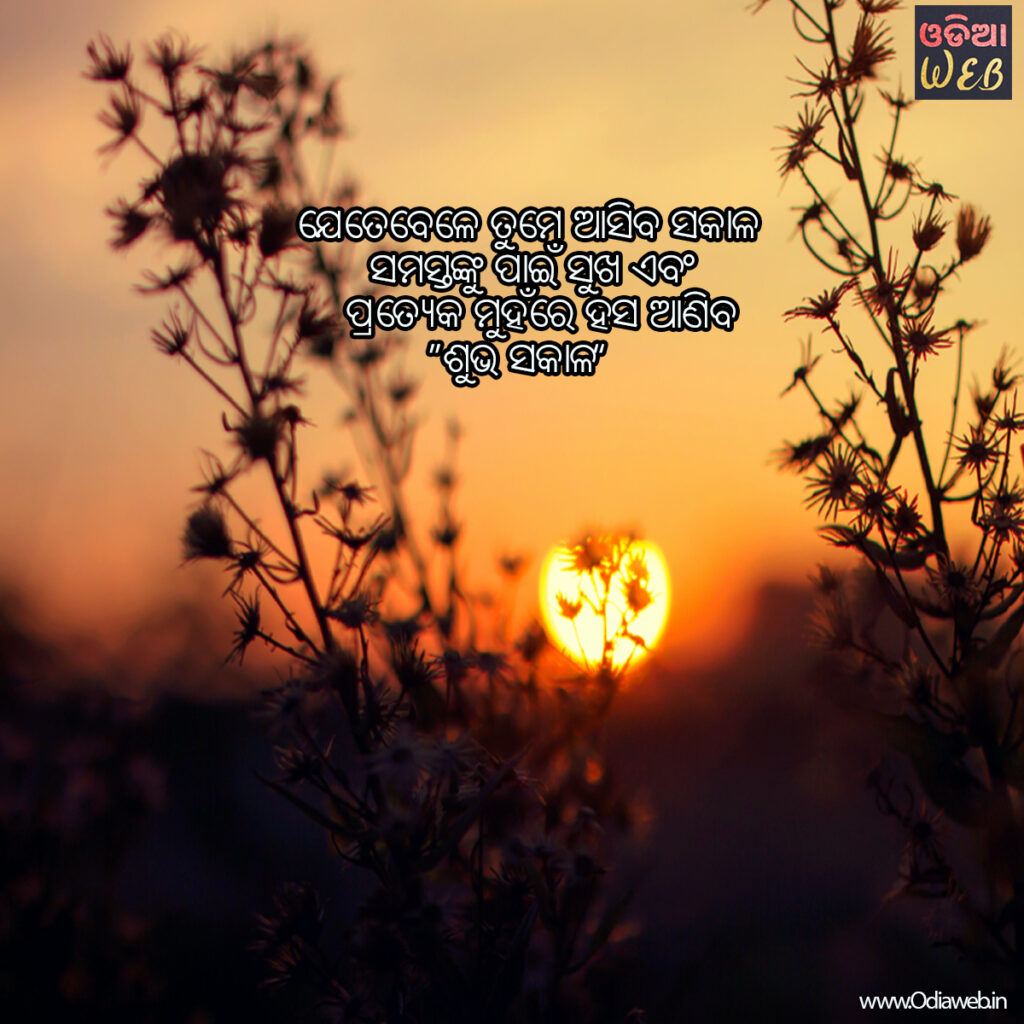 ଯେତେବେଳେ ତୁମେ ଆସିବ ସକାଳ' |
ସମସ୍ତଙ୍କୁ ପାଇଁ ସୁଖ ଏବଂ
ପ୍ରତ୍ୟେକ ମୁହଁରେ ହସ ଆଣିବ |
"ଶୁଭ ସକାଳ"
Jetebele Tume Asiba sakala
Samastanka Pain Sukha Ebam
Pratyeka Muhnare hasa Aniba
Shubha Sakala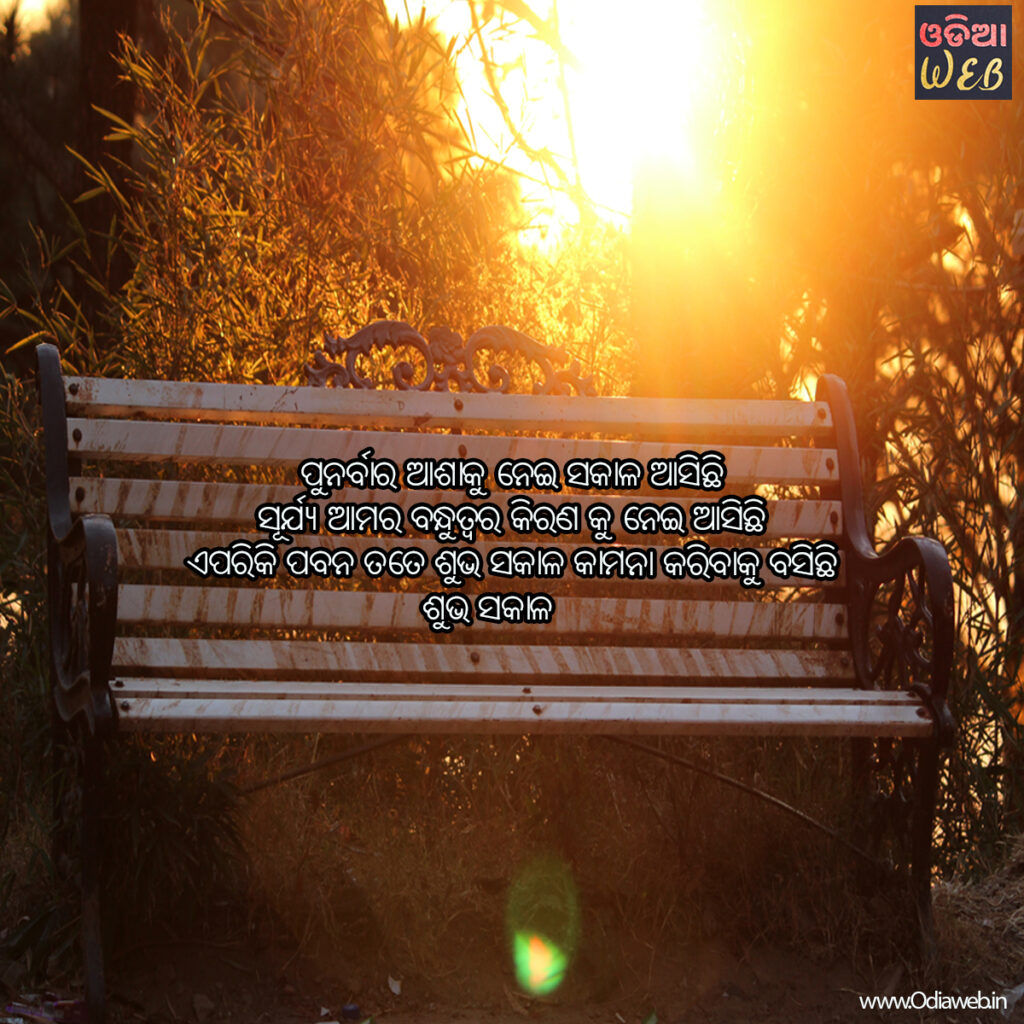 ପୁନର୍ବାର ଆଶାକୁ ନେଇ ସକାଳ ଆସିଛି,
ସୂର୍ଯ୍ୟ ଆମର ବନ୍ଧୁତ୍ୱର କିରଣ କୁ ନେଇ ଆସିଛି,
ଏପରିକି ପବନ ତତେ ଶୁଭ ସକାଳ କାମନା କରିବାକୁ ବସିଛି!
ଶୁଭ ସକାଳ!
Punrbara Ashaku Nei Sakala Asichhi
Surjya Amara Bandhutwara Kirana Ku Nei Asichhi
Epariki Pabana tate Shubha Sakala Kamana Karibaku Basichhi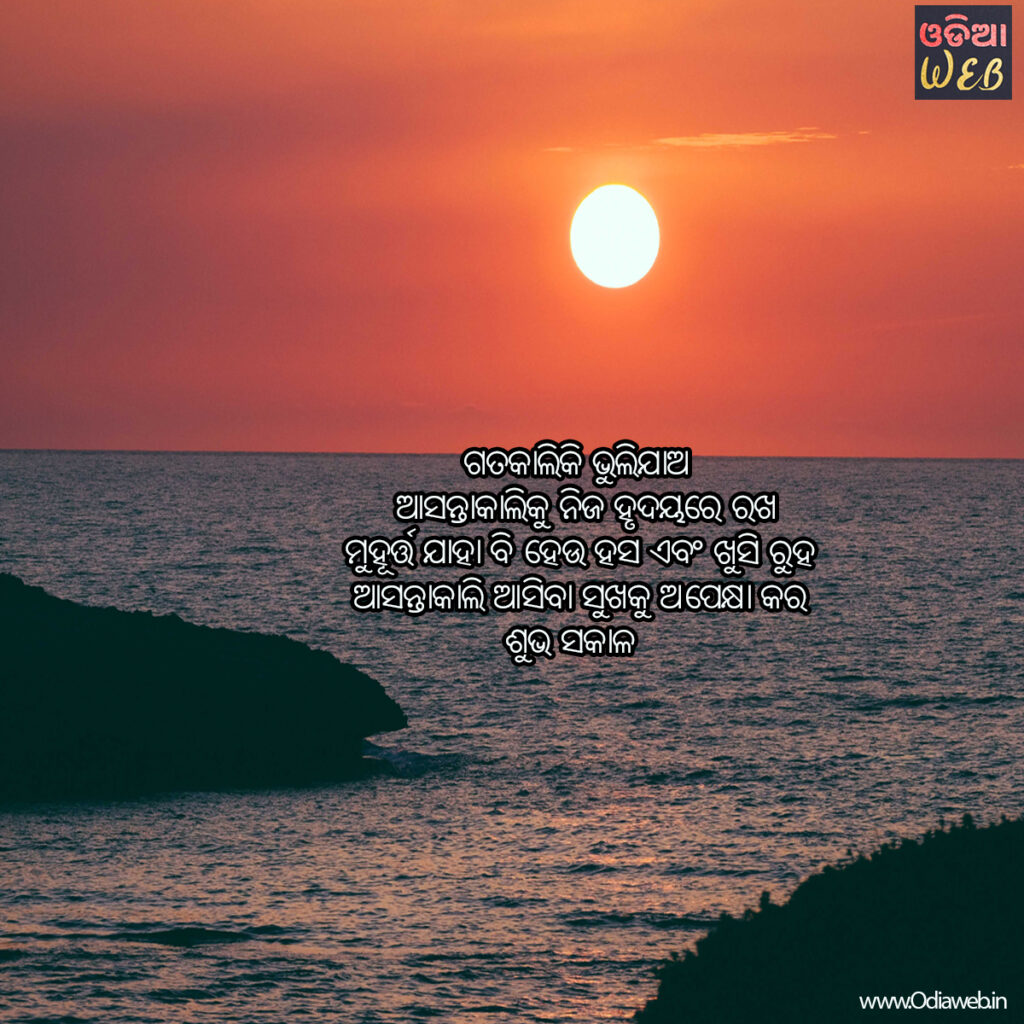 ଗତକାଲିକି ଭୁଲିଯାଅ,
ଆସନ୍ତାକାଲିକୁ ନିଜ ହୃଦୟରେ ରଖ |
ମୁହୂର୍ତ୍ତ ଯାହା ବି ହେଉ ହସ ଏବଂ ଖୁସି ରୁହ,
ଆସନ୍ତାକାଲି ଆସିବା ସୁଖକୁ ଅପେକ୍ଷା କର
ଶୁଭ ସକାଳ!
Gatakaliki Bhulijao
Asantakaliku Nija Hrudayare Rakha
Muhurtta jaha Bi Hau Hasa ebam Khusi Ruha
Shubha Sakala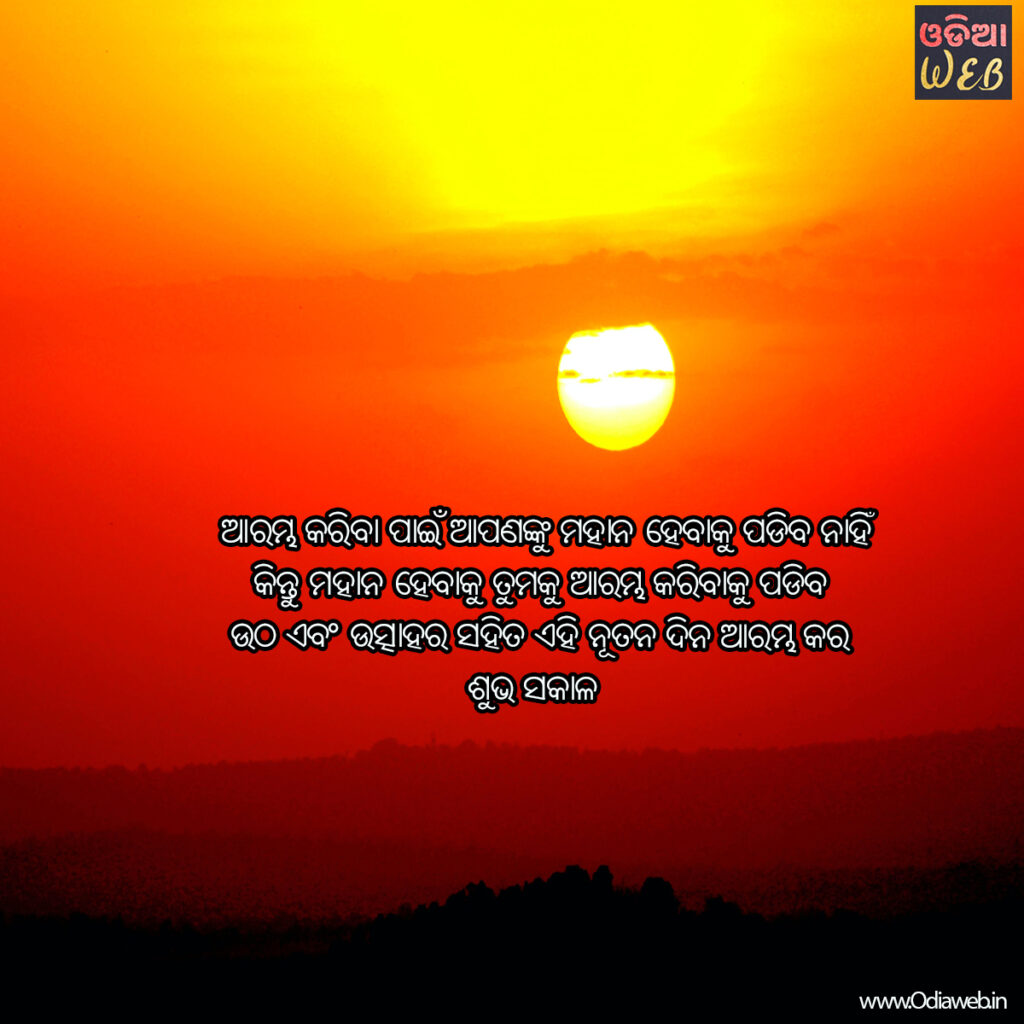 ଆରମ୍ଭ କରିବା ପାଇଁ ଆପଣଙ୍କୁ ମହାନ ହେବାକୁ ପଡିବ ନାହିଁ
କିନ୍ତୁ ମହାନ ହେବାକୁ ତୁମକୁ ଆରମ୍ଭ କରିବାକୁ ପଡିବ!
ଉଠ ଏବଂ ଉତ୍ସାହର ସହିତ ଏହି ନୂତନ ଦିନ ଆରମ୍ଭ କର!
ଶୁଭ ସକାଳ!
Arambha kariba Pain Apannku Mahan Hebaku Padiba Nahni
Kintu Mahana Hebaku Tumaku Arambha Karibaku Padiba
Shubha Sakala
Comments
comments