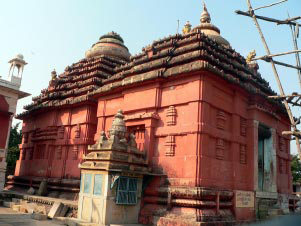 Digambar Jain Temple is a Jain temple in Khandagiri, Odisha. There are many Jain caves engraved on the rocks of this Khandagiri hill. It was built in the first century by Kharbel. The caves are now preserved by the Archaeological Survey of India. There is a statue of Jain Pilgrimage here. The temple is run by Bimala Devi on behalf of the Jain Pilgrimage Committee of Bengal, Bihar and Odisha.
Examining the style of construction of the temple reveals that it was built from the ruins of a pre-built temple. The new temple was built in the 19th century. According to regional beliefs, the temple was built by Mahameghbahan Kharbel in the first century. Nowadays, this does not seem logical because of the architectural style of the existing temple. The original temple or pedestal may have been built by Kharbel.
The temple is located on the east side and near the Rushvanath temple. There are Kalinga-style planes and Jagmohan. Made up of sand roads. The fence is Panchang. It has walls around it. The temple is built on a podium at a height of 1.62 meters above the ground level. It is 16 meters long and 9.5 meters wide. The plane is 8.25 meters long, 6.4 meters long and 9.4 meters wide. Built in a three-chariot style, the temple is 5.8 meters high.
Comments
comments