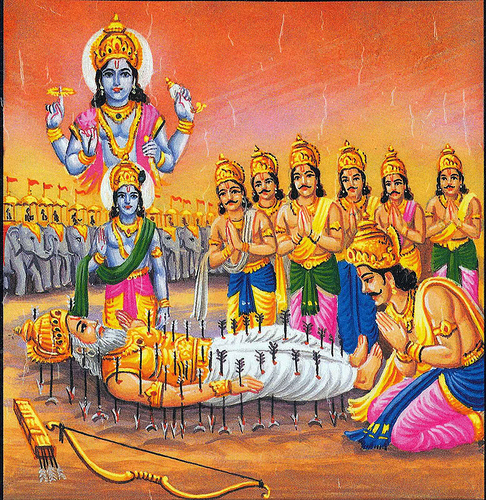 The Shuklapaksha Ekadashi of the month of Magh is celebrated as Bhishma Ekadashi. It is also known as Jaya Ekadashi or Bhumi Ekadashi. It is said that the Vishnu Sahasranama hymn was born on the eleventh day of Bhishma. On this day, fasting is a remembrance of Bhishma and chanting the name of Vishnu Sahasra all day long is a blessing from God. On this day, Vishnu is worshiped and worshiped. During the many bathing days of the Mahakuvara, such as Makar Sankranti, Magh Purnima, Maha Shivaratri, Bhishma Ekadashi is a holy day. In Odisha, on the eleventh day, the Gajuddharana of Srigopalji of Sakshigopala is celebrated. The Beas Sarovar Fair in Jajpur and the Bhumi Ekadashi Yatra begin at the Neelmadhab Peeth in Kantilo.
According to Hindu beliefs, the name of this Ekadashi is Jaya and if you make this Ekadashi vow, the demon will be destroyed. This means that on this day, pure, holy fasting and worship of Vishnu dissolve the evil tendencies in the human mind. There is a legend about demon possession:
According to the Padmapurana, once upon a time in Swargapuri, Gandharva was sung in front of Indra and the Apsars were dancing. The event was attended by a Gandharva girl named Pushpavati and a young man named Malyavan. They were both in love with each other. They were blind to space time because of work arrows. He had no idea that they were performing dance and music at Indra's meeting. Forgetting the meeting, the two kept an eye on the invitation. Mallyaban even forgot the song he was decorating as a madman and forgot the dance rhythm due to the flowery love affair. Devaraja Indra was angry at their behavior in the crowded assembly and cursed them to get the demon vagina. With that, he ousted them. They both reached Badrinath in the Himalayas through the Ascension Gate and lived in that Himalayan shrine. It was so painful to see how sad life was. Fortunately, they did not commit suicide on the eleventh day. He did not even touch the food and water and stayed up all night. As a result, his sins were forgiven. They were told that the day they fasted and woke up at night, it was Bhumi or Jaya Ekadashi. The path to his release paved the way for this eleventh. On the eleventh day of the month, he made a vow and performed the puja, and the next day he returned to his body and lived in heaven.
On this day, Vishnu taught Sahasranama hymns to his great-grandfather Bhishma Pandavas, the greatest warrior of the Kauravas and the greatest warrior, sage and sage. The Pandava's eldest brother, Yudhisthira, begged Bhishma in the capital to teach him some tricks to defeat Kaurava in battle. Vishnu, through the Sahasranama hymns, informed Bhishma about the glory of Lord Krishna. Since then, the Pandavas have won the battle of Mahabharata by chanting these hymns.
Comments
comments