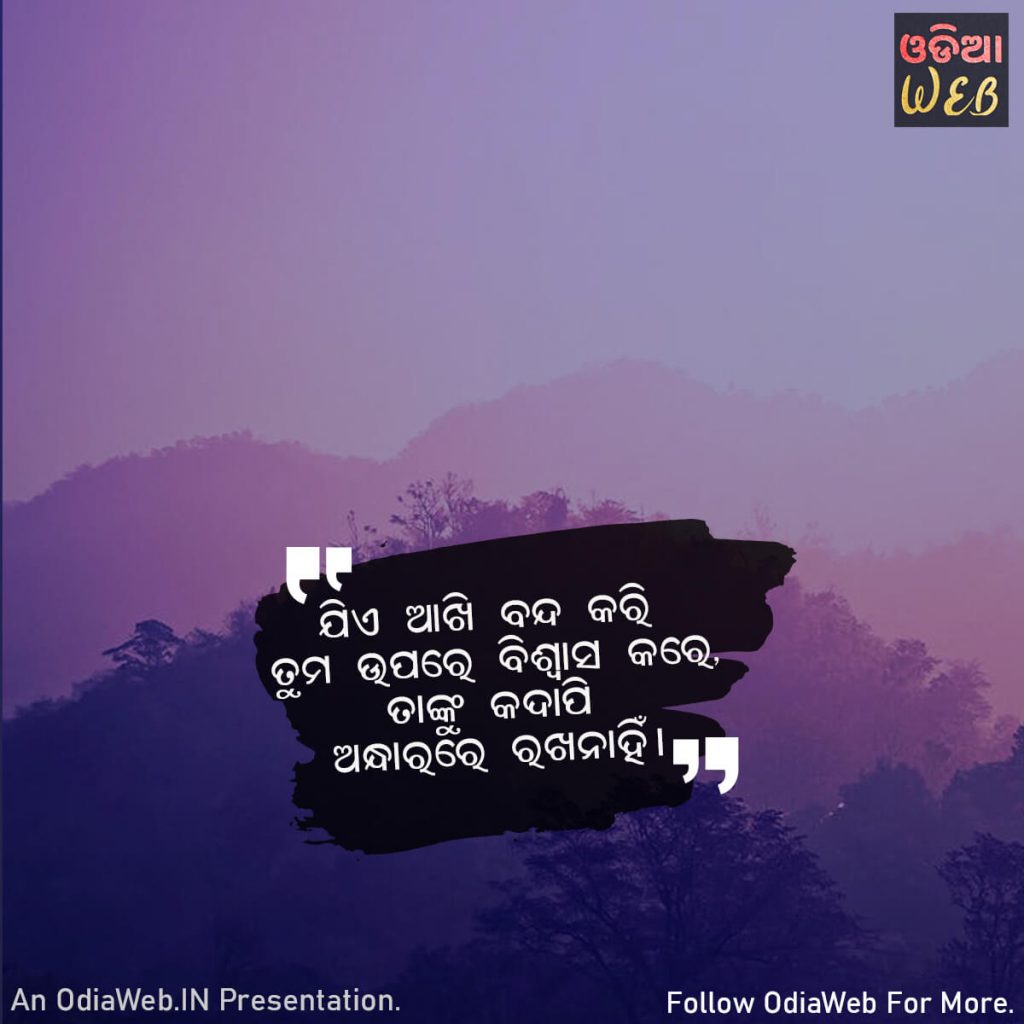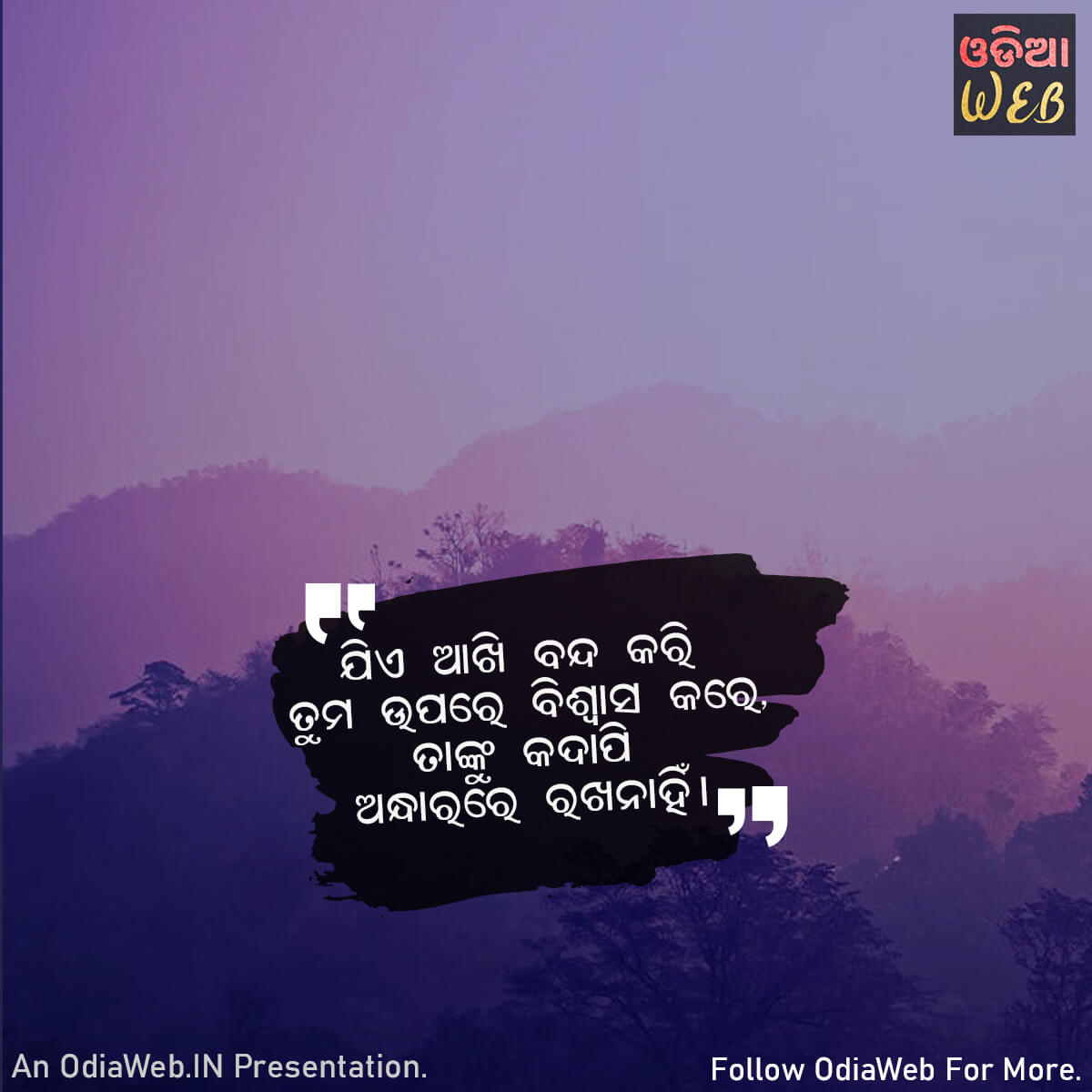 ଯିଏ ଆଖି ବନ୍ଦ କରି ତୁମ ଉପରେ ବିଶ୍ୱାସ କରେ, ତାଙ୍କୁ କଦାପି ଅନ୍ଧାରରେ ରଖନାହିଁ |
 Who closes his eyes and believes in you, never keep him in the dark.
Jie Akhi Band Kari Tuma Upare Biswas Kare, Tanku Kadapi Andharare Rakhanahin.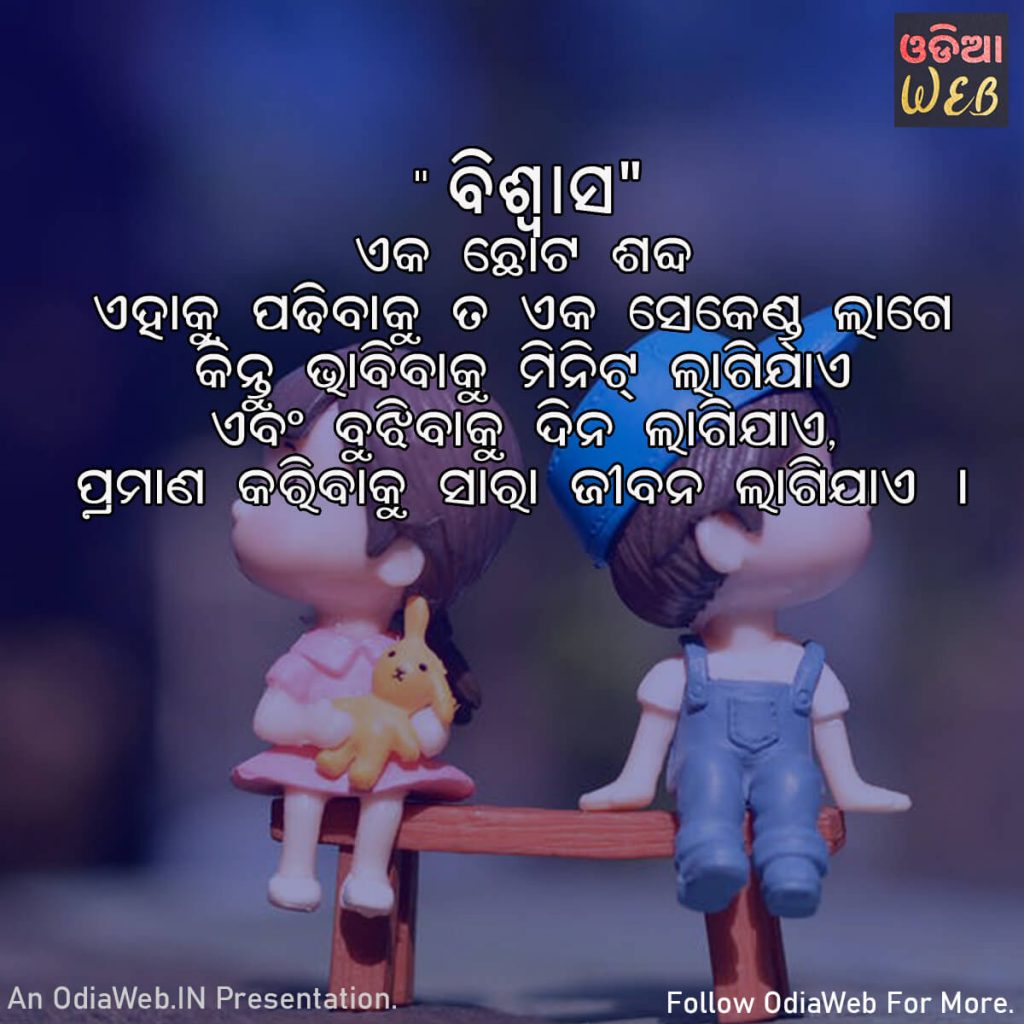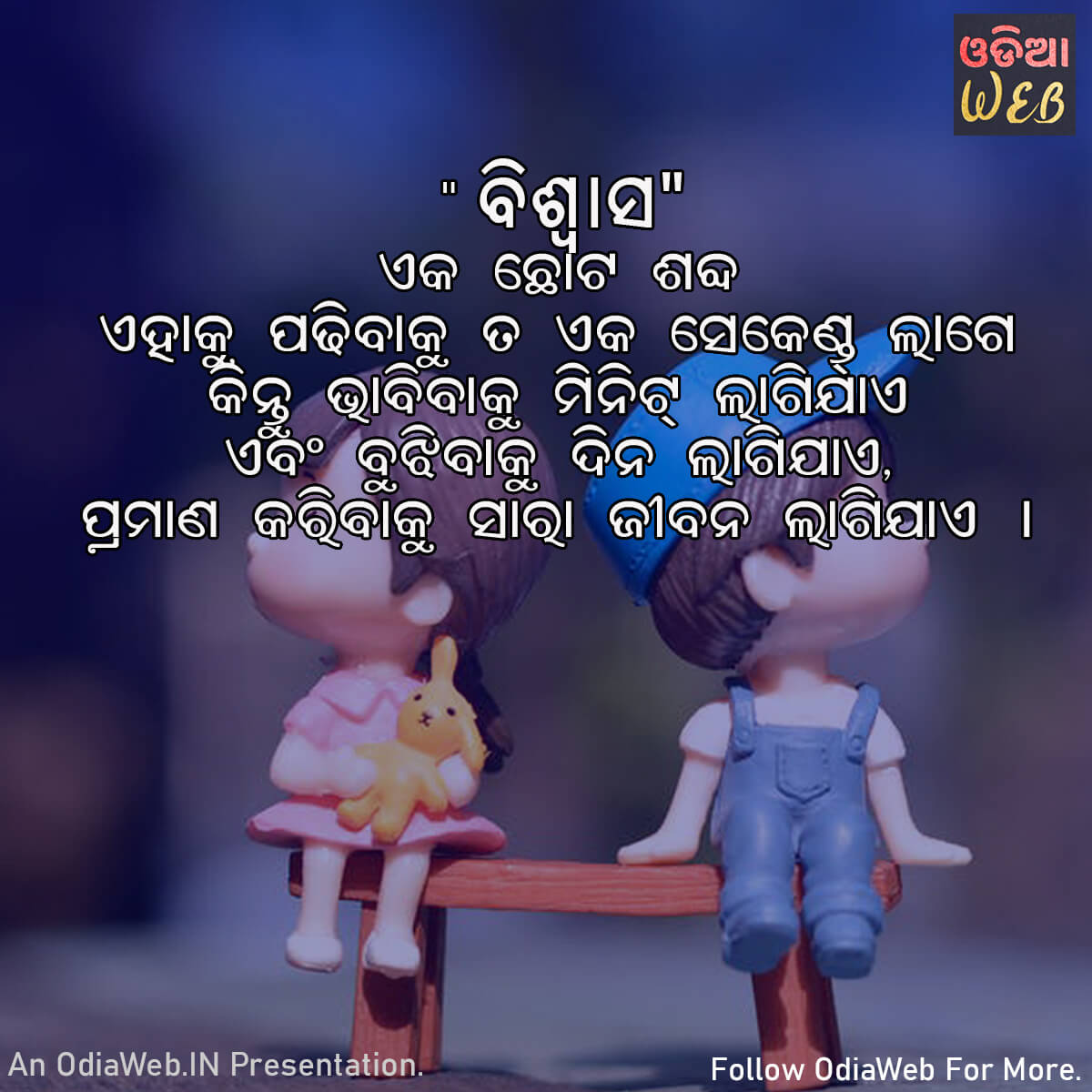 "ବିଶ୍ୱାସ" ଏକ ଛୋଟ ଶବ୍ଦ, ଏହାକୁ ପଢିବାକୁ ତ ଏକ ସେକେଣ୍ଡ୍ ଲାଗେ କିନ୍ତୁ ଭାବିବାକୁ ମିନିଟ୍ ଲାଗିଯାଏ ଏବଂ ବୁଝିବାକୁ ଦିନ ଲାଗିଯାଏ, ପ୍ରମାଣ କରିବାକୁ ସାରା ଜୀବନ ଲାଗିଯାଏ ।
"Faith" is a small word, it takes a second to read it, but it takes minutes to think and it takes days to understand, it takes a lifetime to prove it.
Biswas Eka Chhota Shabda, Ehaku Padhibaku Ta Eka Second Lage Kintu Bhabibaku Minute Lagijae Ebam Bujhibaku Dina Lagijae, Pramana KaKaribaku Sara Jibana Lagijae.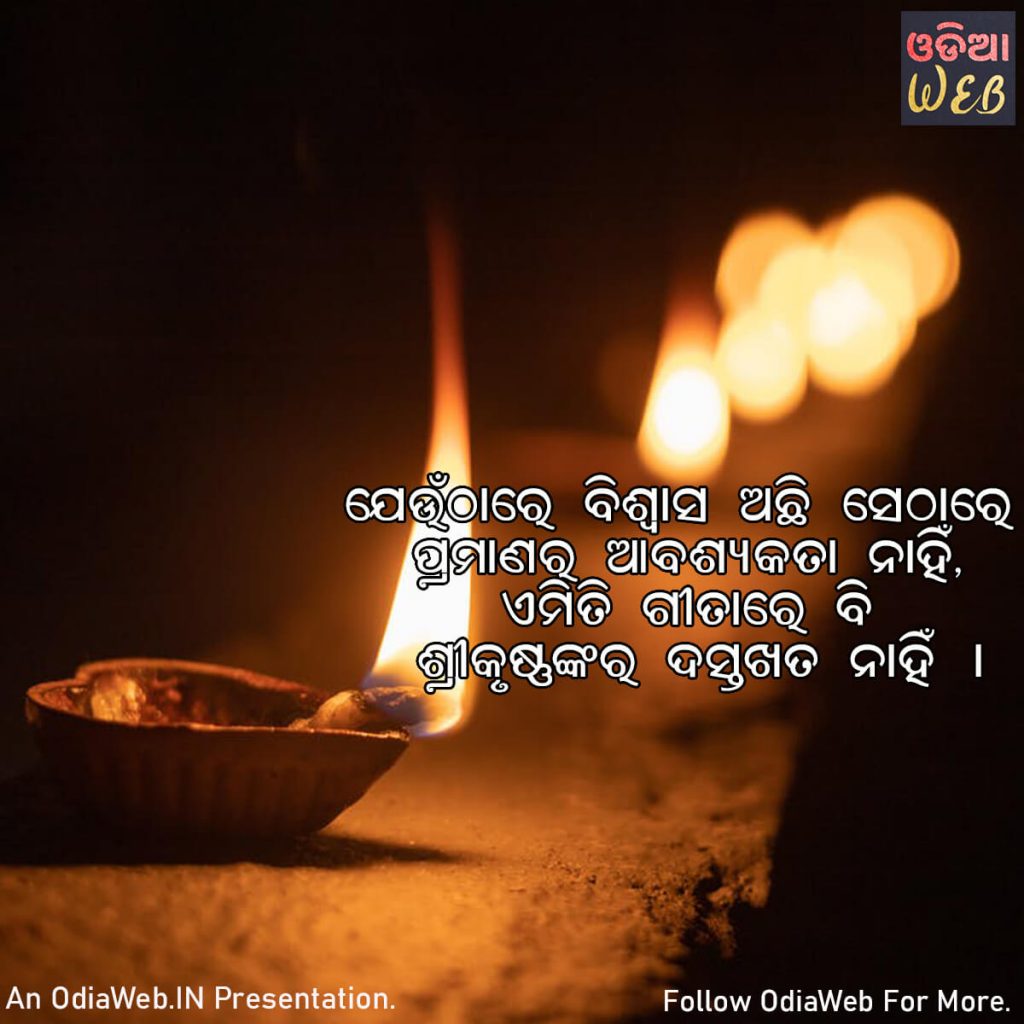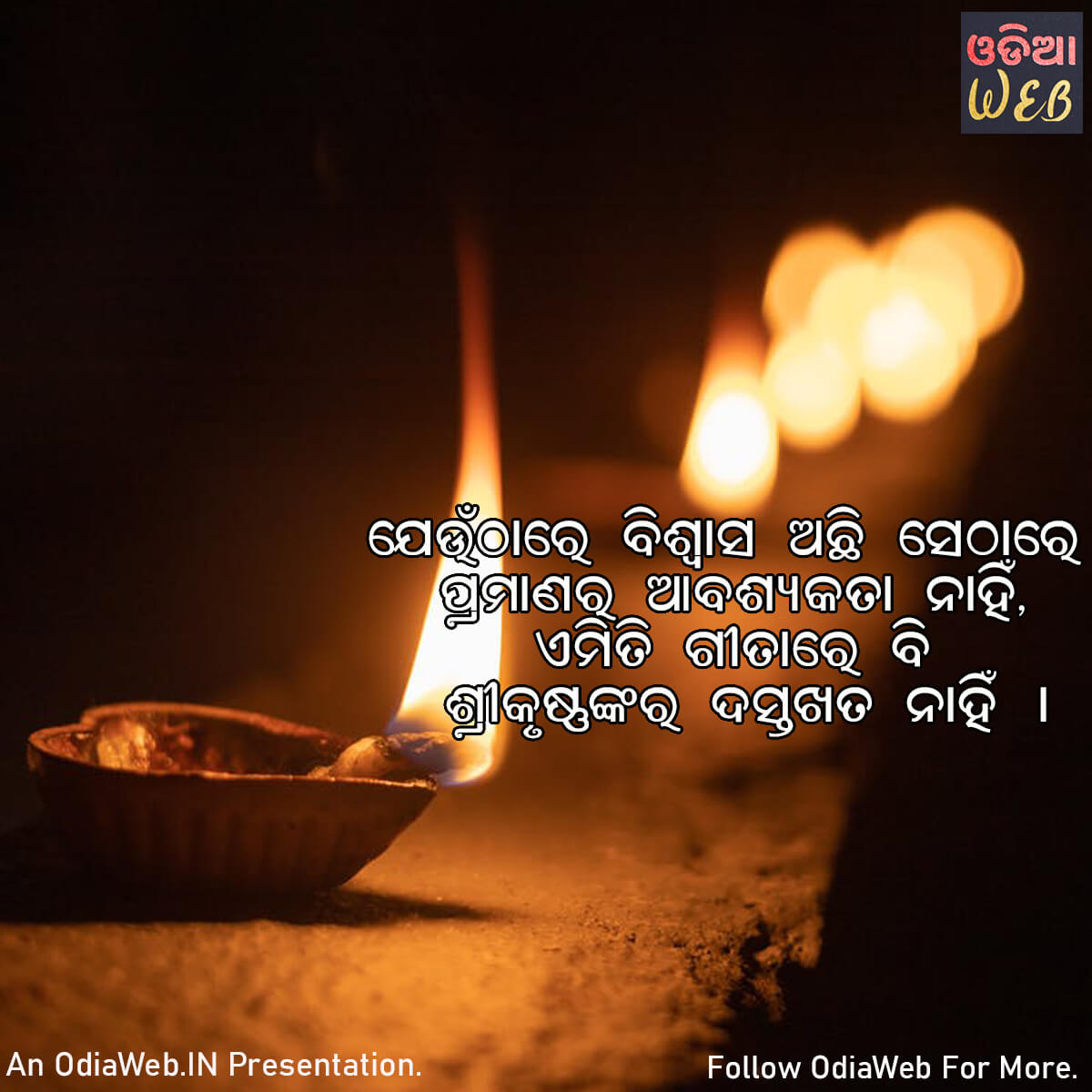 ଯେଉଁଠାରେ ବିଶ୍ୱାସ ଅଛି ସେଠାରେ ପ୍ରମାଣର ଆବଶ୍ୟକତା ନାହିଁ, ଏମିତି ଗୀତାରେ ବି ଶ୍ରୀକୃଷ୍ଣଙ୍କର ଦସ୍ତଖତ ନାହିଁ |
Where is faith there is no need for proof, nor is there the signature of Lord Krishna in the Gita.
Jeunthare Biswas Achhi Sethare Pramanara Abasyakata Nahin, Emiti Gitare b Srikrsihna nkara Dastakhata Nahin.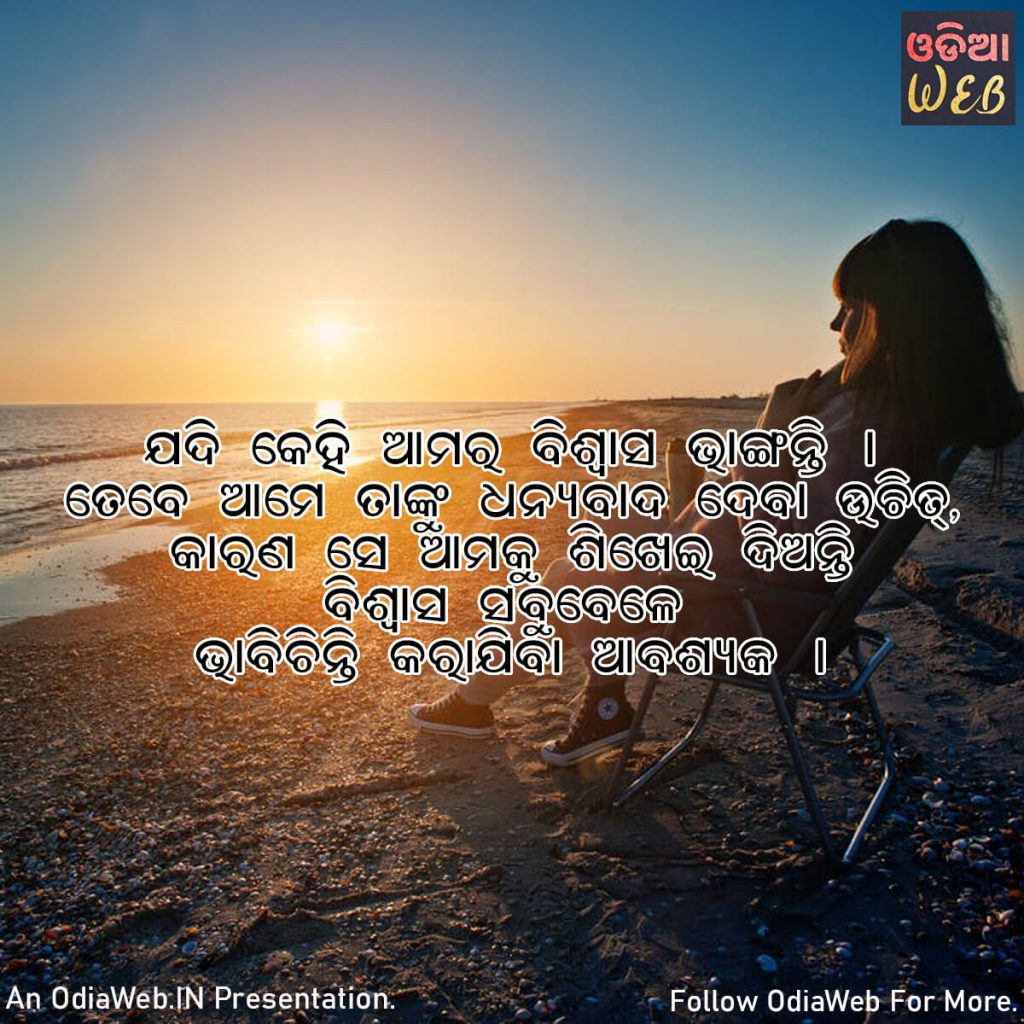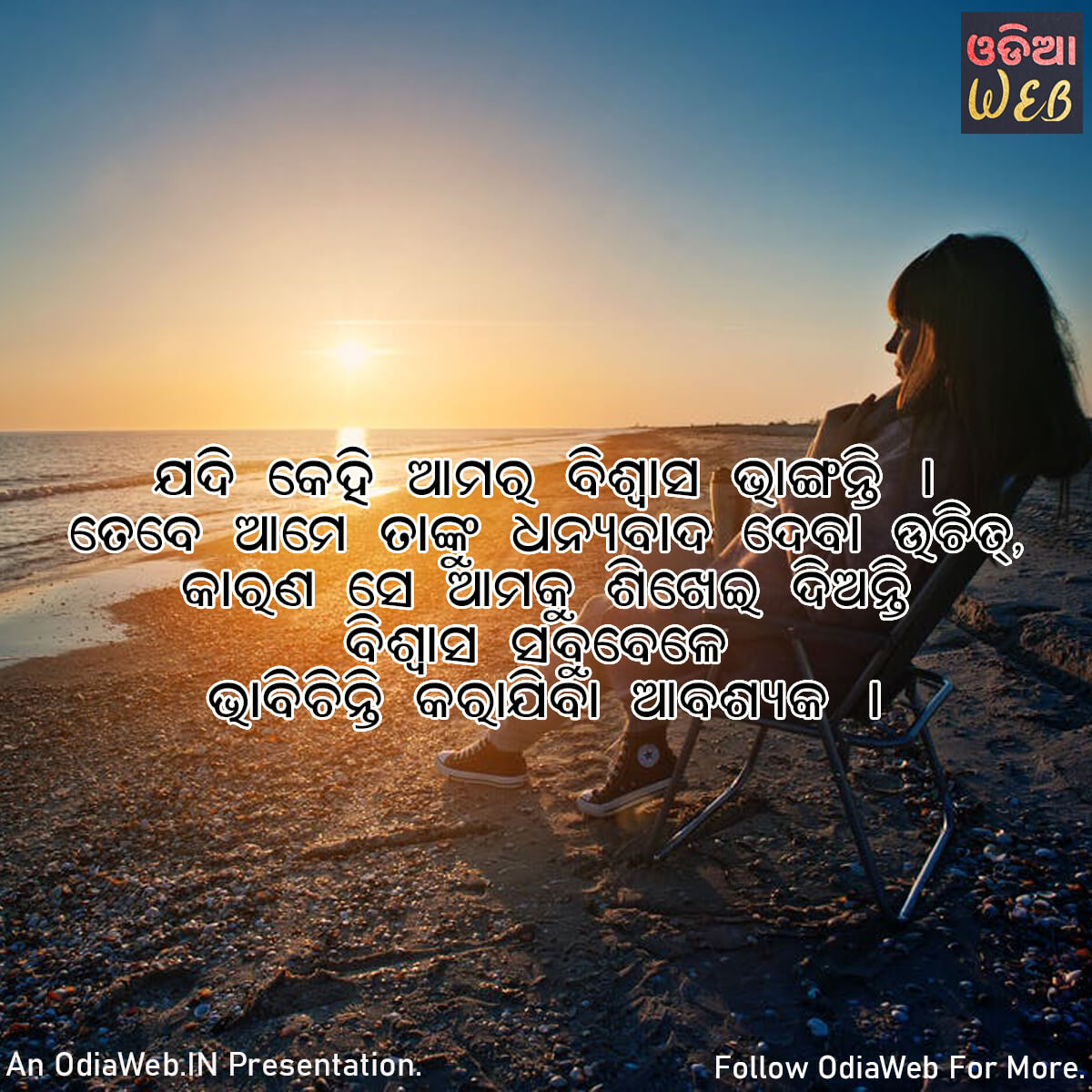 ଯଦି କେହି ଆମର ବିଶ୍ୱାସ ଭାଙ୍ଗନ୍ତି, ତେବେ ଆମେ ତାଙ୍କୁ ଧନ୍ୟବାଦ ଦେବା ଉଚିତ୍ କାରଣ ସେ ଆମକୁ ଶିଖେଇ ଦିଅନ୍ତି, ବିଶ୍ୱାସ ସବୁବେଳେ ଭାବିଚିନ୍ତି କରାଯିବା ଆବଶ୍ୟକ |
If someone breaks our faith, we should thank him because he teaches us, faith must always be thoughtful.
Jadi Kehi Amara Biswas Bhaganti, Tebe Ame Tanku Dhanyabad Deba Uchit Karana Se Amaku  Sikhei Dianti, Biswas Sabubele Bhabichinti Karajiba Abasyaka.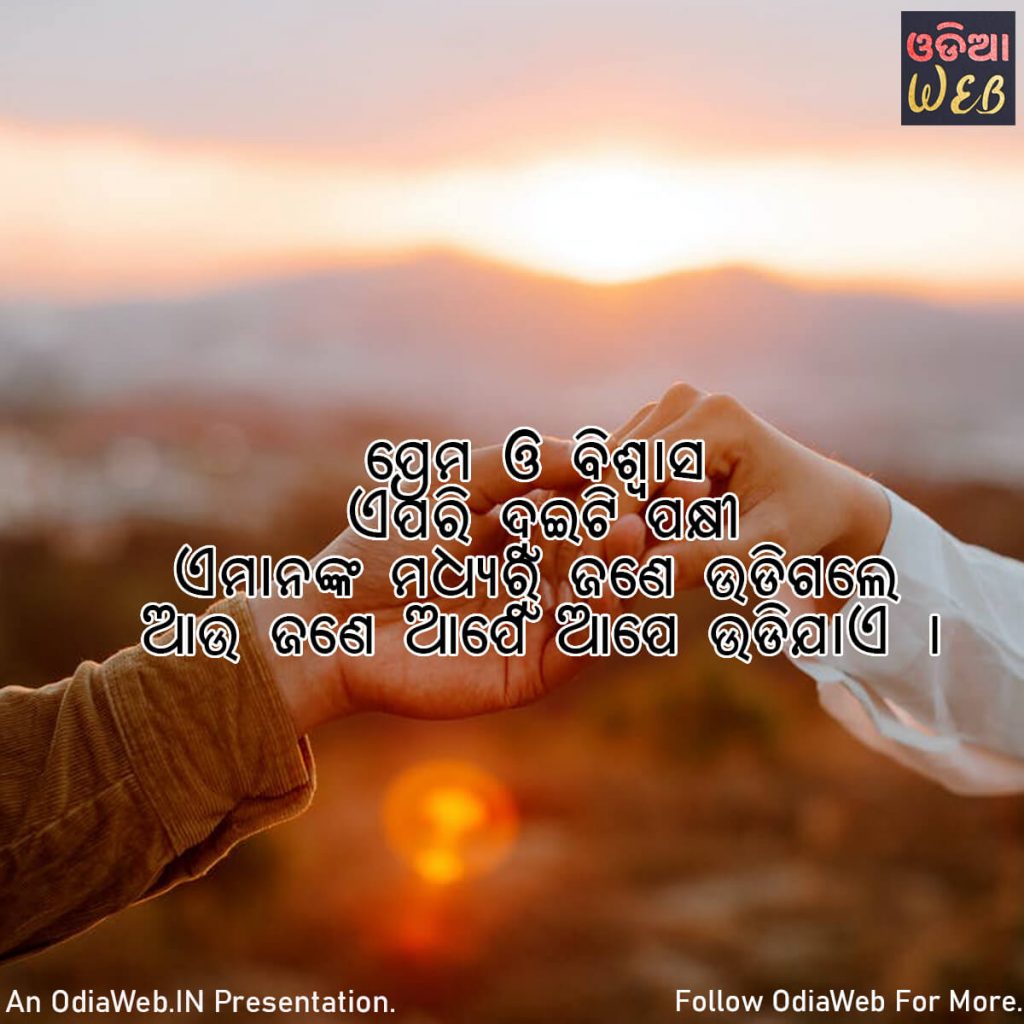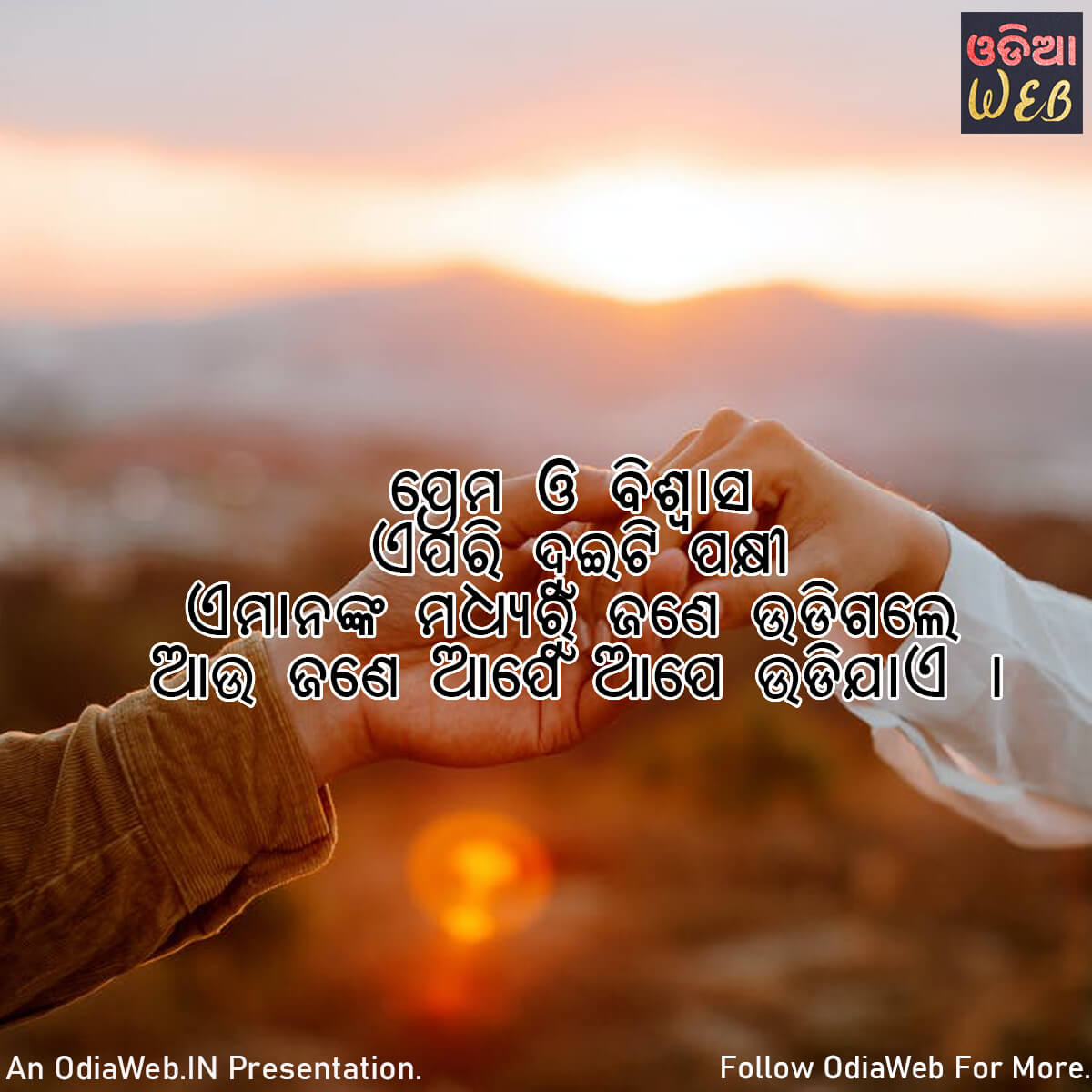 ପ୍ରେମ ଓ ବିଶ୍ୱାସ ଏପରି ଦୁଇଟି ପକ୍ଷୀ ଏମାନଙ୍କ ମଧ୍ୟରୁ ଜଣେ ଉଡିଗଲେ ଆଉ ଜଣେ ଆପେ ଆପେ ଉଡିଯାଏ । 
  Love and faith are two such birds when one of them flies and the other flies automatically. 
Prema O Biswas Epari Duiti Pakhi Emananka Madhyaru Jane Udigale Au jane Ape Ape Udijae. 
More: Oriya Trust Quotes About Life
More: Best Odia Trust Quotes
Are you looking for Odia Book Gare Kajala Dhare Luha By Dr. Bibhuti Pattnaik ,order today from OdishaShop.
Comments
comments