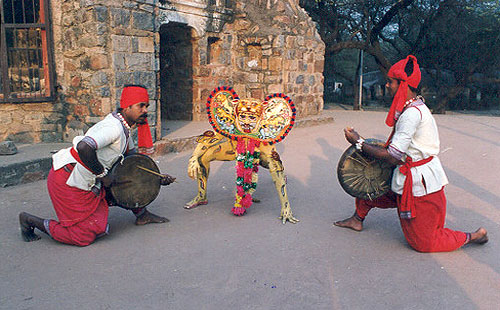 Odisha is a beautiful state with many well versed and cultured people. The residents of this region are also too creative and dancers. They know various kinds of dance forms and are well versed in it. Odisha is also popular for its folk dances in various other states of India. Baagh Naach is one another folk dance form which is also widely enjoyed by many people of Odisha. Moreover this Baagh Naach is even known by another name known as Tiger dance. Also this dance asks for vigorous movements and steps and even is carried out by professional dancers only. Majority of the locals celebrate various kinds of religious and traditional festivals and events. Therefore dancers of Baagh Naach perform this dance form on various festivals or events or even on some special occasions.
Baagh Naach is even recognized by another name known as Tiger dance. This dance is performed by the expert dancer and on various kinds of events or occasions. A lot of practice and skill is required to learn this dance form. Furthermore this dance asks for enthusiasm and energy level as the steps and movements done in it are fast and vigorous. Now days numerous institutes can be seen in Odisha where several types of dance form are taught. Baagh Naach or tiger dance is also one of those dances which can be learned but needs lots of skill and energy. This dance is even known as Sambalpuri folk dance which is usually performed in Sonepur and Binka. These places lie in Subarnapur district of Odisha and also the dance is performed at Chaitra month.
Baagh Naach is basically done by the males and they dress or makeup themselves in most expressive ways. They paints their bare body with black and yellow stripes which somewhat gives resemblance of tiger look. Additionally they attach tail at the back so that more tiger look can be enhanced. In this dance the dancers move from one house to another in order to collect the people so that they can give their performance and their dance can start. In addition this dance is accompanied by a drummer and even by a bell player who serve the music. This dance is more of the acrobatic movements so that the tiger look can be enhanced. While dancing the dancers even make hissing sounds which looks more attractive and people make sure to watch it.
Source – Internet
Comments
comments