Dear Visitor,
OdiaWeb lunched a new feature called "Any One Can Write". Now you can submit odia articles on below categories and get paid from us:
Odia News – 5 Points
Odia Sms – 3 Points
Odia Jokes – 3 Points
Odia Events – 4 Points
Odisha Tourism – 7 Points
Odia Dhaga Dhamali – 3 Points
Odia Lyrics – 6 Points
Odia Love Letter – 6 Points
Odia Poems – 6 Points
Odia Stories – 7 Points
Odia Tips – 6 Points
Now get 1 Rupee for every points your earned. The article has be unique and should not be published before/after on any web portal.
DON'T WASTE YOUR VALUABLE WRITINGS BY SHARING ON OTHER PORTAL.
SHARE HERE NOW AND GET PAID.
ଆପଣଙ୍କ ଲେଖାକୁ ଏଠାରେ ଶେଆର କରନ୍ତୁ, ଆଉ ସଠିକ ପ୍ରାପ୍ୟ ପାଆନ୍ତୁ ।
To publish your articles register today here "Register Now". After registration you will be eligible to publish and your earning will be calculated with your unique registration id.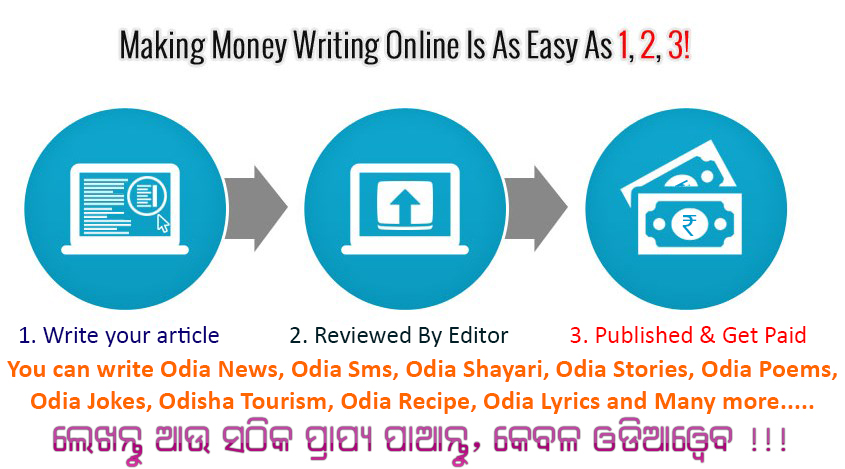 Steps to earn money by submitting your posts :
Register today and create your own profile.

Validate your email-id.

Create new post/articles and submit to OdiaWeb here.

Once an editor approve the article, your account will be credited with points.

You can redeem your points anytime.