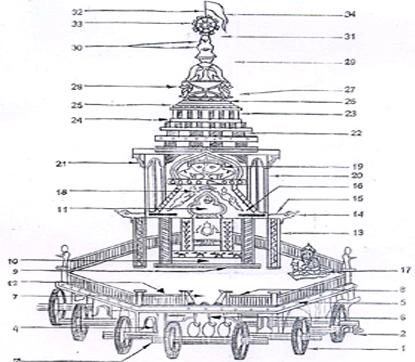 The construction of Chariot commences on the Akshaya Trutiya. The complete lists of three Chariots are given below.
–Chariot of Jagannath–Chariot of Balabhadra–Chariot of Subhadra
Name of the Chariot–Nandighosh Garudadwaj–Taladhwaj–Darpadalan Debadalan
Height- 13.5 m- 13.2 m- 12.9 m
Length&Breadth- 34'6″ x 34'6″ – 33′ x 33′ – 31'6″ x 31'6″
No. of wheels – 16- 14- 12
Diameter of wheels – 7′-0″- 6′-6″- 6′-0″
Area of Pithastal – 35 Sq Foot- 34 Sq Foot- 33 Sq Foot
The Flag- Trailokyamohini- Unnai- Nadambika
Wooden pieces used- 832- 763- 593
Color of clothes- Red, Yellow- Red, Bluish green- Red, Black
Horses- Sankra, Balahaka, Shweta, Haridashwa, Swarna Nava- Tibra, Ghora, Dirghashrama- Rochika, Mochika, Jita, aparajita
Color of Horses- White- Black- Red
Ropes- Sankhachuda- Basuki- Swarnachuda
Presiding 9 Deties- Varaha, Govardha, Hanuman, Rudra, Rama Narayan, Krushna, Gopi Krushna, Nrusingha, Trivikrama, Mukteswara, Natanyara – Ganesh, Kartikeya, Paralambari, Mrutyunjaya, Saria Mangala, Halayudha, Seshadeva, Shulidurga, Varahi- Shyamakali, Mangala, Vimala, Chandi, Chamunda, Vanadurga, Ugratara
Sarathi- Daruk- Matali- Arjuna
Guarded by – Garuda- Basudev- Jaya Durga
Parrot- Jiva Parama Sradha, Biswas- Sruti, Smruti
Weapons- Sankha, Chakra- Hala, Musul- Padma, Kalhar
Power- Bimala, Biraja – Brahma, Shiva- Bhubaneswari, Chakra
Face- Nandamukh- Ketu Bhadra- Bhakti Samedha, Sumedha, Chamar Hasta
Devi – Yoga Maya- -Sribhu
Bhairab- Ekapad- Kshetrapal- Brahmabarta
Charan- Nanda, Kuber- Mahasidha, Ulemi- Mahakar
Yakha- Harjyakha- Huhu- Kinjyalika
Garvadiswar- Hiranya Garva, Kriya Yoga, Agnya, Anugnya, Pragnya & Medha- Tunga, Tungabhadra, Prava, Suprava, Dhatri, Bidhatri, Nanda & Sunanda – Saktisapta, Jaya, Bijaya, Ghora, Aghora, sukhma, Narayana
Rishis- Narada, Debal, Byasa, Suka, Parasar, Basistha, Biswamitra & Rudra- Anjira, Poulastya, Pulaha, Asasti, Krushna, Mudgal, Atreya & Kasyap- Bhrugu, Suprava, Bajra, Srungi, Dhruba & Ulluk
Ratha Kumbha- Hiranmaya- Bhuban, Bimba, Pruthibi, Chakrayudh, Hribij- Amruta, Jiba, Kaya, Hrubiji
Gate Keeper- Jay & Bijay- Nanda & Sunanda- Ganga & Yamuna
On Top of Ratha- Kalyan Sundar- Ananta Nag- Tripura Sundari
Sticks used in Tahia Snana Purnima Ratha Yatra – 25 37- 21 33- 1 1
Water used in Snana Purnima- 35 – 32 – 22, 18 for Sudarshan
A) Nearly 125 Carpenters are required for construction of Chariot
B) 1090 Metres of cloth required for covering of the Chariots
C) 4 Long Sturdly ropes of 240′-250′ by 0-8′ dia are used for pulling. Now the ropes are being supplied by Kerala coir Corporation.
D) Each Chariot contains 9 Parswadevatas (Subsidiary Deities) and Dwarapala and One Sarathi.
E) Each Chariot is built on 34 Stages.
F) The Super structure containing 18 polars and roof at various stages.
G) Total no. of Sevayat on every day – 118 Members.
H) Although the Rath is constructed newly for every year, but the Kalash found on the top of Ratha , Wooden Horses and 14 Wooden other idols used for 4 sides of the Ratha are not being changed every year.
Cloth required to cover the chariot :- Red, Black, Yellow, Blue.