Viral Odisha
Top 7 Famous Sarees from Odisha
You must know being an Odia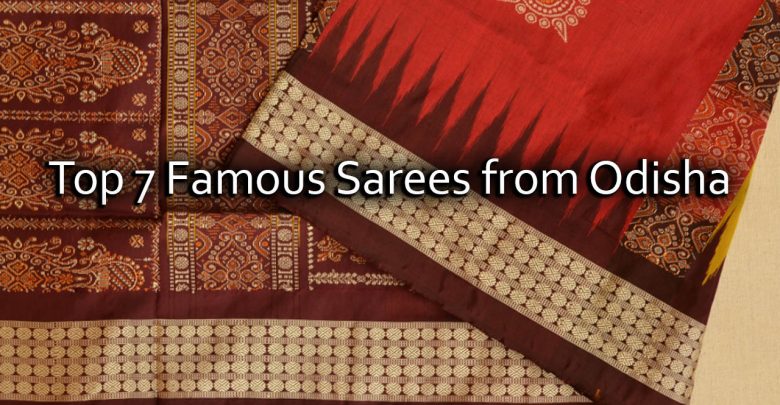 The Other day we had discussed about 10 Mouth Watering Odia Only dishes from Odisha,  and today we are going to discuss about World Famous Sarees from Odisha.
Sarees are the most desirable clothing among the Indian women as well as across the globe. The Sarees of Odisha reflects the everlasting tradition and culture of Odisha. Each of these Sarees from Odisha are very popular and well known around the world.
Here is a list of 8 different Types of Sarees from Odisha that will rule on every Women's Mind and Heart. Browse Through the Pages to view the listing.
Sambalpuri Saree
The first of the List is the Most Popular Sambalpuri Sarees. Yes today when we talk about Sarees from India, Sambalpuri Sarees have created a benchmark of its own. The most popular Sarees in and around the world is Sambalpuri Sarees.
Sambalpuri Sarees first became popular in the World around 1980's when the Late Prime Minister Indira Gandhi started wearing them.
Sambalpuri sarees are known for their incorporation of traditional motifs like shankha (shell), chakra (wheel), phula (flower), all of which have deep symbolism, but the highpoint of these sarees is the traditional craftsmanship of the 'Bandhakala', the Tie-dye art reflected in their intricate weaves, also known as Sambalpuri "Ikkat". In this technique, the threads are first tie-dyed and later woven into a fabric, with the entire process taking many weeks.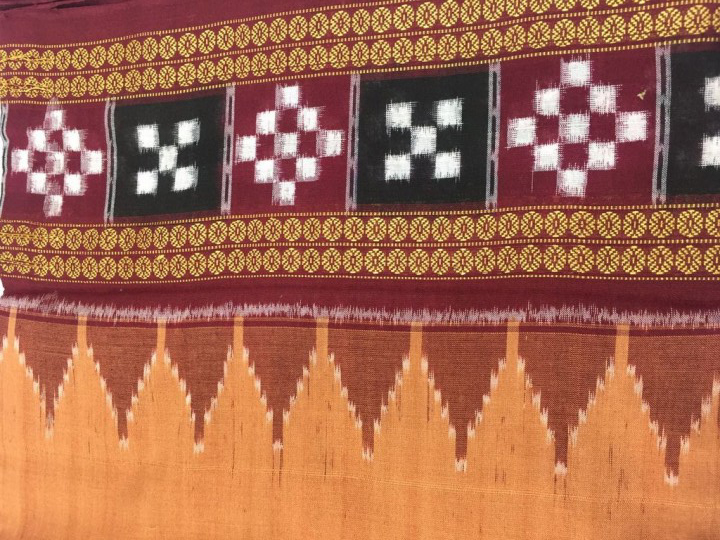 Odisha Ikat Sarees
Odisha Ikat Sarees are a wonderful piece of art woven by the Odisha craftsmen. Ikat sarees are generally dyed in blue, red, yellow and magenta colors.The State is internationally known for its magnificent handloom weavings, affluent colors, traditional motifs and quality yarns, in its saris. Almost all the handloom saris have an affinity to the Jagannath dham culture as the saris and fabric are often used by the Hindu sacred God. Eventually, the motifs and patterns with colors have undergone a change depending mostly on the taste of the modern buyers.
Bomkai Silk Saree
Bomkai Silk Sarees is also known as Sonepuri saree, this saree is uniquely woven by the Bhulia Community which hails from the Subarnapur district of Odisha. The original and traditional weaving of this sari was made in low-count cotton yarn which is usually, coarse, heavy and dyed in intense colours. The Bomkai sari is available in cotton, and silk fabrics. These saris are popular amongst the fashion designers and have a wide acceptance. The sari conventionally has got its name from the Bomkai village in the 1980`s. In early times, the fabric of the sari was usually meant for the kings and monarchs, people from aristocracy and affluent people.
Some Bomkai sarees even have small fishes woven onto the border. Fish symbolizes prosperity and good health. Bomkai sarees feature threadwork ornament borders and pallu. These sarees are much in demand owing to their traditional look as well as their understated and elegant color palette.
Pasapali Saree
Pasapali Sarees are weaved mainly in the western parts of Odisha, India. The name Pasapali is derived from Pasa or gambling games using Chess board. These saris have intricate check patterns of contrast colors resembling the chess boards which gives it such name. Pasapali Sarees are a Variant of Sambalpuri Sarees.
Khandua Silk Saree
Khandua silk saree or Khandua Patta saree is the most popular saree of Odisha, its mostly preferred by Girls during their wedding. A special type of Khandua is also worn by Lord Jagannath. This Khandua contains texts of Gita Govinda on them. Kenduli Khandua, a special form of Khandua of 12 ft and 2 kani (each kani measures the length of a hand) is offered to Jagannath to wear as khandua with stanzas and illustration from Gita Govinda.
Kotpad Saree
Kotpad Sarees are vegetable Dyed Fabric woven by the tribal weavers of Kotapad, in Koraput District. These are Cotton Sarees with a solid border and Pata Anchal, Scolrfs on Cotton Silk, Duppatta with typical Buties /Motives, Handloom Stoles and dress materials all are dyed with vegetable dyes are manufactured. The natural dye is manufactured out of the Aul Tree grown in this area.
Bapta Saree
The weaving of cotton and silk Bapta is basically a design of the famous Sambalpuri saree. Bapta All that is such a saree has his name in the fabric. The originality of the sarees is "Baandha` or `ikat. Its a technique of tie-dye of yarns by which you derive at a fixed pattern.
This content is sourced from internet.
Comments
comments