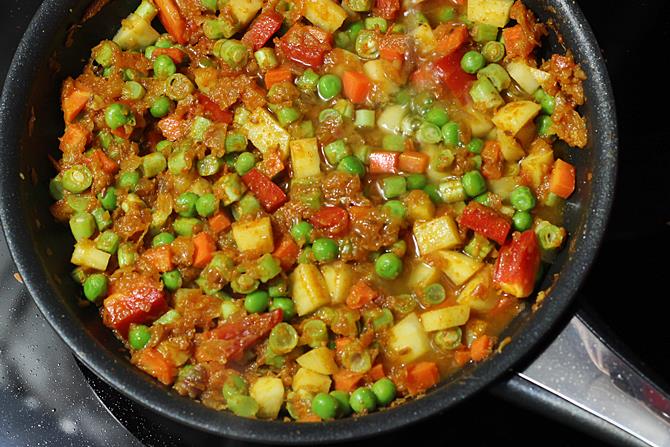 INGREDIENTS
Potato – 2
Pumpkin- 100g
aurbi/ saru – 3-4
Brinjal – 150g ( cut into cube, 1″ by 1″)
Desi aalu – 100g
Pointed gourd /Potala – 5-6
Long beans- 5-6 (cut into 1″ length)
SPROUT OF
Mung -1/2 cup
Chick peas – 1/4 cup
Yellow peas -1/4 cup
Peanut – 1/4 cup
SPICES:
1.Coconut – 1/2 cup
2.Mustard seed – 3-4 tsp
3.Sunf /Panmahuri -1tsp
4.Black peeper -1tsp
5.Cinnamon sick -1″
6.Chili – 1-2
Grind with 1/2 cup water and make a paste.
Heat 2-3 tsp ghee in a pressure cooker or deep pan .
Add 1/2 tsp punch puran,1tej patta to the ghee.
Add all vegetables and stir for some times( 2-3 min)
Add spices paste, sprouts, salt pinch of turmeric .Mix it properly.
Add 1 cup warm water and pressure cook till 1 whistle.
Remove from flame serve hot.
You can add extra ghee, shredded coconut to the curry OR you can give a ghee and mustard seed tadka on the top.