Are you looking for Lord Shiva Sms, then this is the perfect Odia sms you are looking for. Share this sms with your family and Relative and impress her. Here you can find latest Odia sms in Odia language.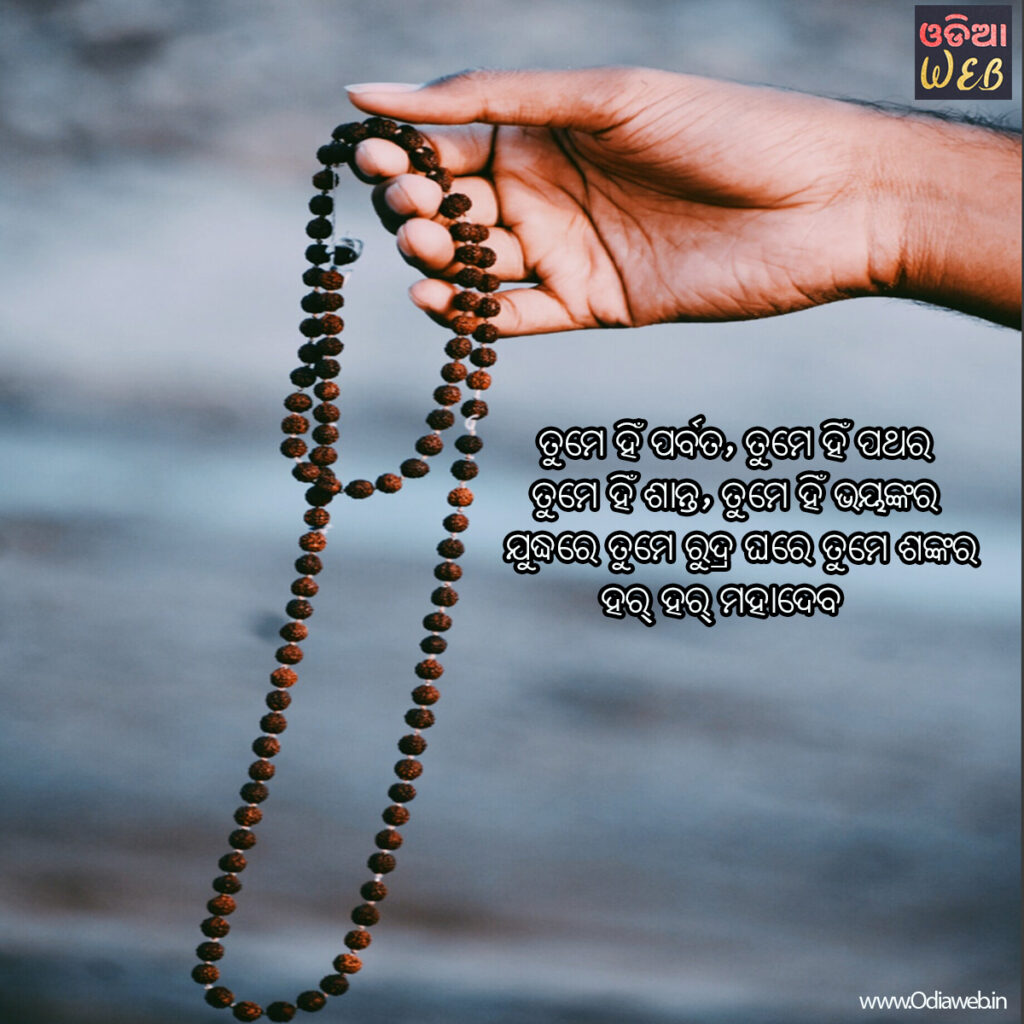 ତୁମେ ହିଁ ପର୍ବତ, ତୁମେ ହିଁ ପଥର
ତୁମେ ହିଁ ଶାନ୍ତ, ତୁମେ ହିଁ ଭୟଙ୍କର
ଯୁଦ୍ଧରେ ତୁମେ ରୁଦ୍ର ଘରେ ତୁମେ ଶଙ୍କର
ହର୍ ହର୍ ମହାଦେବ |
Tume Hin Parbata,Tume Hin Pathara
Tume Hin Shanta,Tume Hin Bhayankara
Juddhare Tume Rudra Ghare Tume Shankara
Har Har Mahadeba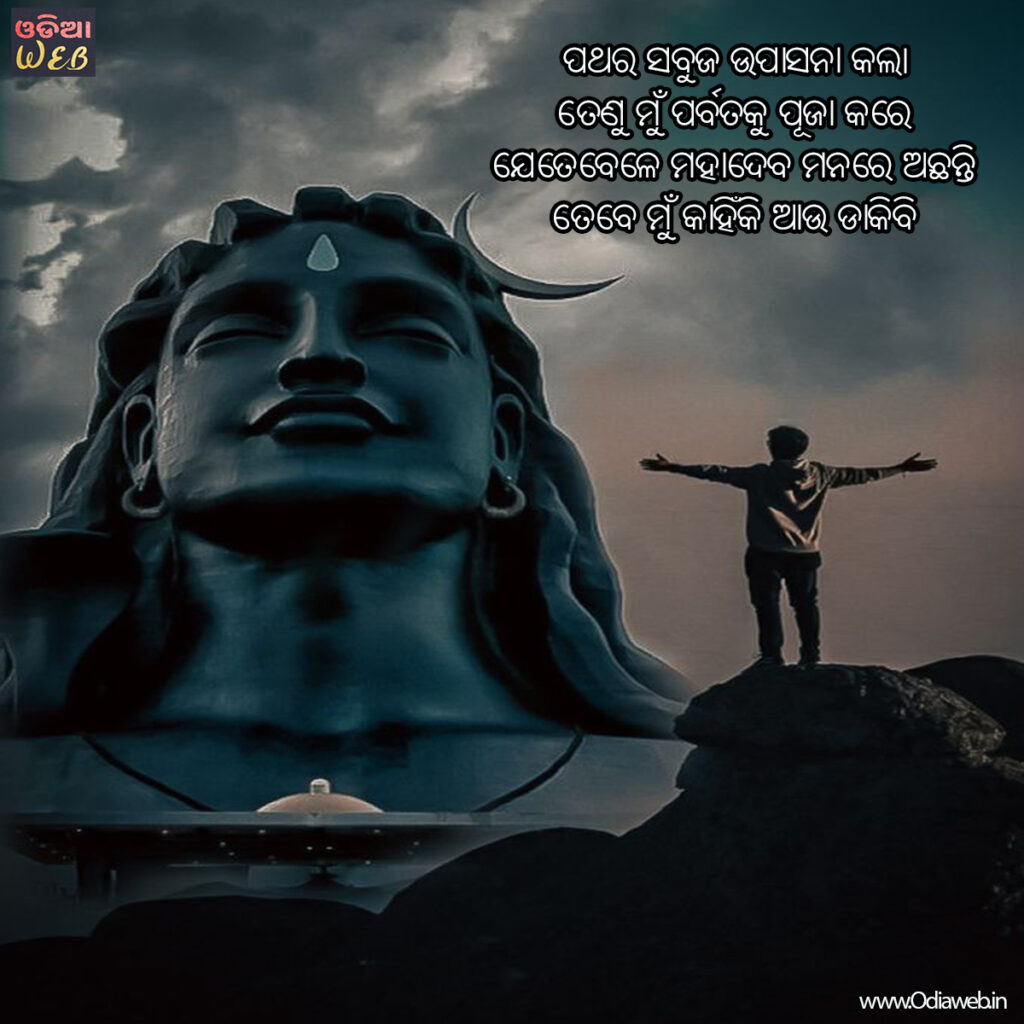 ପଥର ସବୁଜ ଉପାସନା କଲା,
ତେଣୁ ମୁଁ ପର୍ବତକୁ ପୂଜା କରେ,
ଯେତେବେଳେ ମହାଦେବ ମନରେ ଅଛନ୍ତି,
ତେବେ ମୁଁ କାହିଁକି ଆଉ ଡାକିବି?
Pathara Sabuja Upasana Kala
Tenu Mun Parbataku Puja kare
jetebele Mahadeba Manare Achhanti
Tebe Mun Kahniki Aau Dakibi?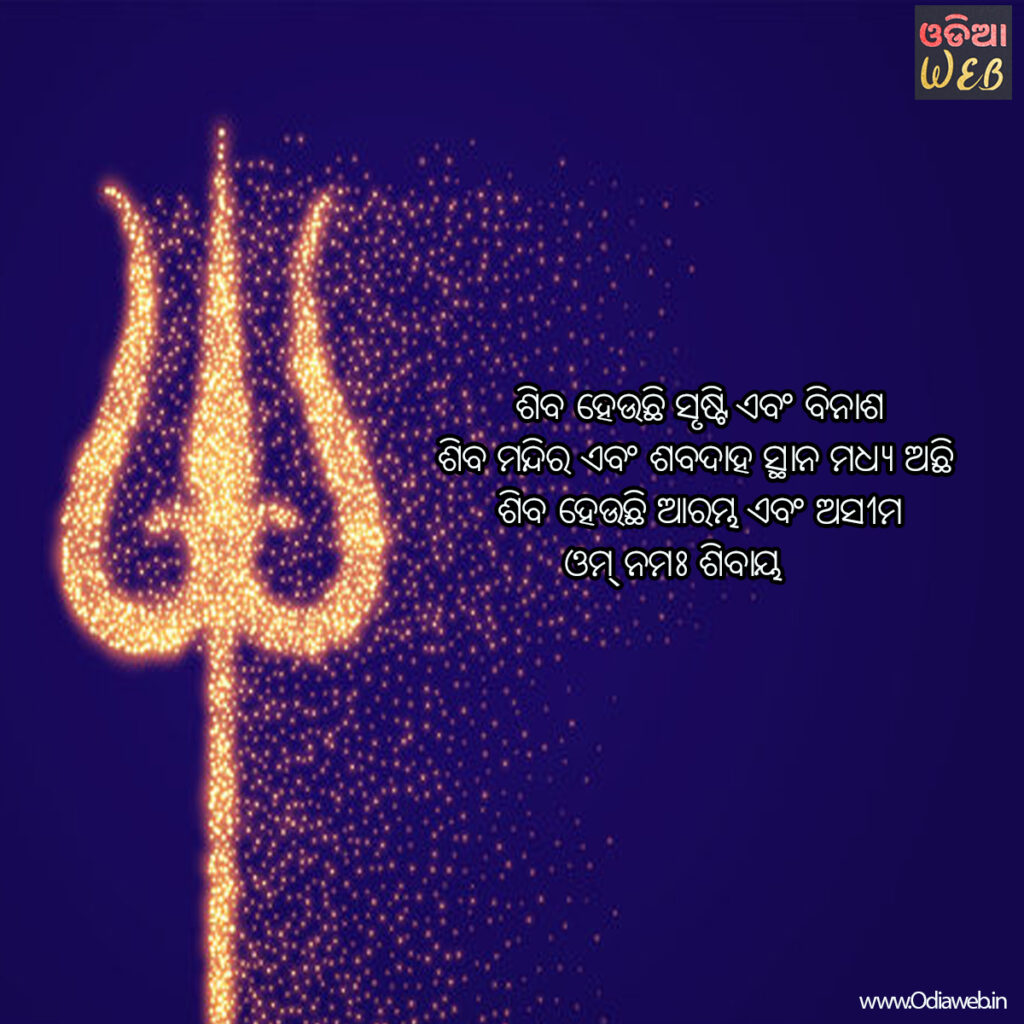 ଶିବ ହେଉଛି ସୃଷ୍ଟି ଏବଂ ବିନାଶ
ଶିବ ମନ୍ଦିର ଏବଂ ଶବଦାହ ସ୍ଥାନ ମଧ୍ୟ ଅଛି
ଶିବ ହେଉଛି ଆରମ୍ଭ ଏବଂ ଅସୀମ
ଓମ୍ ନମଃ ଶିବାୟ
Shiba Heuchhi Srushti Ebam Binasha
shiba Mandira Ebam Shabadaha Sthana Madhya Achhi
shiba Heuchhi Arambha Ebam Aseema
Om Namah Shibaya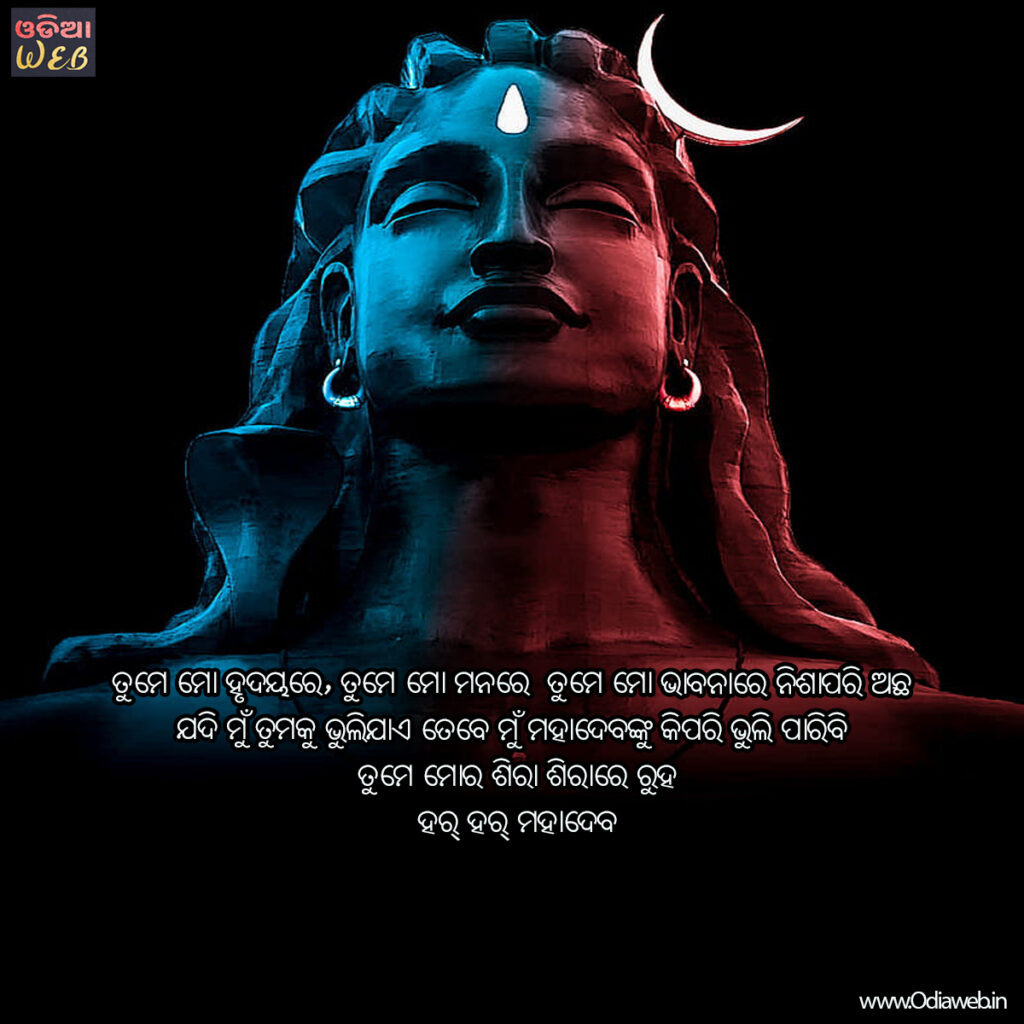 ତୁମେ ମୋ ହୃଦୟରେ, ତୁମେ ମୋ ମନରେ |
ତୁମେ ମୋ ଭାବନାରେ ନିଶାପରି ଅଛ,
ଯଦି ମୁଁ ତୁମକୁ ଭୁଲିଯାଏ ତେବେ ମୁଁ ମହାଦେବଙ୍କୁ କିପରି ଭୁଲି ପାରିବି,
ତୁମେ ମୋର ଶିରା ଶିରାରେ ରୁହ |
ହର୍ ହର୍ ମହାଦେବ
Tume Mo Hrudayare,Tume Mo Manare
Tume Mo Bhabanare Nishapari Achha
Jadi Mun Tumaku Bhulijae Tebe Mun Mahadebanku Kipari Bhuli Paribi
Tume Mora Shira Shirare Ruha
Har Har Mahadev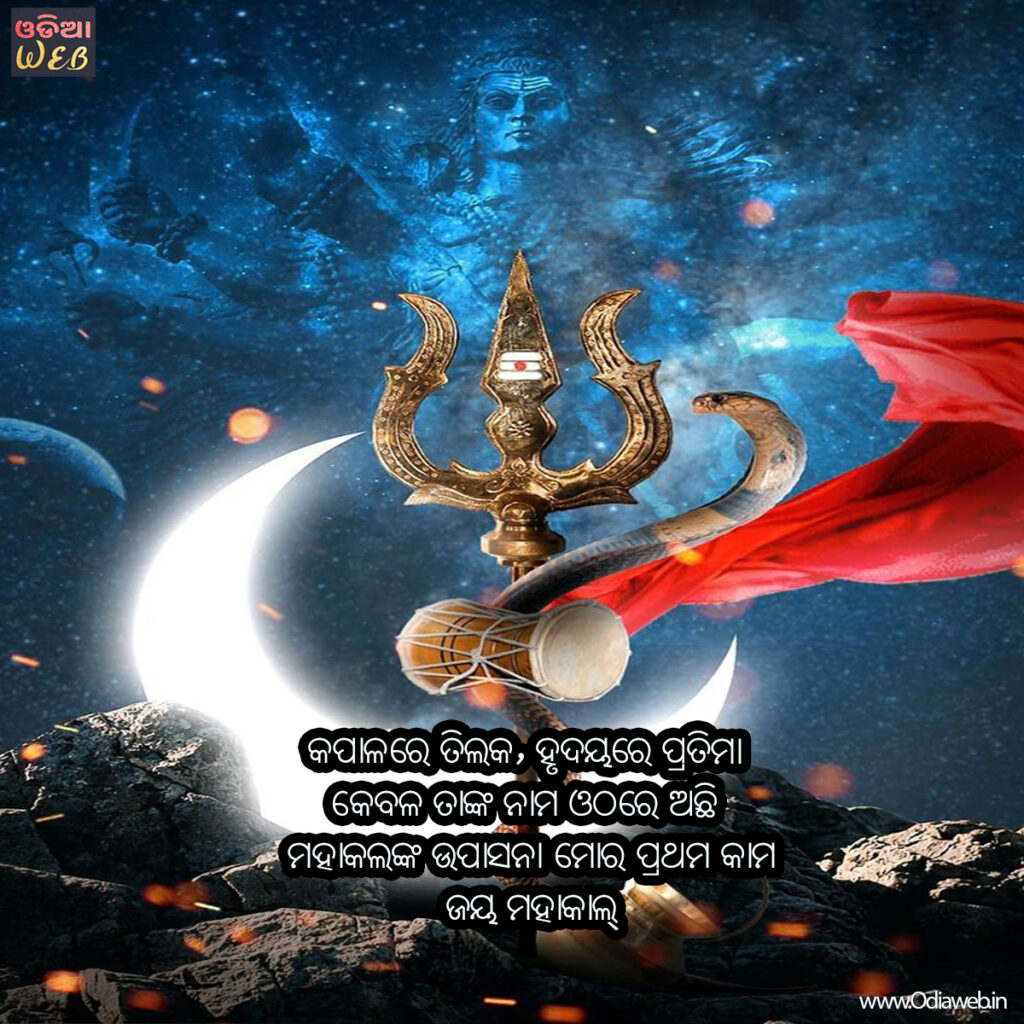 କପାଳରେ ତିଲକ, ହୃଦୟରେ ପ୍ରତିମା,
କେବଳ ତାଙ୍କ ନାମ ଓଠରେ ଅଛି,
ମହାକଲଙ୍କ ଉପାସନା ମୋର ପ୍ରଥମ କାମ
ଜୟ ମହାକାଲ୍
Kapalare Tilaka,Hrudayare Pratima
Kebala Tanka Nama Othare Achhi
Mahakalanka Upasana Mora Prathama Kama
Jay Mahakala
Comments
comments