Are you looking for Odia Sms for Odia lovers, then this is the perfect Odia sms you are looking for. Share this sms with your lover and impress her. Here you can find latest Odia sms in Odia language.
ଯଉବନ ଫୁଲ ମୋ ବୁକୁରେ ଫୁଟି ନିତି ସେହି ଖେଳୁଥିଲା କେଉଁ ଅଧିକାରେ ତୁମେ ତାହାପ୍ରତି ଏପରି ଭାବନା ନେଲା |
Jaubana phula bukur phuti niti shi kheluthila
keu akhikar tume tahaprati epari bhabana nela
ଯଉବନ ଫୁଲ ମୋ ବୁକୁରେ ଫୁଟି ନିତି ସେହି ଖେଳୁଥିଲା କେଉଁ ଅଧିକାରେ ତୁମେ ତାହାପ୍ରତି ଏପରି ଭାବନା ନେଲା |
ନୁହେଁ ମୁଁ କୁଆଁରୀ ଅଟେ ରୁପବତୀ ଜାଳି ମୁଁ ରୂପର ରୋଷଣୀ ନିତି ମୋ ଯୌବନ ମୋ ଅଙ୍ଗେ ଖେଳଇ ତୁମେ ଲୋଭ କଲ ଜାଣିଜାଣି |
Nuhne mu kuari ate rupabatee jali mu rupara roshani
niti mo joubana mo ange khelai tume lobha kala janijani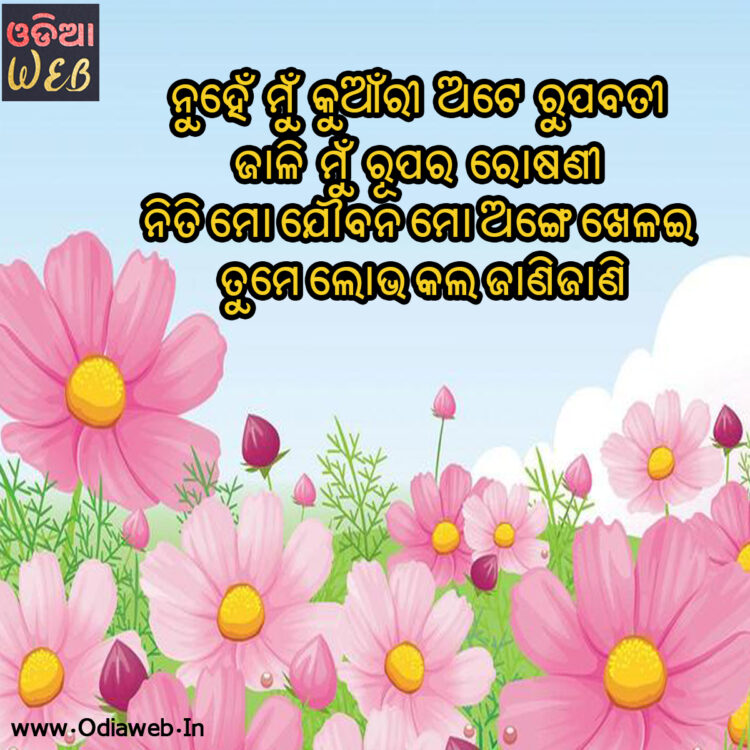 ନୁହେଁ ମୁଁ କୁଆଁରୀ ଅଟେ ରୁପବତୀ ଜାଳି ମୁଁ ରୂପର ରୋଷଣୀ ନିତି
ମୋ ଯୌବନ ମୋ ଅଙ୍ଗେ ଖେଳଇ ତୁମେ ଲୋଭ କଲ ଜାଣିଜାଣି |
ବଜାର ଘାଟରେ ବିଚି ରାସ୍ତାରେ ସବୁଠି ତୁମରି କଥା ଟୁପୁରୁ ଟାପୁରୁ ସମସ୍ତେ ହୁଅନ୍ତି ତୁମ ବାପାଙ୍କର ଚିନ୍ତା |
Bajara ghatare bichi rastare sabuthi tumari katha
tupuru tapuru samaste huanti tuma bapanka cinta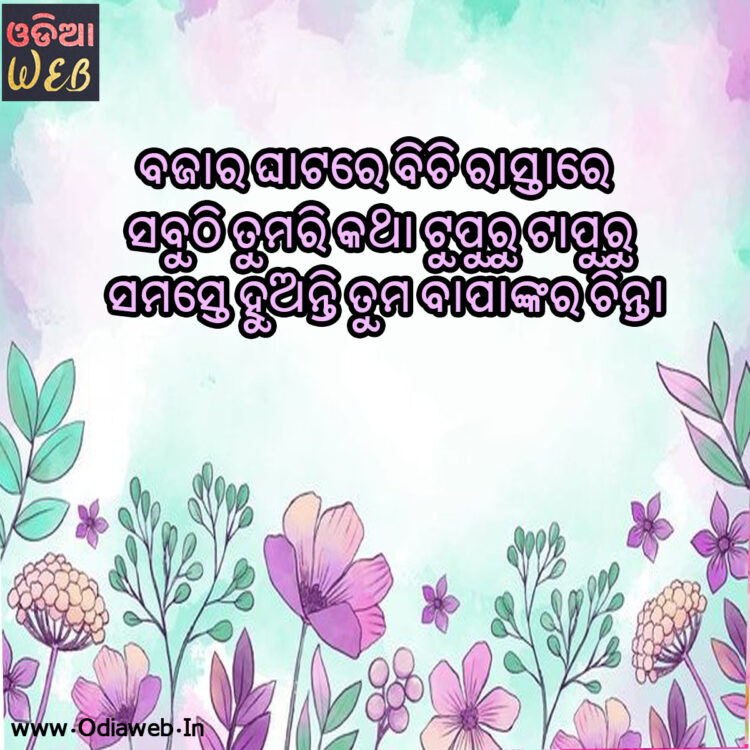 ବଜାର ଘାଟରେ ବିଚି ରାସ୍ତାରେ ସବୁଠି ତୁମରି କଥା
ଟୁପୁରୁ ଟାପୁରୁ ସମସ୍ତେ ହୁଅନ୍ତି ତୁମ ବାପାଙ୍କର ଚିନ୍ତା |
ଚନ୍ଦନନ ବୃକ୍ଷରୁ ପିତା ଲିମ୍ବ ବୃକ୍ଷ କିପରି ଉତ୍ପତ୍ତି ହେଲା ଏତେଦିନ ଯାଏ ଚନ୍ଦନ ପରଶେ ମଳୟ ଯେ ନ ବହିଲା
Chandana brukshyaru kipari uptatti hela
etedina ja candana parashe malaya je na bahila.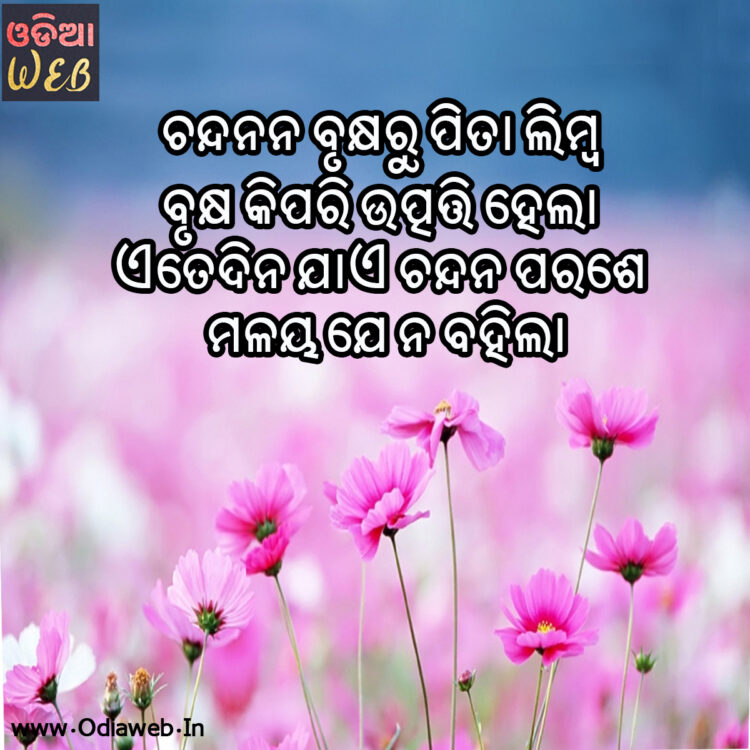 ଚନ୍ଦନନ ବୃକ୍ଷରୁ ପିତା ଲିମ୍ବ ବୃକ୍ଷ କିପରି ଉତ୍ପତ୍ତି ହେଲା
ଏତେଦିନ ଯାଏ ଚନ୍ଦନ ପରଶେ ମଳୟ ଯେ ନ ବହିଲା
Comments
comments