Are you looking for Odia Good Night Sms then this is the perfect Odia sms you are looking for. Share this sms with your lover and impress her. Here you can find latest Odia sms in Odia language.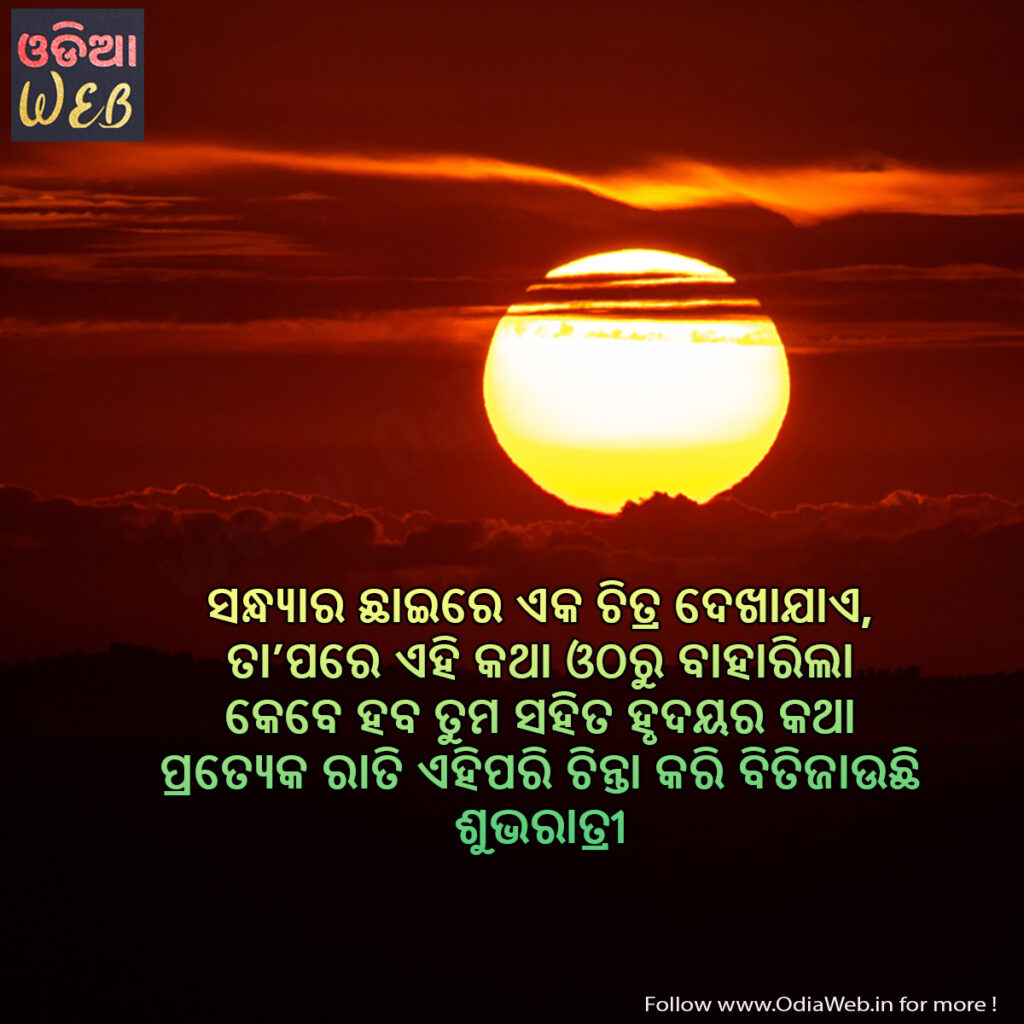 ସନ୍ଧ୍ୟାର ଛାଇରେ ଏକ ଚିତ୍ର ଦେଖାଯାଏ,
ତା'ପରେ ଏହି କଥା ଓଠରୁ ବାହାରିଲା
କେବେ ହବ ତୁମ ସହିତ ହୃଦୟର କଥା
ପ୍ରତ୍ୟେକ ରାତି ଏହିପରି ଚିନ୍ତା କରି ବିତିଜାଉଛି
ଶୁଭରାତ୍ରୀ
Sandhyara chhaire eka chitra dekhajae
Ta pare ehi katha otharu baharila
Kebe haba tuma sahita hrydayara katha
pratyeka rati ehipari chinta kari bitijauchi
Shubharatri.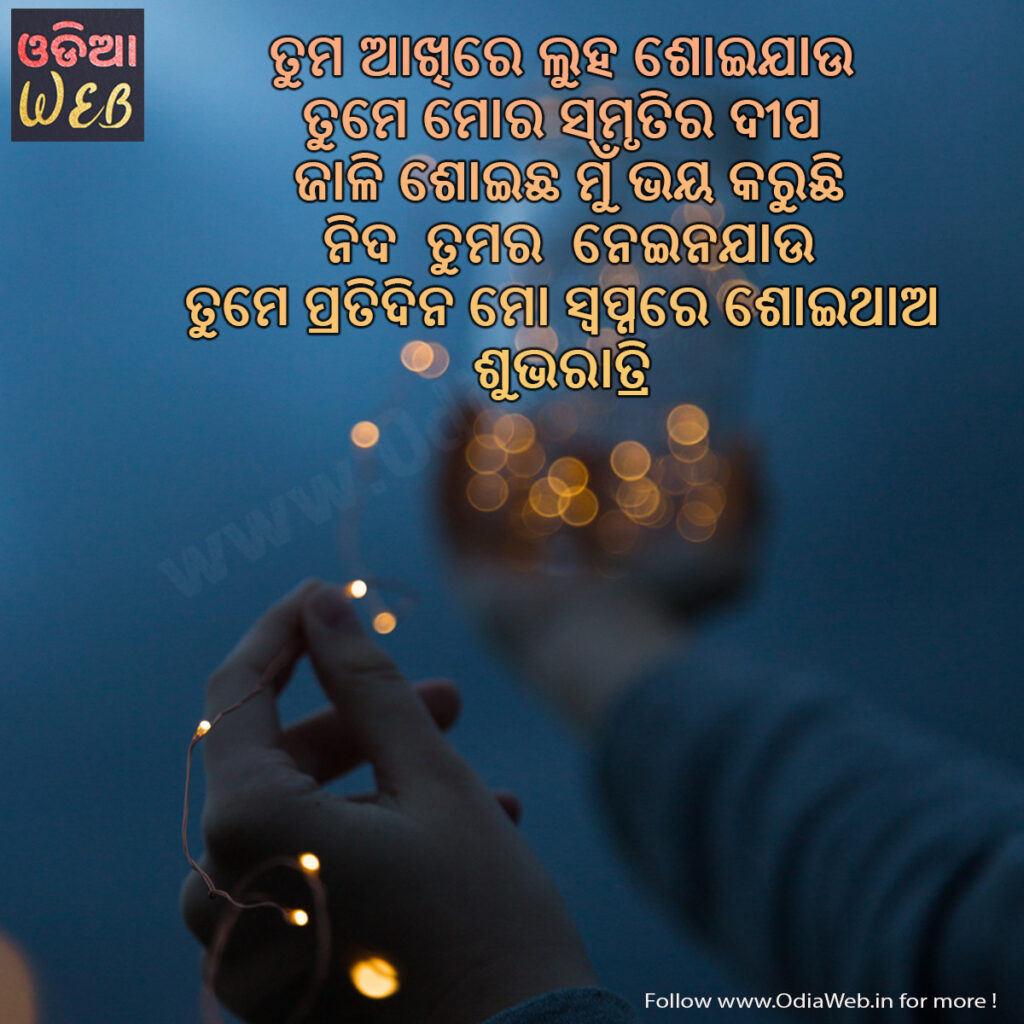 ତୁମ ଆଖିରେ ଲୁହ ଶୋଇଯାଉ
ତୁମେ ମୋର ସ୍ମୃତିର ଦୀପ
ଜାଳି ଶୋଇଛ ମୁଁ ଭୟ କରୁଛି
ନିଦ ତୁମର ନେଇନଯାଉ
ତୁମେ ପ୍ରତିଦିନ ମୋ ସ୍ୱପ୍ନରେ ଶୋଇଥାଅ
ଶୁଭରାତ୍ରି
Tuma akhire luha shoijai
Tume mora smrutire deepa
Jali shoicha mun bhaya karuchi
Nida tumara nenajau
Tume pratidina mo swapnare shoithaa
Shubharatri.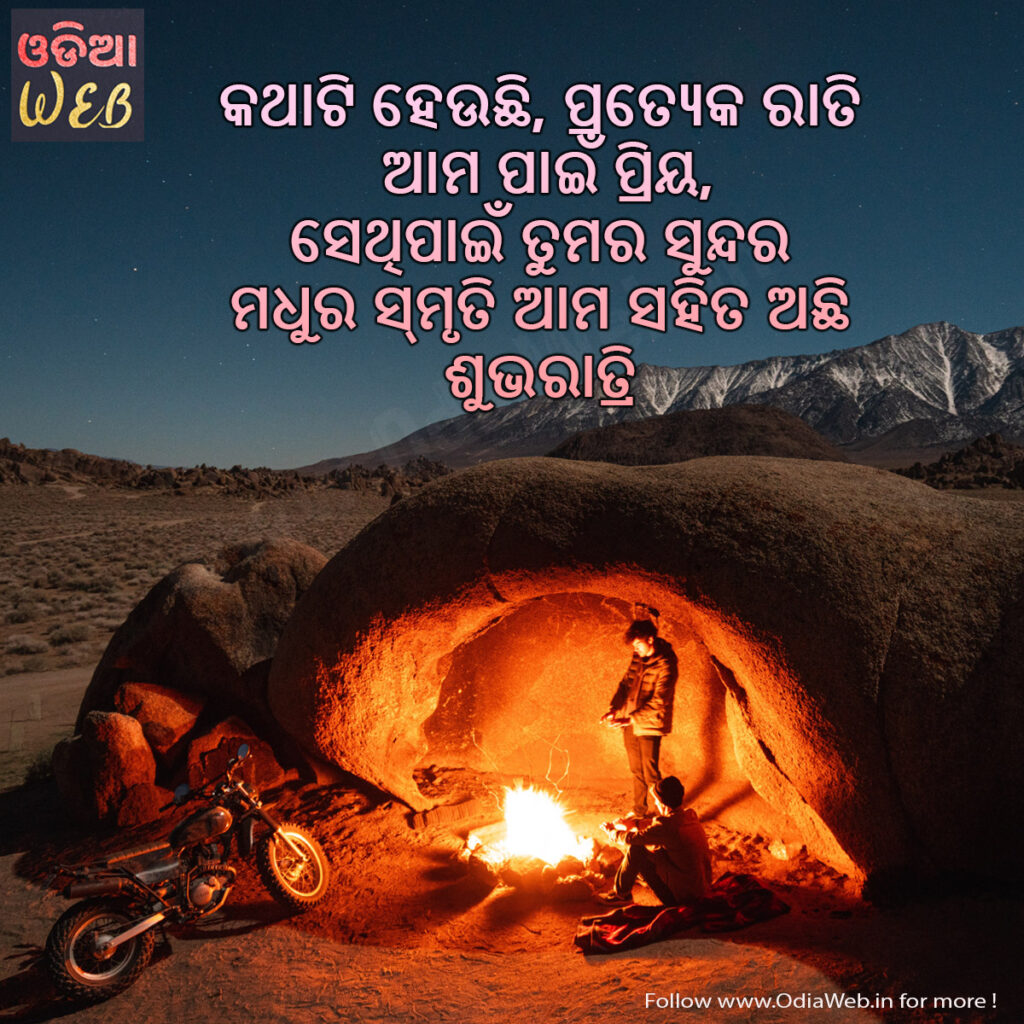 କଥାଟି ହେଉଛି, ପ୍ରତ୍ୟେକ ରାତି
ଆମ ପାଇଁ ପ୍ରିୟ,
ସେଥିପାଇଁ ତୁମର ସୁନ୍ଦର
ମଧୁର ସ୍ମୃତି ଆମ ସହିତ ଅଛି
ଶୁଭରାତ୍ରି
Kathati heuchhi,pratyeka rati
Ama pain priya,
Sethipain tumara sundara
Madhura smruti ama sahita achhi
Shubharatri.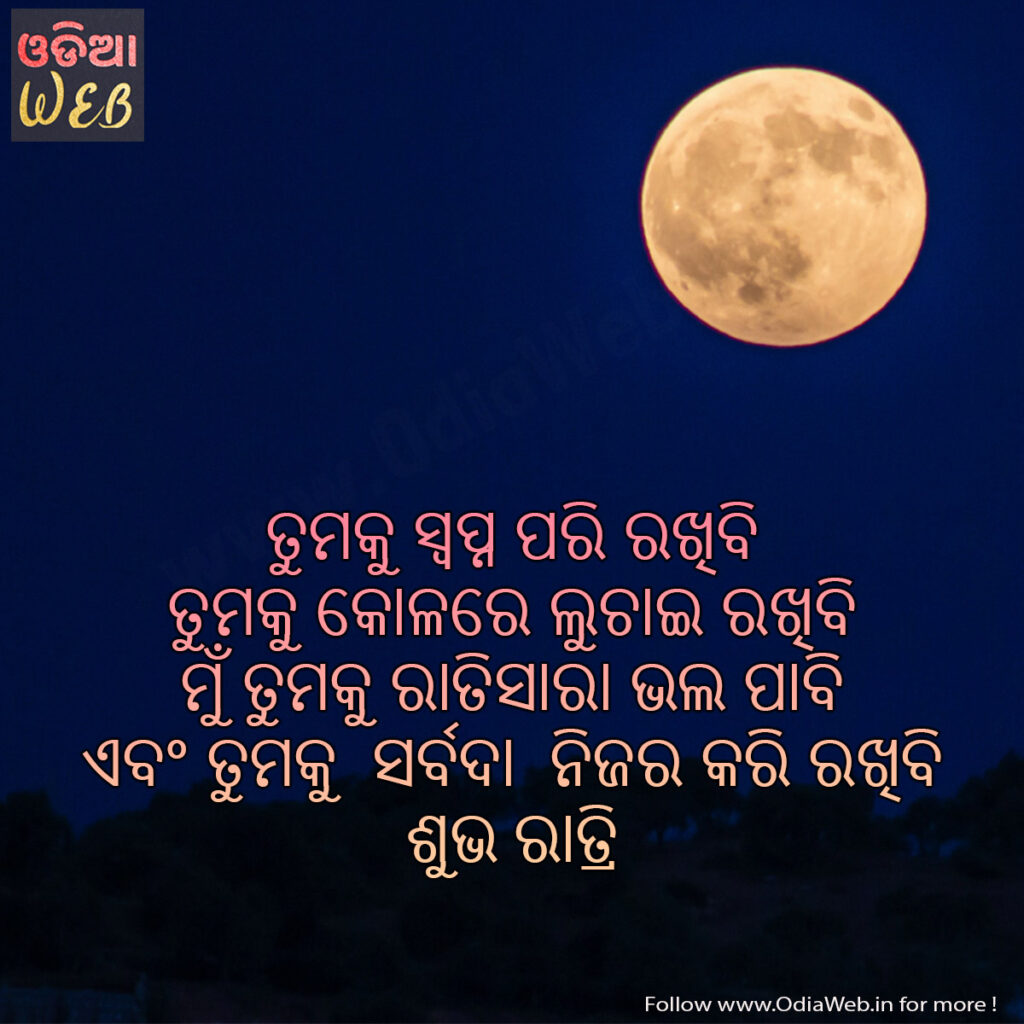 ତୁମକୁ ସ୍ୱପ୍ନ ପରି ରଖିବି
ତୁମକୁ କୋଳରେ ଲୁଚାଇ ରଖିବି
ମୁଁ ତୁମକୁ ରାତିସାରା ଭଲ ପାବି
ଏବଂ ତୁମକୁ ସର୍ବଦା ନିଜର କରି ରଖିବି
ଶୁଭ ରାତ୍ରି
Tumaku swapna pari rakhibi
Tumaku kolare luchai rakhibi
Mun tumaku ratisara bhala paibi
Ebam tumaku sarbada nijara kari rakhibi
Shubharatri.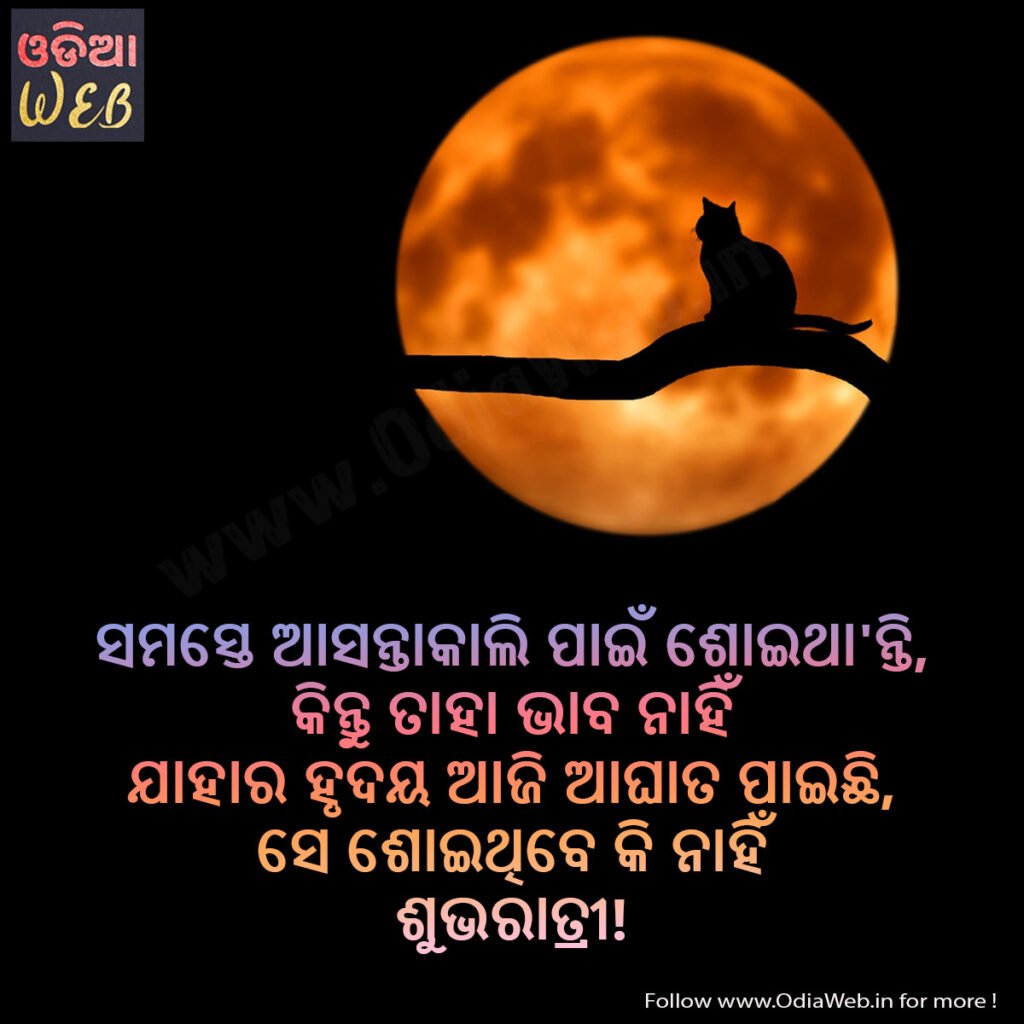 ସମସ୍ତେ ଆସନ୍ତାକାଲି ପାଇଁ ଶୋଇଥା'ନ୍ତି,
କିନ୍ତୁ ତାହା ଭାବ ନାହିଁ
ଯାହାର ହୃଦୟ ଆଜି ଆଘାତ ପାଇଛି,
ସେ ଶୋଇଥିବେ କି ନାହିଁ
ଶୁଭରାତ୍ରୀ!
Samaste Asantakali pain shoithanti
Kintu taha bhaba nahni
Jahara hruudaya aji aghata paichhi
Se shoithiba ki nahni
Shubharatri.
Comments
comments