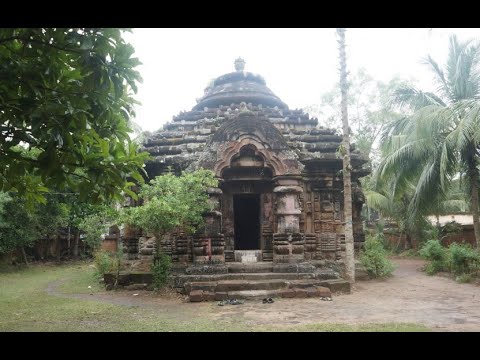 Gangeswari Temple is an ancient 13th century fort at Bayalisabati in Puri district. The temple was built for the goddess of the Ganges dynasty.
The Gangeswari temple was built during the reign of the Ganges dynasty. According to the architecture and artefacts of the temple, it has been identified as a 13th century Christian temple. The only thing left alive in the public memory is that the temple was built as a small replica of it before the Sun Temple in Konark was built.
The Gangeswari temple is built according to Kalinga architecture. It has two parts, Biman and Jagmohan. The plane is made in Khakra style and Jagmohan is in line style. Gangeswari Deul is a great example of Khakra style. The bank is facing south-west. The plane is divided into three parts. It is built on a seven-chariot design. The Jagmohan is based on the Pancharatha map.
There are many fine artworks in the walls of the temple, but most of them have been torn down or rubbed over time. The octagon is engraved in a hole. There are also Chamunda and Bhairab. Two of the addictive destinations for the side deities currently have statues of Barahi and Ganesha. In the third, a broken part is worshiped. It doesn't seem to be a relatively small and original side deity. The statue of Barahi depicts him drinking blood. He has four hands. The goddess holds the cup in one hand and holds it near her lips to drink the blood. The tongue is removed from the mouth of the pig. Her hair is perfectly curled. In both hands he holds a crooked knife and a shield. On both sides of the aisle are students. Below them are two small two-armed Brahmundi Devi. They are in the same shape.
Jagmohan and the interior walls of the plane do not have any artwork. The main idol of Gangeswari is a statue of Durga. The idol is made of black stone. Goddess Quadrangle. He appears to be holding a lotus and arrow or shovel in both hands. An asura has fallen at the feet of the goddess. It is unknown at this time what he will do after leaving the post. The goddess's vehicle is depicted in a lion's seat. There are also two small goddesses on both sides. The idol is often worshiped in costumes and ornaments. The throne is made of bronze and has two small lions on either side. The moving idol is worshiped in addition to the main statue on the throne. There is also a black stone statue under the throne.
Dashahara, Chaitra Thursday, Sholapuja etc. are celebrated here. The state archeology department of Odisha has declared the Gangeswari temple a safe haven. Water is flowing during the rainy season.
Comments
comments