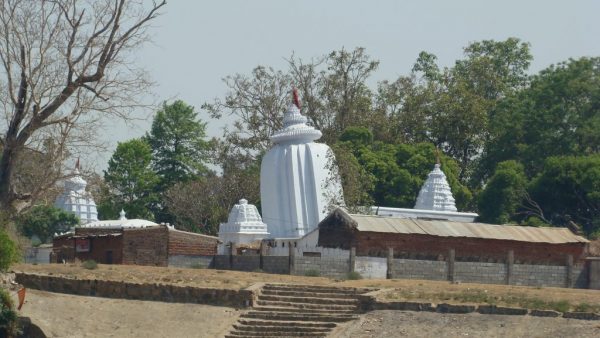 Baba Bimaleshwar is worshiped on the banks of the Mahanadi River at the headwaters of Huma village under the Maneswar block of Sambalpur district. One of the highlights of the river is the bright red Kudo fish huma seen on the riverbank adjoining the temple. They are like fish. It is believed that Lord Vishnu is in the form of a Pisces. Humar Bimaleshwar Shivalinga has revealed himself from the underworld and himself from the underworld. Legend has it that a cow's milk spilled on the shibboleth. Seeing that the cow's udder was drying up every day, the owner of the cow, suspicious of the cow, came to guard the cow himself. He was amazed to see that the cow's milk was dripping on the shibboleth, and from then on, the glory of Baba Bimaleshwar appeared and the worship began.
Although there was much controversy over the construction and construction of the Huma temple, it is believed that it was built by the fifth king of Sambalpur, Baliar Singhdev, between 1660 and 1688 AD. However, according to a settlement order issued by Jain British Settlement Officer A.M. Russell, the first king of Sambalpur, Balaram Deva, provided six pieces of mouza for the construction of the temple at Huma village. Another British judge also supported the ruling in a court order. According to some historians, the Huma temple was built by the first king, Balarama Deb, or one of his close relatives, instead of the fifth king of Sambalpur. In this case, the construction of the temple will be completed in 1545 to 1560 AD.
The temple is located on a rectangular base about 200 feet long and 120 feet wide. The main temple is tilted to the west of Bimaleshwar at an angle of 47°. The cause of the curse is mysterious and controversial. According to some, the temple was deliberately built from the time it was built to protect it from the effects of the strong currents flowing during the floodwaters during the monsoon rains. Others believe it was straight during the construction of the temple. Over time, strong currents in the river flooded the temple's infrastructure, causing the temple to cave in. Countless Kudo fish playing in the river can be seen climbing down the stairs behind the bank. Shyamakali's seat is in Kuda at Kunde near Deul. You have to go by boat from Deul to Kunder Kud.
Comments
comments