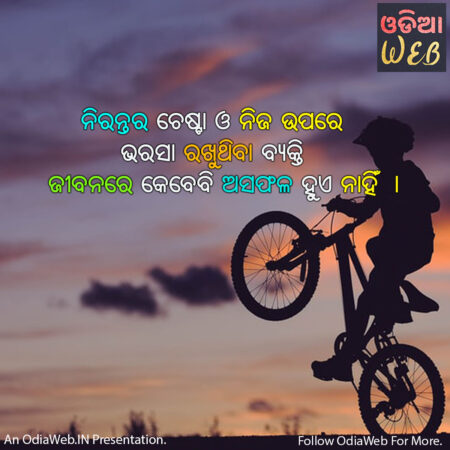 ନିରନ୍ତର ଚେଷ୍ଟା ଓ ନିଜ ଉପରେ ଭରସା ରଖୁଥିବା ବ୍ୟକ୍ତି ଜୀବନରେ କେବେବି ଅସଫଳ ହୁଏ ନାହିଁ  ।
A person who constantly strives and relies on himself never fails in life.
Nirantara chesta o nija upar bharasa rakhuthiba byakti jeebanare kebebi asaphala hue nahi .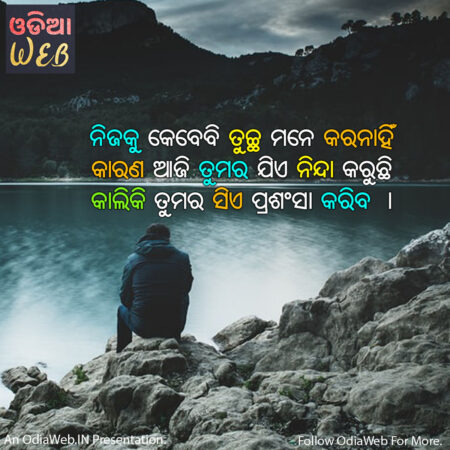 ନିଜକୁ କେବେବି ତୁଚ୍ଛ ମନେ କରନାହିଁ କାରଣ ଆଜି ତୁମକୁ ଯିଏ ନିନ୍ଦା କରୁଛି କାଲିସେ ତୁମକୁ ସିଏ ପ୍ରଶଂସା କରିବ ।
Never underestimate yourself because the one who condemns you today will praise you tomorrow.
nijaku kebebi tuchha mane  mane karanahi karana aaji tumaku jie ninda karuchhi kalise tumaku sie prashansa kariba .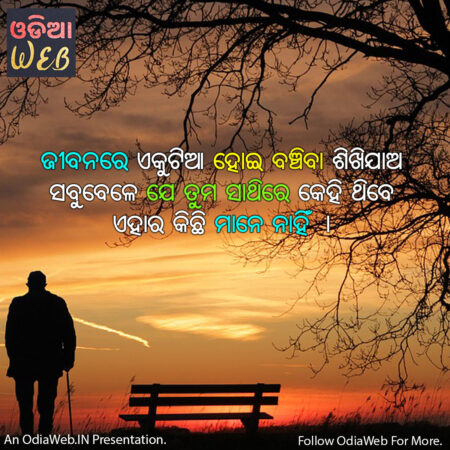 ଜୀବନରେ ଏକୁଟିଆ ହୋଇ ବଞ୍ଚିବା ଶିଖିଯାଅ ସବୁବେଳେ ଯେ ତୁମ ସାଥିରେ କେହି  ଥିବେ ଏହାର କିଛି ମାନେ ନାହିଁ  ।
Learn to live alone in life It doesn't always matter who you are with.
jeebanare ekuthia hoi banchiba shikhijaa sabu bele je tuma saathire kehi  thibe ehara kichhi mane nahi .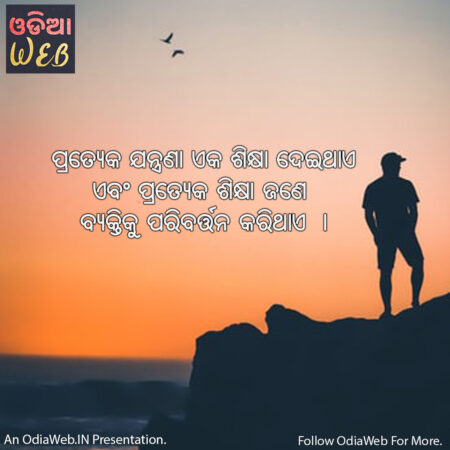 ପ୍ରତ୍ୟେକ ଯନ୍ତ୍ରଣା ଏକ ଶିକ୍ଷା ଦେଇଥାଏ ଏବଂ ପ୍ରତ୍ୟେକ ଶିକ୍ଷା ଜଣେ ବ୍ୟକ୍ତିକୁ ପରିବର୍ତ୍ତନ କରିଥାଏ ।
Each pain teaches a lesson, and each lesson transforms a person .
Pratyaka jantranaa eka hikshya deithaae eban pratyaka shikshya jane byaktiku paribattana karithae ..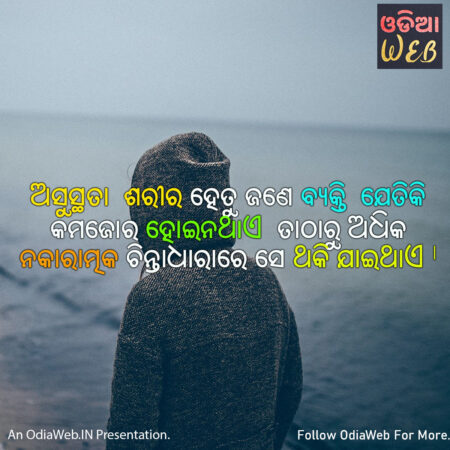 ଅସୁସ୍ଥତା ଶରୀର ହେତୁ ଜଣେ ବ୍ୟକ୍ତି ଯେତିକି କମଜୋର ହୋଇନଥାଏ ତାଠାରୁ ଅଧିକ ନକାରାତ୍ମକ ଚିନ୍ତାଧାରରେ ସେ ଥକି ଯାଇଥାଏ ।
A person is more likely to be overwhelmed by negative emotions than to be physically weak.
Asustata shareera hetu jane byakti jetiki kamajora hoinathaae taathaaru adhika nakaramtaka chintadharare se thaki jaithae.
Comments
comments